ProView – Sterling Rope Dyad 7.7 XEROS Review
With the ice season rapidly approaching I was excited to get out and start the season with the Sterling Dyad half ropes. I received the ropes in 60m length for the review and climbed with them extensively in Colorado and Montana. My partner and fellow OPL gear reviewer Emma also helped with this review of the Sterling Dyads. As per usual, the testing in "the park" included brutal cold, harsh winds, and blowing snow. This was coupled with more pitches than we can count in Montana with variable conditions. Everything from sunny days with dripping wet ice as well as frigidly cold days with brittle glass like ice. The Dyads really saw it all through these couple months of testing and impressed me more as time went on.
Sterling Rope Dyad 7.7 XEROS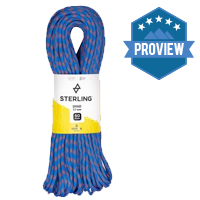 Product Name: Sterling Rope Dyad 7.7 XEROS
Product Description: A half/twin UIAA Dry rope that offers superior protection for the minimalist climber. Confidence has never felt so light. Made in the USA.
Offer price: MSRP: $109.99 - $219.99
Quality

Features

Durability

Eco-Friendly
Summary
The Sterling Dyad 7.7mm half ropes with XEROS technology blew me away with their water resistance, durability, and weight which make them a superb option for demanding climbs in harsh conditions.
Pros
Lightweight
Very water/abrasion resistant
Durable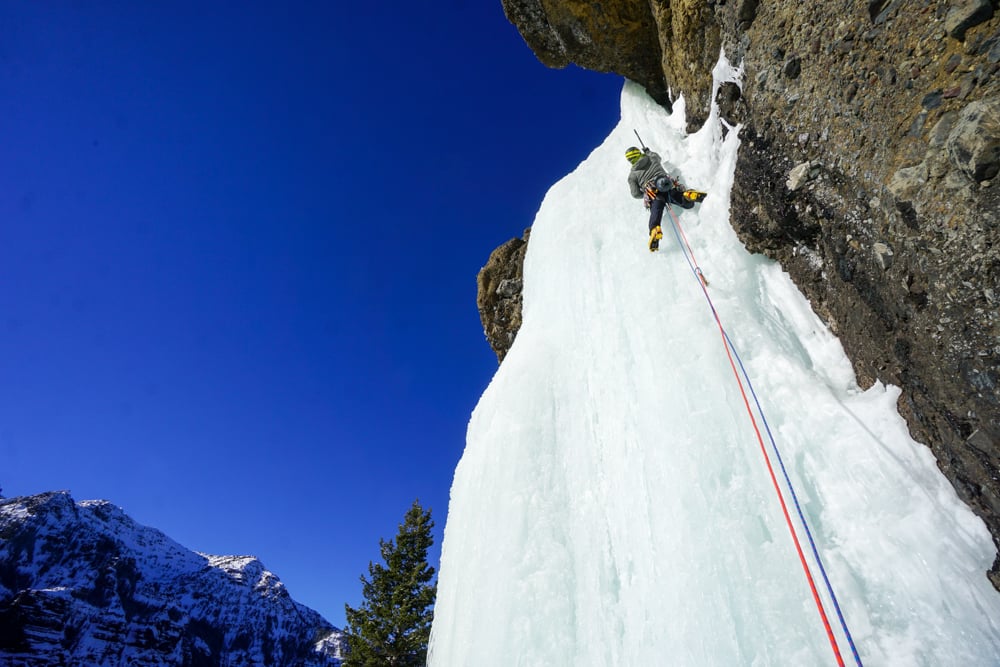 Performance
Right out of the packaging the Dyad half rope handled extremely "wiry" and although Sterling now sends their ropes with factory "ready-coil" allowing the ropes to climb straight out of the packaging, I found that I still needed to give them a handful of flakes through a hanging quickdraw to loosen up some of the loops. Emma and I were pretty skeptical at first on how well the Dyad half ropes would break in after having broken in many other half ropes from competing companies over the years. I can now say after reviewing these ropes to fear not, for the Dyads break into an excellent handling pair of half ropes. They just takes a little longer to get there than some of the other half ropes on the market so don't be discouraged at first.
Also I should note, their wiry nature means they slip a little more while rappelling at first so remember to throw another wrap of your third hand around them. I attribute the "wiry" handling to Sterling's XEROS technology which more than makes up for some poor handling out of the box. A quick break down of XEROS technology is that the fibers of the rope are dry treated during each step of the manufacturing process rather than after the entire rope is completed. This allows for superior coverage of dry treatment on the rope which allows the Dyad and other XEROS ropes to keep out water and debris unlike any other ropes on the market. I can attest to the Dyads impressive resistance after climbing soaking wet ice climbs and when you pull the ropes that are draped through running water they merely have a coating of ice on top of the sheath only. Emma commented with surprise during a rappel after the Dyads were thoroughly soaked how dry the ropes where after the ice over the sheath was sheered off by her rappel device. Nothing beats not having to hike out with a soaking wet rope on your back!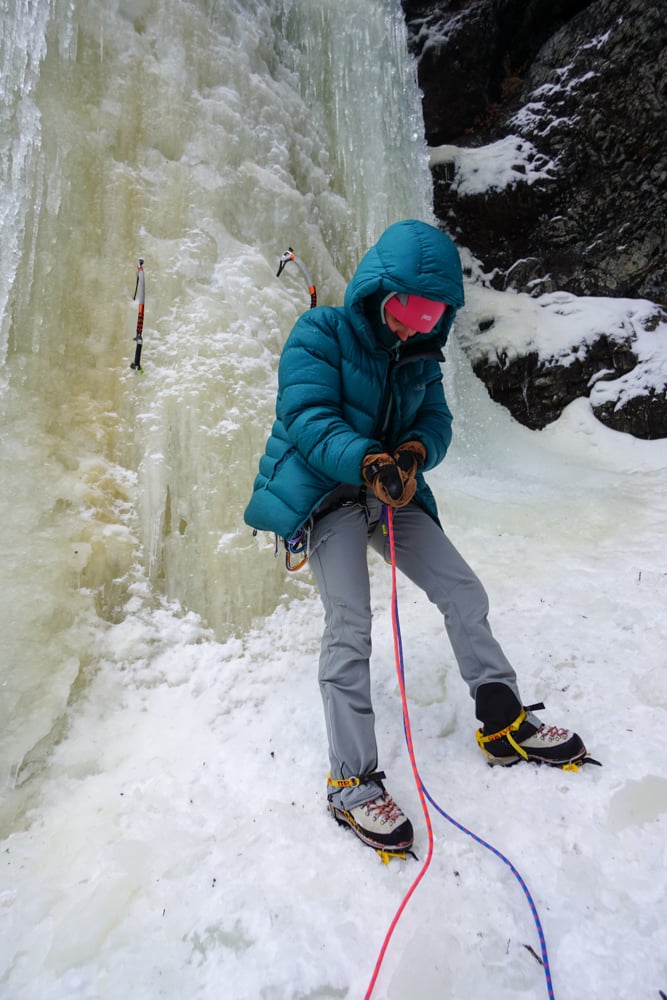 Features
The only knock Emma and I have against the Sterling Dyads is the lack of a middle mark. These ropes are a bit cheaper ($20-40ish) than other competing ropes on the market so you be the judge if that negates the lack of middle marks. However, I found it a little annoying since I use the middle mark frequently to judge the length of the rope while belaying. Emma and I both agreed that we also tend to find that although we climb routes in the alpine with half ropes that half the time on the decent you may just be doing a single rope rappel so it's a lot more efficient to use a single half rope to rappel than dealing with the rope management hassle of double rope rappels. I measured my Dyads out and added my own middle marks after their first day out. That being said, it is nice that these ropes are a bit cheaper than most of the competition for all of those people simply looking for a great set of half ropes with a ton of bang for your buck.
Durability
Funny story about this, Emma and I were just commenting about how the 7.7mm diameter of the Dyads is that perfect balance of thickness that inspires confidence yet at the same time is thin enough to keep the weight down. I think most climbers would agree (my friends, Emma, and I do) 8.5mm+ is too heavy and 7.5mm- is not as confidence inspiring. Anyways, on the next climb after chatting about how the thickness of the Dyads coupled with their XEROS technology makes them feel very durable Emma achieved a very rare feat and managed to core shot the rope in front of her by hitting it directly with her ice tool. I guess we may have jinxed ourselves! Oh well, we have 58m ropes now. All ice climbers will agree this is a very rare occurrence and I don't blame the durability of the rope whatsoever, it's just a funny story. The 7.7mm thickness and XEROS technology DOES in fact make these ropes impressively robust. After climbing many pitches of ice near sharp rocks, crampons, and ice tools Emma and I can't find any rough spots and they have yet to allow water to penetrate the sheath as of writing this review (roughly two and half months of use and probably around 75 pitches so far).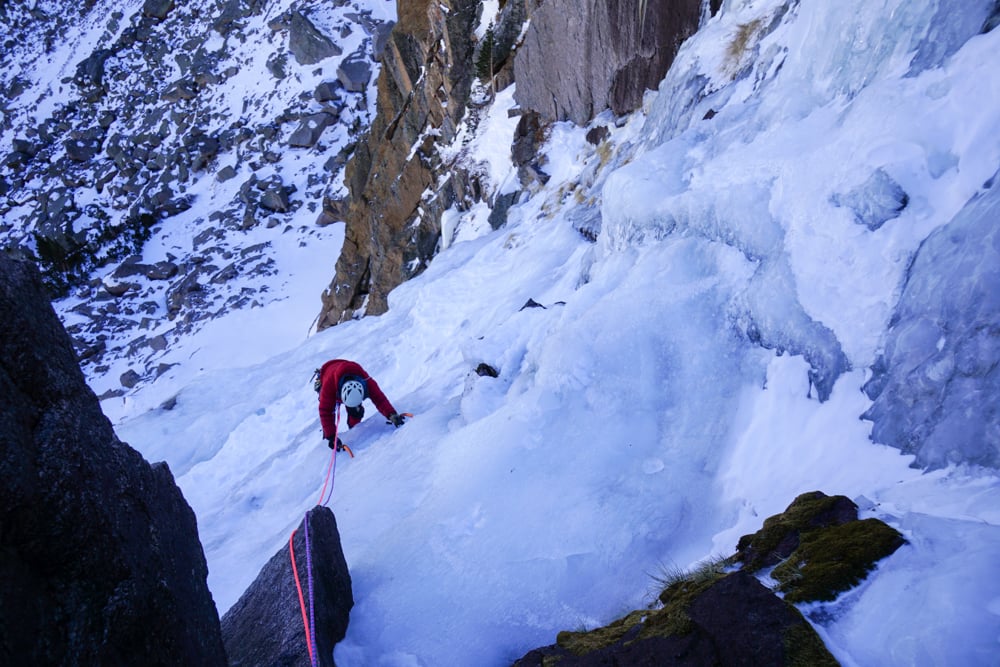 Weight/Packability
At 39 g/m, (a touch over 5lbs for a 60m rope) the Sterling Dyads are some of the lightest weight half ropes on the market. This makes them ideal for long approaches or climbs at altitude where cutting weight counts. With their 7.7mm diameter once backpacked coiled you will hardly notice the bulk on your pack. They easily fit under the "brain" of your pack.
Room for Improvement
Sterling, just slap some middle marks on these bad boys please. Other than that, I don't see any other areas for improvement. They are a great all around set of ropes!
Eco-Friendly
I was thoroughly impressed with Sterling's environmental commitments when I started looking into them for this review. As a wildlife biologist, I am always partial to outdoor companies that do a great job offsetting their environmental impacts. Sterling has an entire page on their website dedicated to what they are doing to be sustainable. One thing I was surprised to see that I didn't know about was that Sterling went carbon neutral in 2021! Sterling achieved their goal of carbon neutrality by aiming to be sustainable at each step of the manufacturing process. There are too many awesome things Sterling is doing to translate here so go check it out yourself, but they are innovating creative ways to reduce and reuse by-products all along their manufacturing chain. They include a long list of future goals that they haven't reached yet, but are actively working on which the transparency is a nice change of pace from the status quo of the rest of our modern world. They have also been recycling ropes through their recycled rope program for the past 10 years that either repurposes retired ropes, sends them off to other companies to be up-cycled into new products, or they are broken down and used for things like carpeting or plastic toys, as a few examples.
The Final Word
The Sterling Dyad 7.7mm Xeros half ropes hit that perfect balance of durability to weight ratio. When you include with their amazing XEROS dry treatment, it makes these probably the best set of half ropes on the market today in my opinion. I'm not just saying this because I got to review these ropes. My Mammut Alpine Senders 7.5mm half ropes have better handling with a similar weight, yet they "wet out" eventually. So in the end, although I love my Mammuts dearly (they caught me during my climbing accident a few years ago), I think the Sterling Dyads edge them out. At the end of the day I'll take a dry rope over one that handles a bit better. My buddies Edelrid Skimmer 7.1mm half ropes on the other hand are also a great set of half ropes. They are super thin and lightweight, but once again after climbing on them bunch I will take the 7.7mm thickness of the Sterling Dyads for a marginal weight gain but higher durability. Although our review of the Sterling Dyad 7.7mm XEROS half ropes is over Emma and I look forward to many more climbs with these ropes as our primary set of half ropes now. The XEROS technology is no joke and I truly think if you are looking for a very robust set of half ropes for a good price then the Sterling Dyads should not be overlooked!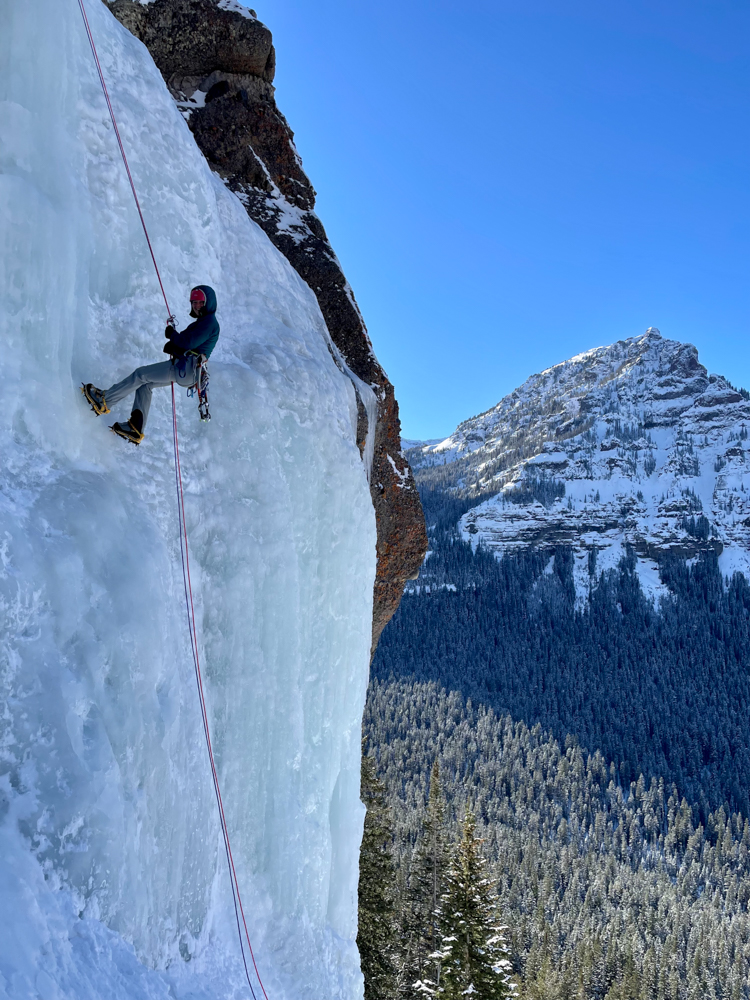 ---
Shop the Sterling Rope Dyad 7.7 XEROS on Outdoor Prolink. Not a member? Apply today!
See more Sterling rope reviews here!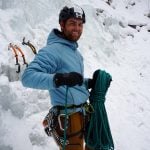 Zach is an aspiring alpinist, ski mountaineer, climber, and photographer. He is a Wilderness First Responder and frequently volunteers with the Colorado Mountain Club to help train future mountaineers. Zach works part-time as a marine biologist in Alaska and a wildlife biologist here in Colorado. You can catch him climbing around Golden where he lives today.