ProView – Thermarest NeoAir Topo Luxe + NeoAir Micro Pump
The NeoAir Topo Luxe is a sleeping pad that prioritizes comfort without compromising its weight and packability. This sleeping pad is suited for practically any adventure with its TwinLock valves, 4 inches of thickness when inflated, an R value of 3.7, and still only weighing 1 lb and 7 oz. When used with the NeoAir Micro Pump (only 2.3 oz), you can finish setting up camp or pour yourself a nice cup of coffee while your trail buddies are stuck inflating their sleeping pads by breath. I have thoroughly enjoyed testing both products and am excited to take them on many adventures to come.
Thermarest NeoAir Topo Luxe + NeoAir Micro Pump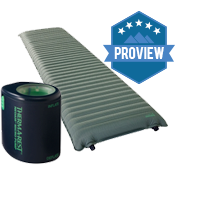 Product Description: For those familiar with our legendary NeoAir mattresses, the NeoAir Topo Luxe brings the line of sleeping pads to new heights. A whopping 4 inches (10 cm) thick, the Topo Luxe is our thickest backpacking NeoAir ever. The Topo Luxe packs down small before inflating for plush support and warmth thanks to our Triangular Core Matrix, the best warmth-to-weight construction for air pads. Available in several sizes, including a roomy regular wide, the Topo Luxe features the high-performance TwinLock valve with two dedicated valves for lightning-fast inflation or deflation. Like all Therm-a-Rest pads, the NeoAir Topo Luxe is made in market to ensure quality and minimize environmental impact. The pad includes a breath-saving pump sack, compact stuff sack and field repair kit.
Offer price: MSRP: $144.95 - $204.95
Quality

Features

Fit

Durability
Summary
The NeoAir Topo Luxe is a great sleeping pad that prioritizes comfort without sacrificing packability. Its ease of use allows for quick inflation and deflation, saving you time and hassle while setting up or tearing down camp.  Say goodbye to being out of breath after inflating your sleeping pad, when paired with the NeoAir Micro Pump.
Pros
Comfortable
Twin lock valve
Easy to use
Quiet to sleep on
Cons
Slightly bulky
Slow to inflate
Over the past few years going to school in Phoenix, Sedona has become one of my favorite places to explore and climb. This made the Sedona and Flagstaff area a great testing ground for the NeoAir Topo Luxe and Micro Pump while still adventuring responsibly and locally. I loved using both these products for some car camping and overnight climbing trips. I also used them a fair bit indoors as I recently moved back to Phoenix for school and was temporally without a bed.
NeoAir Topo Luxe
Therm-a-rest pulled out all the stops on this pad to ensure you spend your slumber in comfort and wake up feeling rested. Boasting an inflated thickness of 4 inches, the NeoAir Topo Luxe puts more space between you and the ground than any backpacking NeoAir before. I found this extra thickness let me easily adjust the stiffness and softness of the pad. I could let out quite a bit of air from the fully inflated pad to soften it while still staying well off the ground. I am 6 feet tall and fit comfortably on the regular size pad but did not have much extra wiggle room to spread out. If you are nearing the 6-foot range and want a little extra room, one of the larger sizes would be a great choice.
As the name insinuates, the NeoAir Topo Luxe sports stylish topographic contour lines on the top side of the mat and is a pleasant Balsam (green) in color. It is a unique style that gets me excited and inspired to go adventure.
Weight/Packability
NeoAir Topo Luxe
The regular size pad weighs just 1 lb and 7 oz. While I wouldn't quite put it in the ultralight category, I found it surprisingly light considering its R-value of 3.7 and a thickness of 4 inches. When packed, it is about the size of a 1-liter Nalgene and easily slides in the provided stuff sack. I have spent too many mornings trying to cram other sleeping pads into seemingly always undersized stuff sacks so this was a big plus for me. There is even enough space to fit the NeoAir Micro Pump inside of the stuff sack with the sleeping pad.
NeoAir Micro Pump
At a mere 2.3 oz (with 2 AAA batteries), the NeoAir Micro Pump can be in your pack without even realizing its there. It is almost identical in size to a headlamp and easily fits in the stuff sack with your sleeping pad, the brain of your pack, or anywhere else you want to keep it for easy accessibility when inflating your sleeping pad.
Features
NeoAir Topo Luxe
The NeoAir Topo Luxe has a variety of valuable features without sacrificing simplicity. The TwinLock Valve is my favorite feature of the sleeping pad. The one-way inflation valve makes blowing up the pad a breeze when manually inflating or using the included pump sack. It keeps air from leaking out between breaths or pumps significantly easier than a two-way valve. The pad can deflate almost instantly by fully opening the deflation valve. You can also easily bleed the pad with a partial twist of the deflation valve to find the best stiffness for you to sleep on. I could easily do this without looking and in the dark without losing too much air.
The pad has an R-value of 3.7 and utilizes Therm-a-rest's Triangular Core Matrix which consists of stacked layers of triangular baffles. This helps give stability while keeping heat loss to a minimum. I mainly slept in temperatures as low as 50 degrees and was always warm. I am excited to use it in cooler fall temperatures and am confident in its ability to keep me insulated from the ground. I was also pleasantly surprised at how quiet the NeoAir Topo Luxe was to sleep on due to its internal construction. While it does make some quiet crinkling noises, I found it noticeably quieter than other similar sleeping pads. The included pump sack, which doubles as an extra stuff sack, was simple to use and worked well to inflate the pad with less effort than blowing it up directly.
Function/Performance
NeoAir Topo Luxe
The NeoAir Topo Luxe performed wonderfully during each use. While I did not get to use it in any extreme temperatures, I never got too hot or too cold. Initially, I thought it was a little uncomfortable, but soon realized I had it over-inflated. Once I let some more air out, I slept like a baby every night. The twin lock valves made inflating, deflating, and small air adjustments quick and easy.
NeoAir Micro Pump
I must admit that I was initially skeptical of the NeoAir Micro Pump but am excited to say it has proved me wrong. It does not seem to pack a lot of power, but it was able to consistently inflate the NeoAir Topo Luxe in 3 to 5 minutes. While I could have inflated it faster by breath, it saved my lungs and allowed me to finish setting up camp while the NeoAir Micro Pump inflated my sleeping pad. The micro pump is designed to work with both Therm-a-rest's TwinLock and Wing Lock valves and performed well each time I used it.
Durability/Construction
NeoAir Topo Luxe
I have always been wary of relying solely on an inflatable sleeping pad for my sleeping set up, normally opting to also carry a closed-cell pad to use under the inflatable one. However, I opted to forgo the extra pad with the NeoAir Topo Luxe to see how it would stand up on its own. It did not disappoint. I have had no punctures or leaks and the pad still functions as well as the first time I took it out of the box. Therm-a-rest is proud of its USA built pads from the finest U.S. and global materials and it shows in the quality of their sleeping pads. I now have three various Therm-a-rest sleeping pads and have yet to have any complaints in their durability and construction. All inflatable sleeping pads are prone to puncture and should be well taken care of. If taken care of, the NeoAir Topo Luxe should last a long time and I have been impressed with its durability and construction.
NeoAir Micro Pump
While it is only 2.3 oz, the NeoAir Micro Pump has held up well being thrown from pack to pack and used a hand full of times. I was always careful not to let it sit in the dirt, but it seems the pump could easily be jammed if dirt or debris were to get inside the micro pump. I have not had any issues with it but would recommend keeping it away from dirt to ensure it lasts through many adventures.
The Final Word
NeoAir Topo Luxe
I am a huge fan of the NeoAir Topo Luxe and look forward to using it on many adventures in the future. In my opinion it has a great balance between weight and comfort, making it a great choice for those who want a comfortable pad that is also well suited for the backcountry.
NeoAir Micro Pump
The NeoAir Micro Pump is easy to use, makes inflating your sleeping pad a breeze, and is so light you may not even realize your carrying it. While it may be an unnecessary luxury, I have become a big fan of the NeoAir Micro Pump and plan on taking it on many adventures to come.
Shop the Thermarest NeoAir Topo Luxe + NeoAir Micro Pump on Outdoor Prolink. Not a member? Apply today!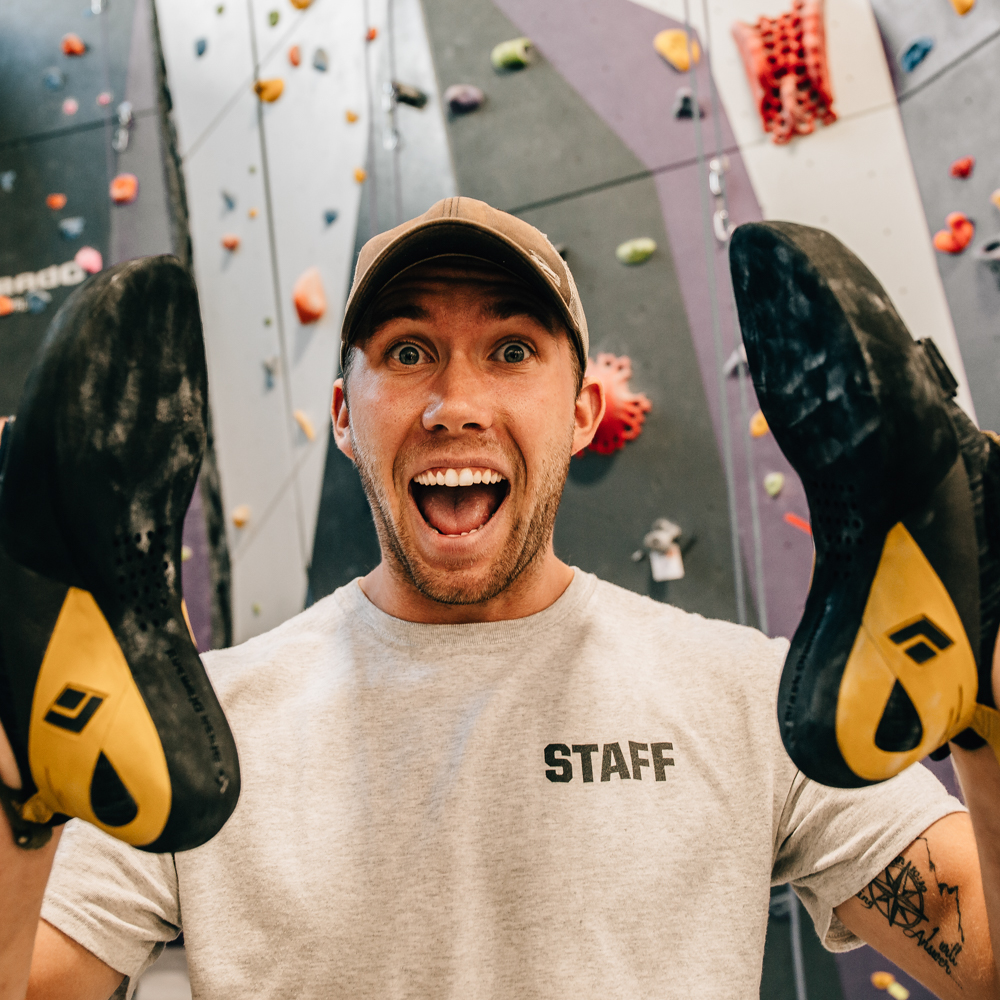 Daniel currently works as a student manager for Grand Canyon Universities Outdoor Recreation Department as well as working at the school's climbing wall. Over the past two summers, He has guided with Peak 7 Adventures in Washington leading a 50-day outdoor expedition leadership course called the Bower Adventure Course (BAC). Daniel is a member of the Mountain Rescue Association and Inland Northwest Search and Rescue volunteer. You can connect with him on Instagram @conrad_daniel.