ProView – Sierra Designs Cloud 800 Dridown 35 Deg
The Sierra Designs Cloud 35 is a game-changer when it comes to weight and packability. Clocking in at just 1lb 7oz (1lb 9oz for the long bag) you almost forget it is in your pack. It takes up just about as much space as your favorite Nalgene and can accompany you on any fairweather adventure. The zipperless design and integrated comforter combine the comforts of a down quilt with the functionality of a mummy bag. 
Sierra Designs Cloud 800 Dridown 35 Deg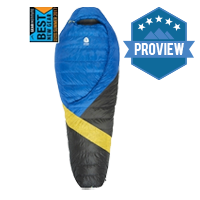 Product Description: While a few brands have been trying to innovate with zipperless sleeping bag designs, Sierra Designs took an early lead and the Cloud proves they are keeping pace. - Gear Institute
Offer price: MSRP: $299.95 - $319.95
Quality

Features

Fit

Durability
Summary
The Cloud 35 is a dream come true for fast and light overnight missions. The bag vents well when you want to and keeps out drafts when you need to. Its zipperless design provides a sleeping experience like no other for warmer overnight adventures. 
Pros
Light and packable
Like sleeping on a cloud
Zipperless design
Self-sealing foot vent
Sleeping pad sleeve. 
Cons
No insulation on the back of the bag
In the midst of Covid-19, recreating responsibly has been a top priority in testing the Cloud 35. While I was able to sleep on top of Weavers Needle in the Superstition Mountains (when and where camping was permitted). I also spent numerous nights venturing into the wild of my back yard, den, and living room. Through all of these testing locations, I was able to use the sleeping bag in a wide variety of temperatures and environments.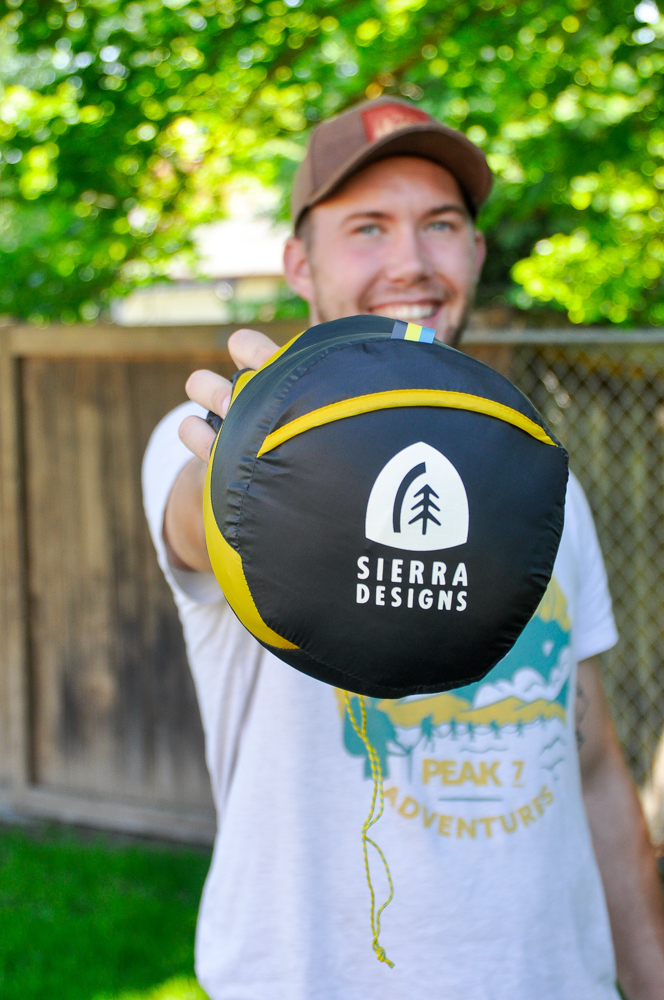 Fit/Comfort
I must say I found myself pleasantly surprised at the fit and quality comfort this bag has to offer. I am 6' even and 185lbs. So I was a little worried about how the fit would be on a regular-sized ultralite style bag. Fortunately, I fit great and the bag felt cozy but not claustrophobic. However, if you are taller than 6' I would agree with Sierra Designs' recommendation to go with the long style bag. My only complaint when it comes to comfort is the absence of down insulation on the upper back of the bag. While this cuts on weight and is ultimately unnecessary with a sleeping pad, I find it more comfortable to have the entire sleeping bag insulated.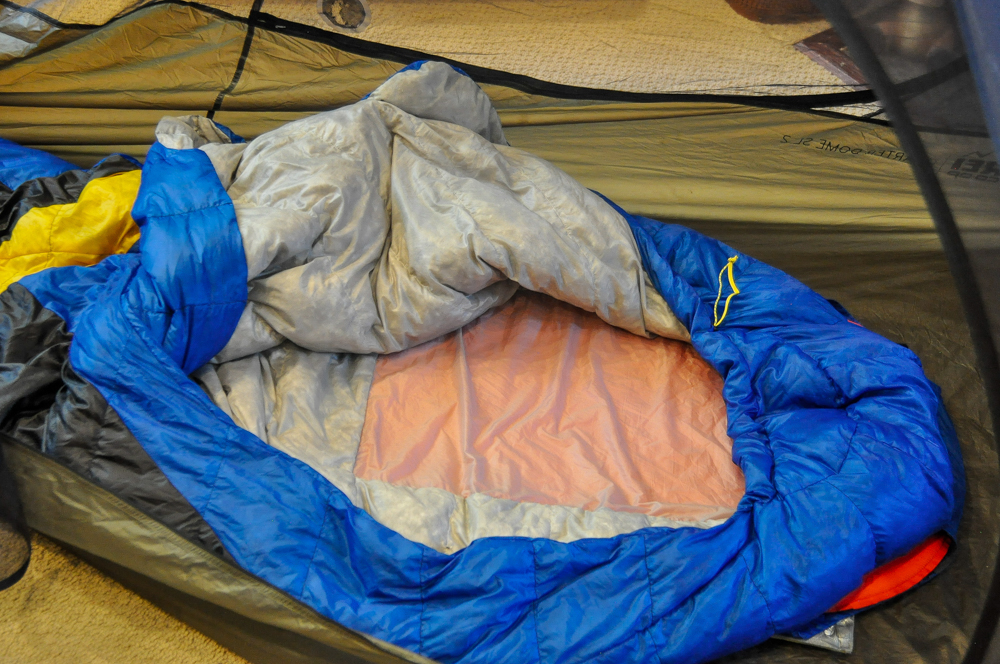 Look/Style
The Cloud 35 looks sharp and keeps you looking stylish no matter how much you snore and/or drool when getting your beauty sleep. The black, yellow, and bright blue color scheme gives some good contrast and the zipperless design keeps the bag looking great.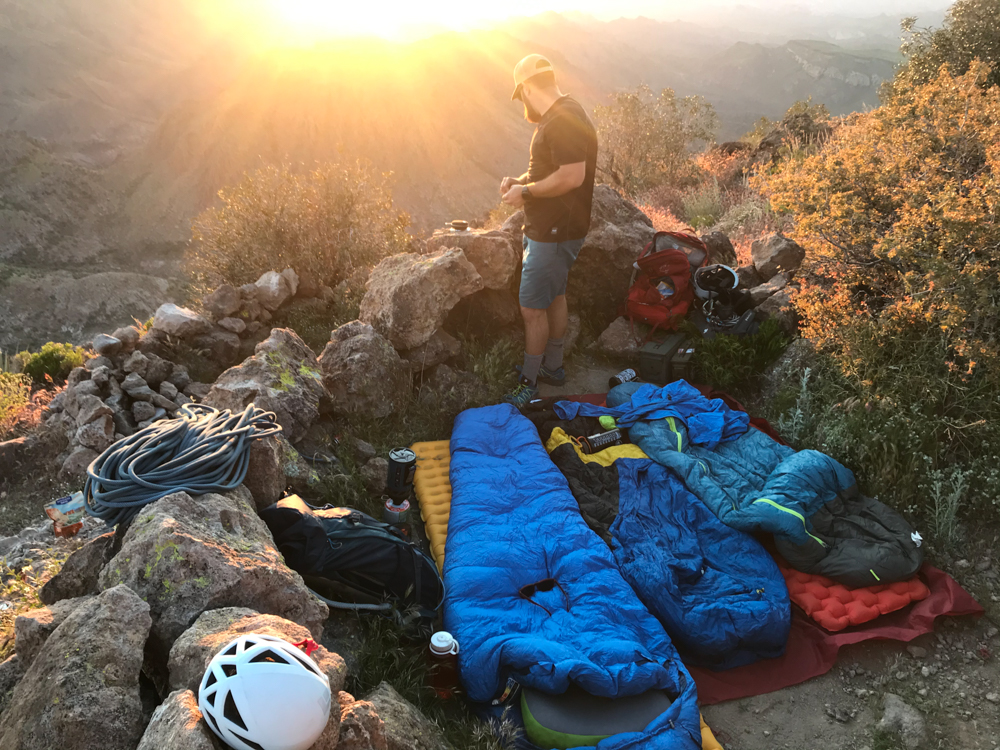 Features
The special features this bag has to offer is my personal favorite aspect of the Cloud 35. This bag boasts 800FD Dridown, a sleeping pad sleeve, an oversized integrated comforter, an insulated shoulder pocket, and a self-sealing foot vent. The integrated comforter and foot vent allow you to regulate the airflow and ventilation of the bag extremely well. Whether you want to seal out the drafts or cool off and let in some air, the Cloud 35 lets you do this effortlessly.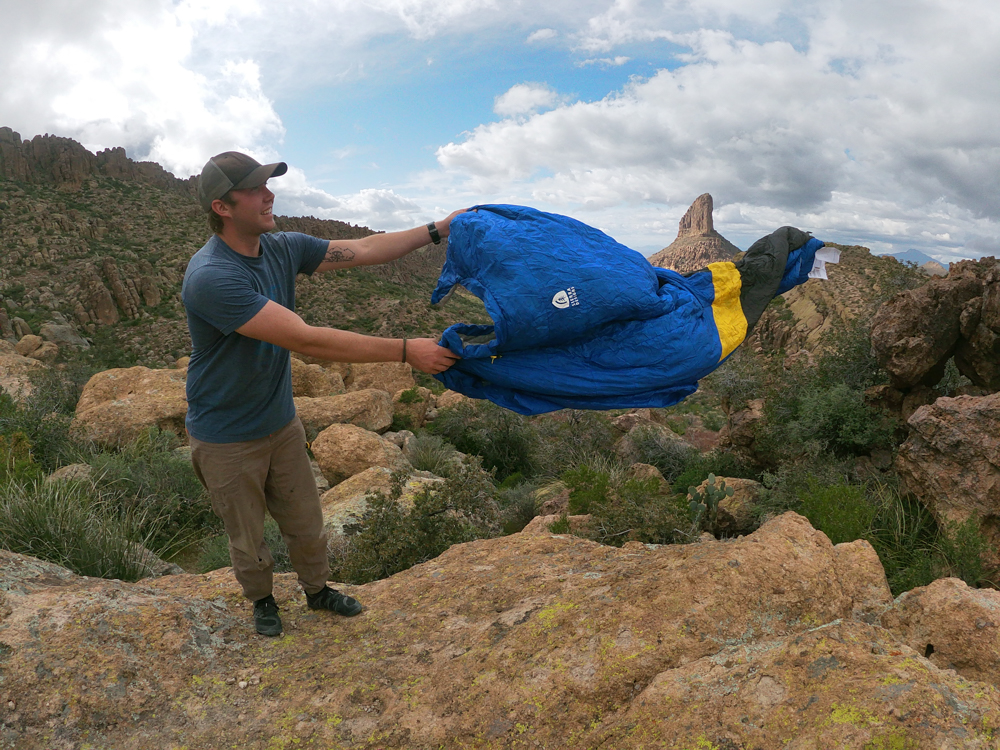 Function/Performance
The Cloud 35's well thought out features make this bag perform wonderfully in a variety of conditions. The bag was truly put to the test in a backpacking and climbing trip in the Superstition Mountains. The Cloud 35 took up such a small amount of space and weight in my 45-liter pack that I could easily carry the rest of my overnight/backpacking gear and a harness, helmet, rope, double rack, and a celebratory summit beer. A task that would have proven difficult with most other sleeping bags. 
Sleeping in the Cloud on top of Weavers Needle after a long day of hiking and 4 pitches of climbing was a truly amazing experience. The night started out warm so I had the comforter open and my feet hanging happily out of the foot vent. But as the desert night quickly grew colder I wrapped up in the comforter, tucking my shoulder into its own shoulder pocket to keep out the drafts. After pulling in my feet as well, I did not feel a single draft from the lightly blowing wind. I had been worried that the zipperless design would make the bag drafty but was left pleasantly surprised and stayed comfortably warm all night.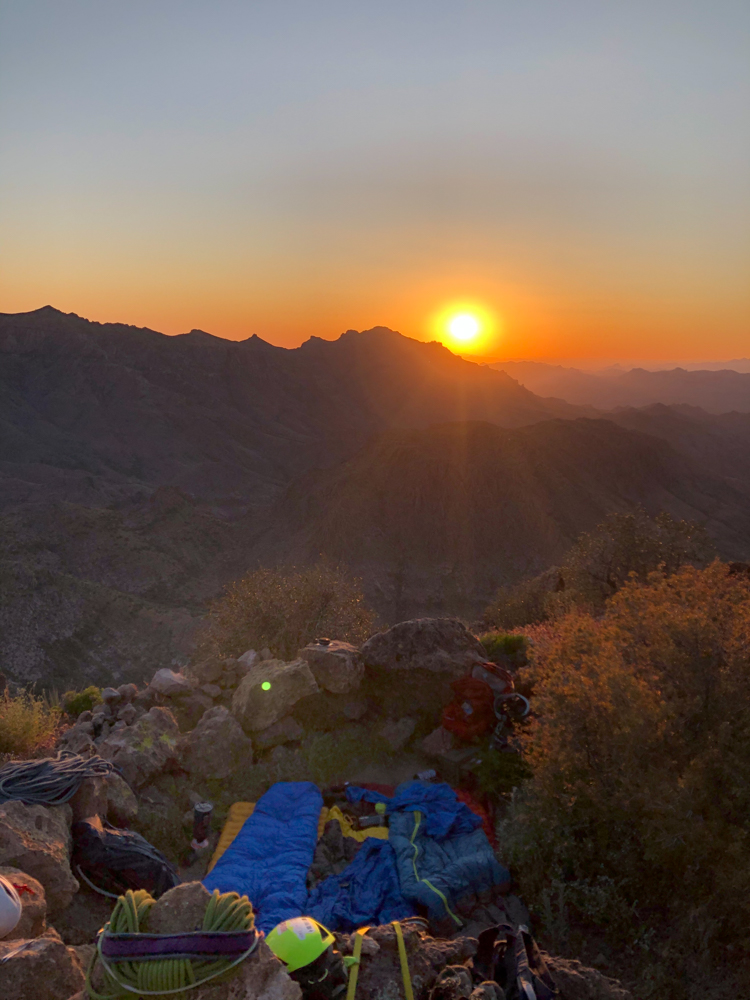 Durability/Construction
The Cloud 35 seems to be well made and should last a relatively long time if properly cared for. A small tear in the stuff sack is the only damage that has shown after a fair amount of use. While it is not a tank, the Cloud 35 has held up better than I expected for an ultralight bag.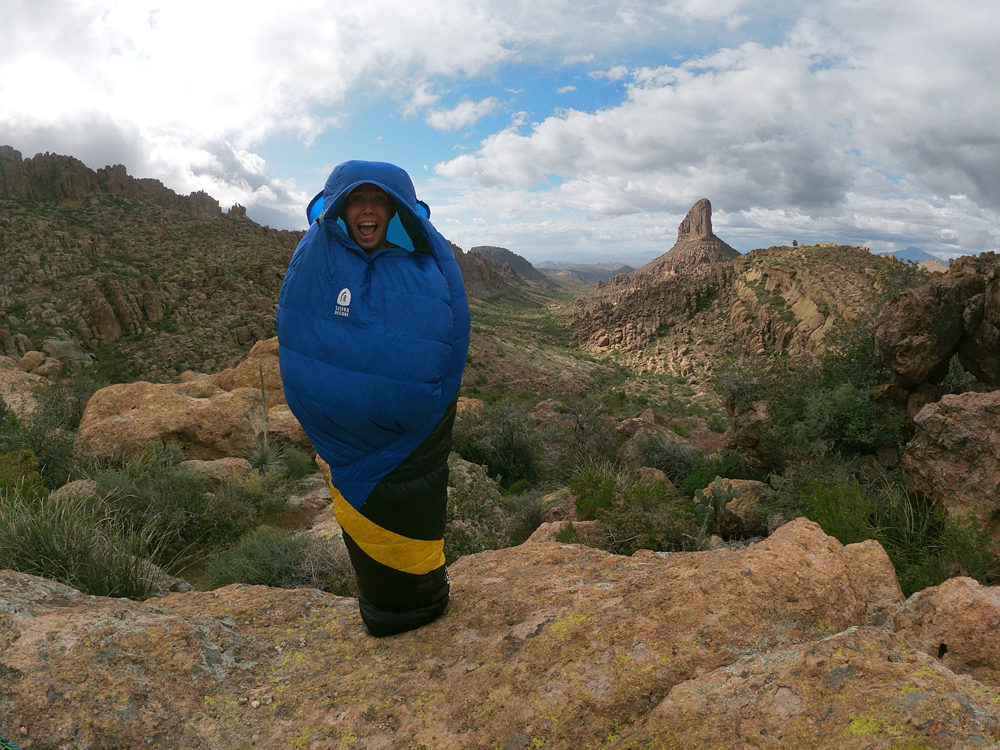 Friendliness to the Earth
Sierra Designs is committed to its social responsibility policy. Meaning they strive to ensure the most ethical practices, improvement of working conditions, and protection of the rights of people working in the factories where Sierra Designs products are created. For more information on their social responsibility policy please visit https://sierradesigns.com/social-responsibility. On top of this, you are able to track the down in Sierra Designs down products at trackmydown.com. Here you are able to see that their down is BlueSign approved. 
The Final Word
The Cloud 35 has become my go-to sleeping bag for fast, light, and fairweather missions. As well as nights spent in the backyard during Covid-19 quarantine. Packed full of useful features, this bag truly makes you feel like you are sleeping on a cloud. While I still wish the bag had insulation on the upper back of the bag, I have thoroughly enjoyed using the Cloud 35 and would quickly recommend it to those looking for a light and packable sleeping bag for warmer overnight adventures. Well done Sierra Designs!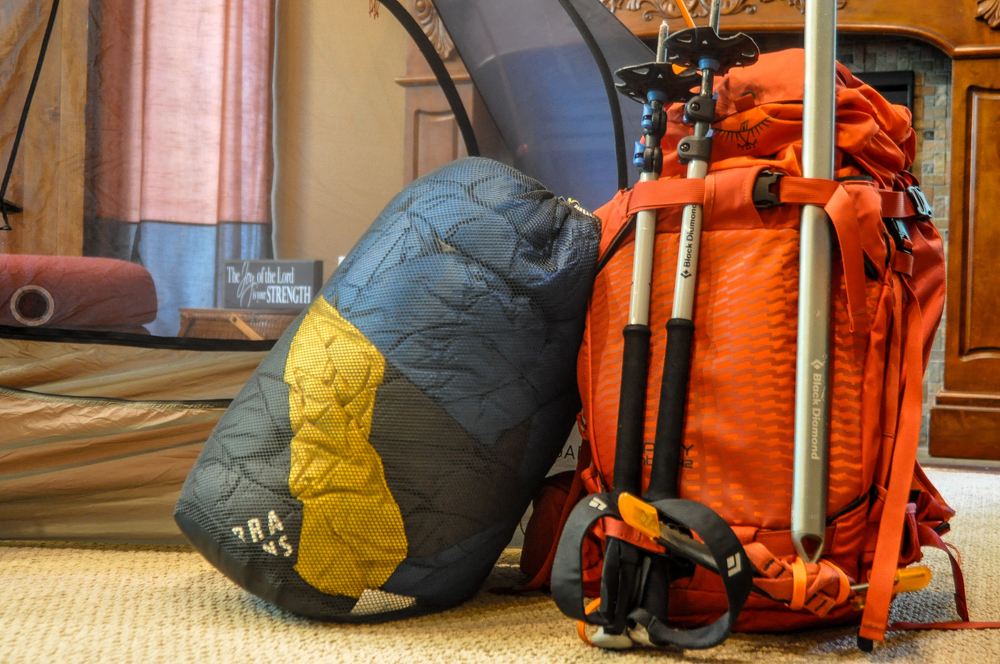 Find Sierra Designs Cloud 800 Dridown 35 Deg on Outdoor Prolink. Not a member? Apply today!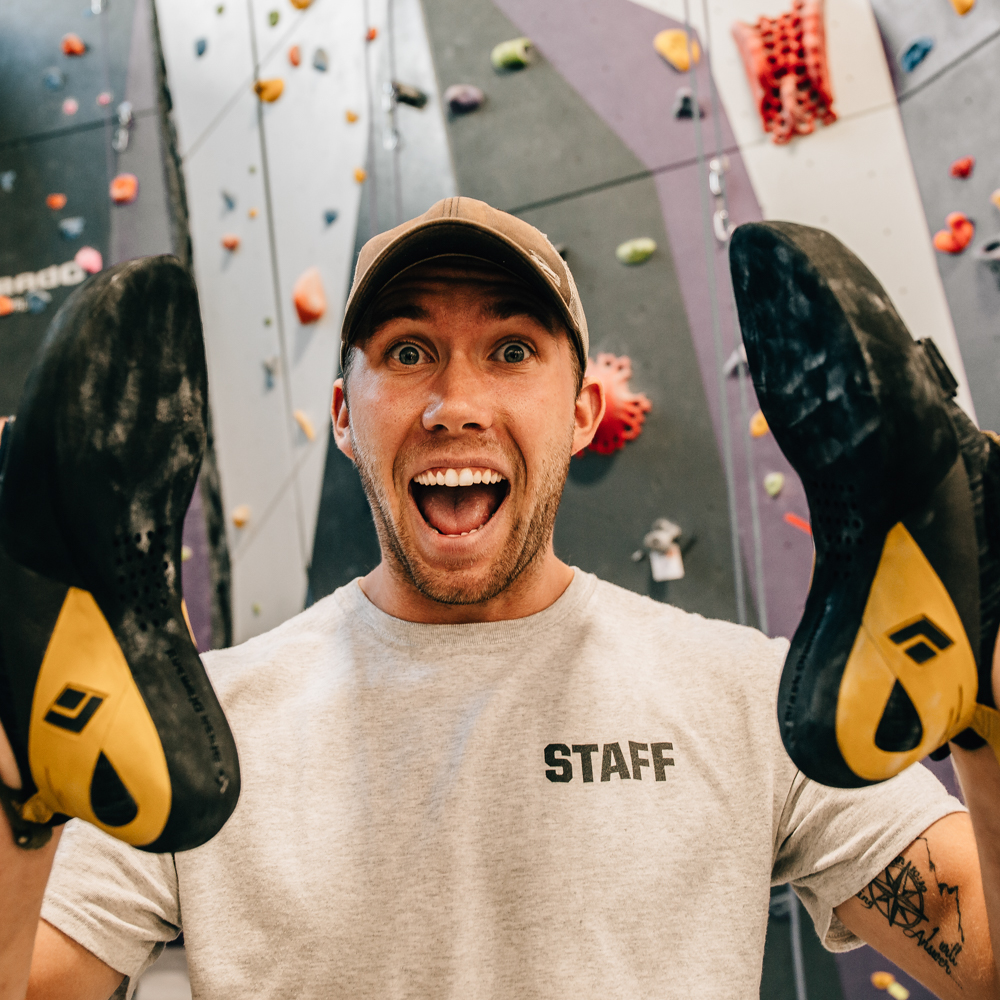 Daniel currently works as a student manager for Grand Canyon Universities Outdoor Recreation Department as well as working at the school's climbing wall. Over the past two summers, He has guided with Peak 7 Adventures in Washington leading a 50-day outdoor expedition leadership course called the Bower Adventure Course (BAC). Daniel is a member of the Mountain Rescue Association and Inland Northwest Search and Rescue volunteer. You can connect with him on Instagram @conrad_daniel.