ProView – ThermaRest NeoAir Xtherm Max + NeoAir Micro Pump
Few things can make or break a trip to the backcountry like your sleeping pad; you can sleep without a tent, wear extra layers instead of a sleeping bag, or use bundled clothes as a pillow, but there is no substitute for a quality sleeping pad. ThermaRest's newest version of its acclaimed NeoAir XTherm Max line is up to the challenge and confidently ticks every requirement for a sleeping pad – size, weight, comfort, insulation, and ease of use – with only a few minor negatives. 
Thermarest NeoAir Xtherm Max + NeoAir Micro Pump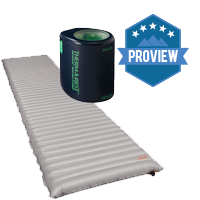 Product Description: When your backcountry pursuits demand extreme insulation and an ultralight packed size, alpinists and mountaineers turn to the NeoAir XTherm MAX. The unrivaled Triangular Core Matrix offers the best warmth-to-weight ratio of any air sleeping pad construction. The construction gives the 2.5 inch (6.4 cm) thick pad superior stability, boasting the most inches of weld for maximum camp comfort. The packable pad boasts a 6.9 R-value, allowing users to take it into the most extreme conditions. With the classic XTherm construction in a rectangular shape, the XTherm MAX features the high-performance WingLock valve, allowing the pad to inflate three times faster thanks to a larger opening and one-way inflation. Like all Therm-a-Rest pads, the NeoAir XTherm MAX is made in market to ensure quality and minimize environmental impact. The pad includes a breath-saving pump sack, compact stuff sack and field repair kit.
Offer price: MSRP: $214.95 - $254.95
Quality

Ease of Use

Features

Durability

Weight/Packability
Summary
The Thermarest NeoAir XTherm Max is a compact but warm sleeping pad system. At 2.5" it has just enough thickness to be comfortable while camping, yet it packs up to the size of a 1L Nalgene. It has earned every cent of its hefty price. When paired with the NeoAir Micro Pump for hands-free filling, it becomes an unstoppable combination worthy of almost all weather conditions.
Pros
Very packable
Lightweight
Incredibly insulated (R-Value: 6.9)
Easy inflation/deflation with WingLock Valve
2.5" thickness
Cons
Price
Crinkles like a paper bag
Can be slick if not on even ground
I am a long-time fan of Thermarest and have had some version of their pads for years – from the Trail Scout to the Trail Lite and now the NeoAir XTherm Max. The XTherm Max, however, takes the cake; it is the perfect balance of thickness, ease of inflation, and packability. Over the course of a couple of months, I used this pad in a variety of different conditions – from the hot deserts of Utah to the brisk mountains of Colorado. The XTherm Max excelled in every condition I used it. Additionally, I tested the NeoAir Micro Pump – a hands-free, battery-powered pump that will autonomously inflate OR deflate your bag while you attend to other things. This little guy is an accessory I've never considered before and will become a staple on all trips to come.
Features/Weight
For this review, I received the regular wide version of the NeoAir XTherm Max. The Max differs from the regular version by being a rectangular shape (25" x 72") instead of the typical mummy shape at about 50% more weight. The total weight of the Max regular wide is 22 ounces (roughly equal to a 1L Nalgene with 16oz of water in it). This tiny increase in weight was worth it to me for the extra real estate. The pad is 2.5 inches when fully inflated and provides an incredible R-Value of 6.9. This is a tremendous level of insulation for such a compact system and is likely the main reason for the significant cost. Also new for 2020 is ThermaRest's WingLock valve system; this one-way valve system allows three times the airflow in and out of the pad and was incredibly simple to use even with gloves.
I also received the NeoAir Micro pump for testing; this tiny pump takes two AAA batteries and attaches to the WingLock Valve with a click. As a result, you can fill your sleeping pad with air while you set up your tent, make some coffee, build a fire, or just relax. At 2.45oz when filled with batteries, it is comparable to a headlamp and light enough to accompany you on all but the most ultralight excursions. While it will only fill a pad to about 75% full, it has made me realize how much a headache (sometimes literally) blowing up a pad can be. 
Performance
The Thermarest NeoAir XTherm Max (talk about a mouthful) for me is almost the perfect pad. The insulation is second to none with its monster R-Value of 6.9; Thermarest also claims that its Triangular Core Matrix minimizes convective heat loss (heat loss due to moving air), suggesting that this pad would still be effective when used outside of a tent. I never tested this pad in the open air, but it did keep me surprisingly warm on a night with a high of 30°F temps. I've never before had the confidence in a pad to sleep directly on snow, but I think this one might be up to the challenge. Another interesting characteristic I noticed was that I didn't overheat when the temperatures were high. I would have expected the pad to retain a fair bit of warmth from a hot body, but I never woke up hot while camping in the Utah desert. With that said, it's possible that the XTherm would be too much during summer camping.
Fit/Comfort
The XTherm is 2.5" thick which gives you plenty of lift above rocks and bumpy ground but doesn't get too bulky when packed. I did find myself occasionally wanting slightly more thickness, but I never touched the ground through the pad – even when slightly deflated. I am a stomach sleeper, so my weight tends to be evenly distributed; this means I don't have any major points of contact that poke through pads. Even when sitting up straight on the pad, my butt didn't poke through. For the sake of side sleepers I tried laying on my side: no part of me hit the ground through the pad. If you tend to like a mostly deflated pad and you sleep on your side, it's possible you would hit the ground – however, I think it's unlikely.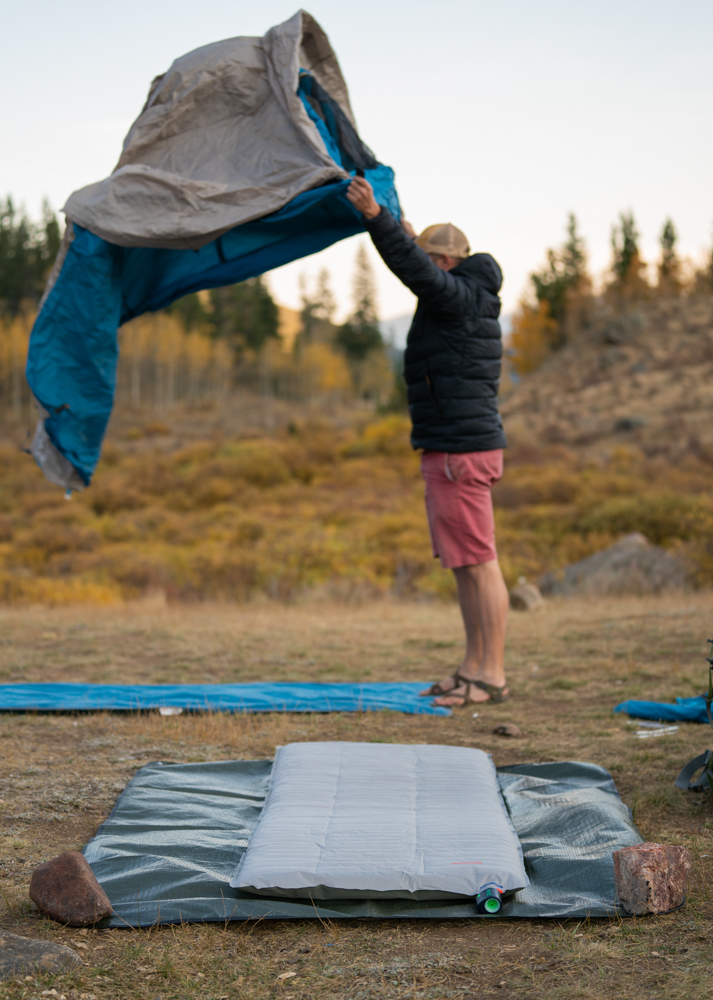 ThermaRest's new WingLock valve system performed well on the XTherm and was intuitive to use. It uses a simple lefty-loosey/righty-tighty configuration, and it is a one-way valve so you don't lose air in between breaths. To dump air you simply twist the wings open; you can twist a little to burp air from the pad, or open all the way to dump quickly. Some reviewers mentioned that it took a while to empty the air from ThermaRest's self-inflating pads, but I did not find that to be the case on the XTherm. If you twist the wings fully open, almost all the air dumps immediately. Additionally, you can attach the Micro Pump to fully deflate the bag while you attend to other things. Included with the pad is ThermaRest's pump sack (which doubles as a stuff sack). The sack performs okay like most other pump sacks, but now that I have the Micro Pump I probably will never use the pump sack.
Likely my favorite feature of this pad is the weight; the amount of performance you get from only 22 ounces is quite an achievement, and at that weight, I barely notice it in my pack. It rolls up tightly to the size of a 1L Nalgene yet will keep you warm on below-freezing nights. Though the nylon material is thin, it doesn't feel delicate. I don't quite trust it enough to sleep without a tarp or closed-cell pad, but Thermarest has included a patch kit just in case something happens.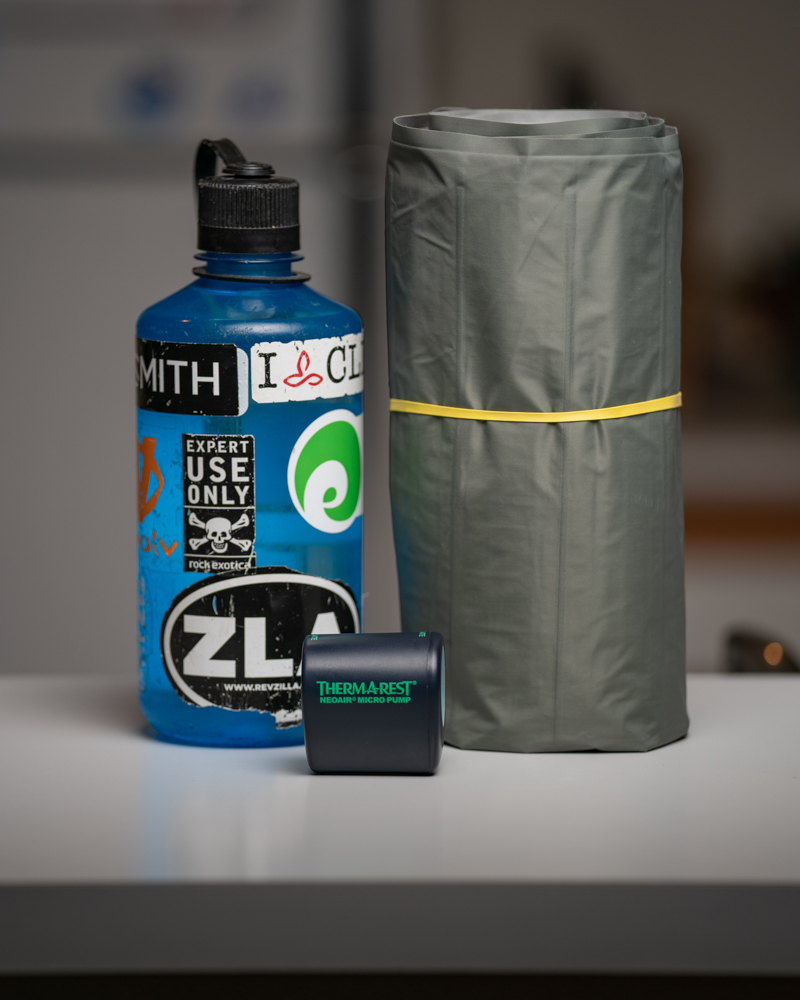 Room For Improvement
Those incredible insulation properties do come at a bit of a cost, though. The material used inside the pad crinkles like a paper bag. This seems to be the norm with most insulating pads, and I quickly got used to the sound. Admittedly, it is not as loud as some other pads I've heard. I don't typically move after falling asleep, so the sound didn't annoy me; however, you – and others – may find the crinkly noise annoying if you toss and turn. I typically sleep with earplugs in (a habit I developed traveling overseas in noisy hostels), so the sound doesn't bother me.
Another slight negative is that the top of the pad does not have much grip to it. I found that my slick sleeping bag would often slip around if I wasn't situated on perfectly flat ground. This can mostly be rectified by camping on level ground, but sometimes that isn't an option. If you toss and turn at night, you may find yourself sliding around a bit on the pad. Many newer sleeping bags have a strap that attaches around the pad and would pair perfectly with the XTherm.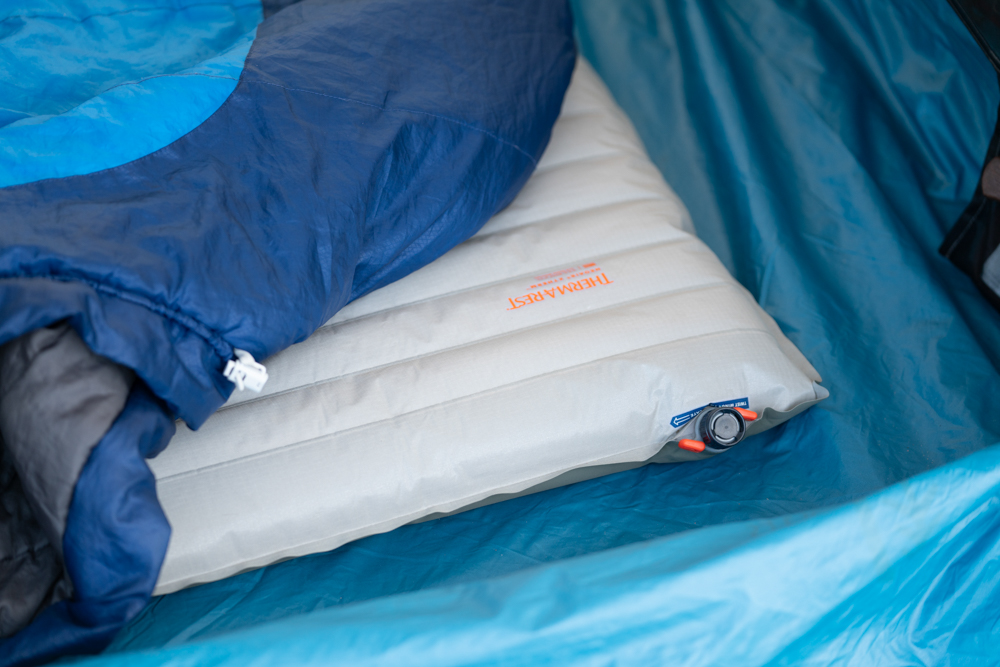 Final Word
Overall, I have been incredibly satisfied with the NeoAir XTherm Max. The thickness is just enough, and it has kept me warm even on cold nights above 10,000'. At the risk of sounding biased I must stress that I go into every review with the intention of finding any flaws I can – with this pad I only found minor ones. At the price of a down jacket, it certainly doesn't come cheap; however, you definitely won't feel like you got ripped off. ThermaRest has lived up to their long history of quality and is the company I will turn to for years to come.
Shop the ThermaRest NeoAir Xtherm Max and NeoAir MicroPump on Outdoor Prolink. Not a member? Apply today!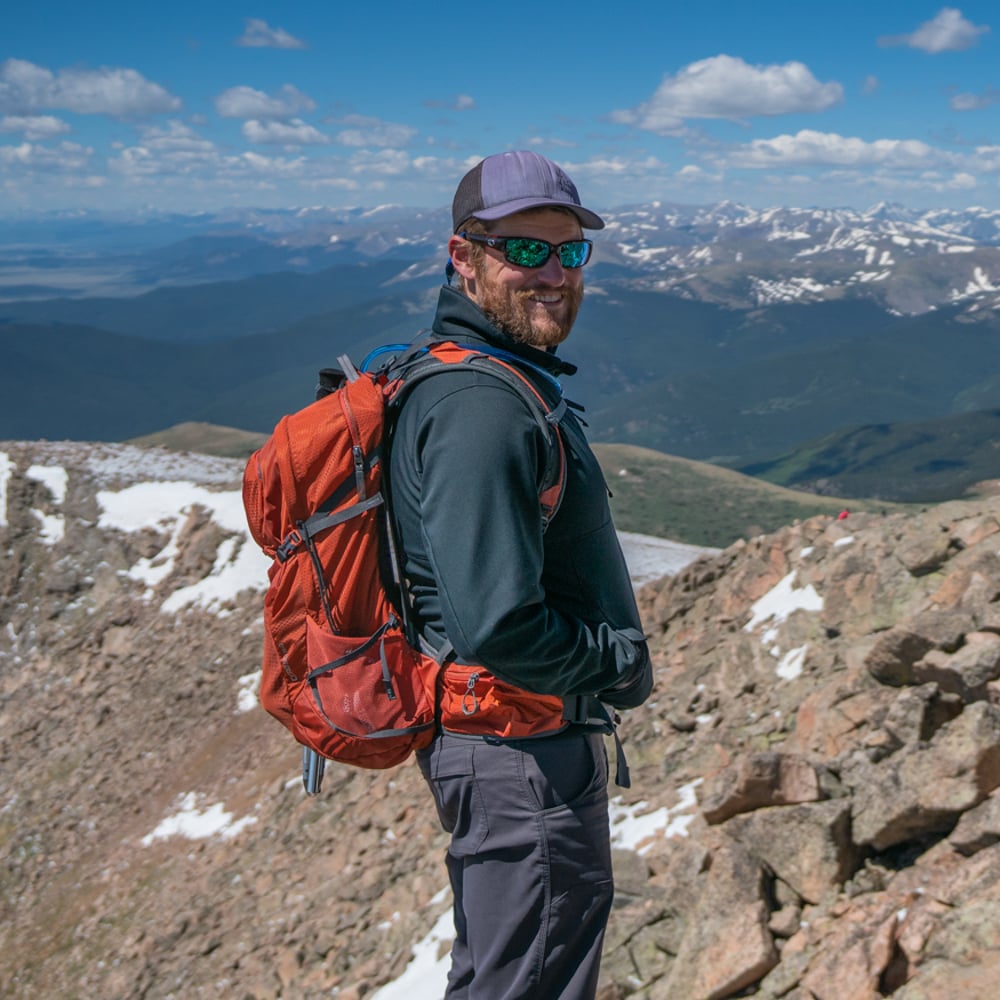 Daniel John is a commercial and editorial photographer in Boulder, Colorado with a passion for travel and adventure. Daniel's obsession with photography was cultivated during a year-long backpacking trip through Asia and Oceania where he documented incredible places and people. When he isn't editing photos, you can find him exploring the mountains and streams of Colorado. You can connect with him on Instagram (@ImagesByDJ) or through his website.