ProView – Gregory Citro 30 H2O
After one month of testing, various adventures, and roughly 10,000 vertical feet, the Gregory Citro 30 H2O pack has proved itself to be one of the best daypacks I have ever used. I regularly carried 20-30lbs of gear (including cameras, lenses, clothing, water, hiking and/or fishing gear, and a GPS), and found myself forgetting I was carrying it. With very few faults, the Citro has become my go-to pack, and I look for excuses to use it.
Gregory Citro 30 H2O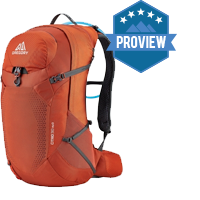 Product Description: The Citro 30 H2O hauls gear, food, and water with ample room left over for layering as you gain altitude. VaporSpan free-flowing ventilation keeps you cool and the included 3D Hydro Reservoir keeps you hydrated.
Offer price: MSRP: $149.95
Quality

Features

Fit

Durability
Summary
After one month of testing, various adventures, and roughly 10,000 vertical feet, the Gregory Citro 30 H2O pack has proved itself to be one of the best daypacks I have ever used. I regularly carried 20-30lbs of gear (including cameras, lenses, clothing, water, hiking and/or fishing gear, and a GPS), and found myself forgetting I was carrying it. With very few faults, the Citro has become my go-to pack, and I look for excuses to use it.
Pros
Spacious main compartment
Hydration pack included and works well
Lightweight
Comfortable to wear for long periods
Ventilated back panel
Cons
Not enough small pockets
Outside pockets are difficult to use when main compartment is stuffed full
Even though I received this backpack in exchange for a review, it was important to me to be unbiased – I was determined to give the pack as honest and thorough of a review as I could because that's what I appreciate about other reviews. This backpack rarely left my back while hiking mountains, camping overnight, photographing protests, taking short fishing trips, and biking to photoshoots. Through all these occasions, I developed a nuanced view of the pack; below are those views.
Fit/Comfort
I wasn't expecting this pack to be quite so tall and narrow – perhaps 25% narrower than typical backpacks. This design results in a pack that fits my back (6'0", 200lbs) like a glove. It distributes the weight more comfortably, and with the hip belt and built-in cinches, it can compress until it feels like part of you. On one occasion I had to run to beat a rainstorm, and the pack hugged my back nicely – it didn't wobble or sling from side-to-side. While I wouldn't necessarily choose this pack for a trail run, you can definitely count on it to conform to your body for steep approaches or narrow, bushy trails.
Gregory also added an internal alloy (i.e., lightweight) frame that keeps the pack rigid; this translates into a backpack that will always maintain the same shape throughout its life. The main compartment keeps a constant form so your objects inside don't shift around. Furthermore, the rigidity of the frame keeps the ventilated back panel taut, thereby allowing airspace that keeps you from soaking your back in sweat. This is essential during those hard summit pushes or hot summer days.
Another feature that greatly contributed to the comfort of the pack is the padded hip belt. It is wide and comfortable, and after a few minutes, I forget the belt is buckled. Additionally, it tightens from each side instead of near the front clip – a small feature that every backpack should incorporate. The hip belt has two zippered pockets (one on each side) which are good for keys, a knife, chapstick, a headlamp, etc. (small items). A minor annoyance, however, is that I often needed two hands to completely close the hip pockets; they would close MOST of the way with one hand but remained slightly open.
Overall, the fit and comfort of Gregory's Citro pack is overwhelmingly positive and is the main reason I'll continue to use it over other backpacks I own.
Features/Function/Performance:
One of the features I enjoy the most is the included 3-liter hydration pack (Citro H2O versions only). I've used many hydration packs over the years – many have disappointed me by springing leaks, bulging strangely, not sealing properly, or a myriad of other annoyances. This one though… just, works. It is very apparent that it has been thought out properly, and it has some very sleek features. For instance, the hose has a quick-release valve that allows you to pull the reservoir out of its dedicated pocket without de-threading the hose. This is one of those features I didn't even know I needed, but now I won't be able to live without it. The hydration pack has its own dedicated pocket, so you won't have to worry about competing for space or accidentally poking a hole in the bladder. Additionally, the hard plastic section up top snaps the hydration pack nicely into the pocket leaving me confident that it won't fall off. An internal baffle distributes the water evenly, and the bite valve is easy to use. Overall, it is just well-designed.
Another feature I enjoy about this pack is the spaciousness of the main compartment. It feels like a large container more similar to a rope bag than a typical backpacking bag; this is probably because almost all of the 30L are contained within the main compartment. Within this compartment, I could easily fit a large camera and two lenses, a light jacket, a hammock and straps, some snacks, a beanie and gloves, and a GPS; it will easily fit everything you could want for a day hike, and could even be used for an overnight trip if you pack lightly. The internal wireframe helps the compartment hold its shape, and eases access to the inside – a welcome addition that is a major contributing factor to the pack's comfort while wearing.
Room for Improvement
However, one of my largest cons is that there are very few other pockets, and the ones that Gregory has added are quite small. For instance, the top zippered pocket on the front of the pack is VERY small with only enough room for a phone, a small notepad, and a pencil. At one point, I stuffed a modest-sized Garmin GPS inside, and it essentially used all available space. There is an additional small mesh pocket within the large compartment; I found this pocket is good for keys, wallets, Ferro rods, camera batteries, etc. However, if you fill this small pocket too full, it becomes hard to access things at the bottom of the pack. I ended up only storing items less than an inch or two thick in that pocket like Sony camera batteries. Conversely, if you fill the main compartment too tightly it becomes hard to use the water bottle holders and the top zippered pocket on the outside. I usually rectify this by putting squishy things like jackets at the bottom of the pack; if you're using the hydration pack though, you probably don't need to bring an extra water bottle. So while you can stuff the large compartment full to the brim and still feel comfortable wearing the pack, it's probably best to leave a bit of room.
To get around the inconvenience of not having accessory pockets, I tended to use third-party organizational systems. For instance, in other backpacks I would put my camera accessories (batteries, dust blower, microfiber cloth, SD cards, etc.) loose in the small pockets; in the Gregory Citro, I switched to the Tenba BYOB inserts that hold all of your camera components in one container. Specifically, I used the Tenba BYOB 10 DSLR Backpack Insert, and it fit like they were made for each other. If you often carry many loose things in your backpack, I recommend using a bag or organizer to keep it all together in the Citro.
A final (incredibly minor) complaint is that the zipper on the main compartment occasionally catches the flap that covers it causing some frustration. This annoyance seems to be commonplace in almost every backpack I've ever used, so perhaps manufacturers don't yet know how to rectify this.
Durability/Contruction/Style
While I am definitely not an authority on style, I really enjoy the look of this pack. I chose the Spark Orange color and it seems to be fairly true to the color on the website. Everything has a streamlined build that does not bulge in weird places, and colors that complement each other. The main fabric is a proprietary ripstop material (210D Honeycomb CryptoRip Nylon) with a pleasant honeycomb mesh pattern; one touch reveals how durable the fabric is, and I'm confident it will last for ages. Though a month is not really sufficient to determine the actual durability of an item, it doesn't have any of the markers of a product that will break down through normal use. It appears well constructed, and the main outer fabric should hold up to repeated scrapes and drops.
The Final Word
The Gregory Citro 30 H2O is a well-designed, stylish daypack capable of handling tasks ranging from grocery runs to mountain climbs. I loved the large main compartment that felt bottomless, and the straps and belts made it a breeze to carry for long days on the trail. The hydration pack removed the need to carry Nalgenes and freed up the side pockets to carry things like tripods, microspikes, or snacks. The only change it could use are some larger accessory pockets to carry the many small, random things we end up needing. Over the course of a month, it rarely left my back, and it will continue being my bag of choice for years to come.
Shop Gregory Citro 30 H2O on Outdoor Prolink. Not a member? Apply today!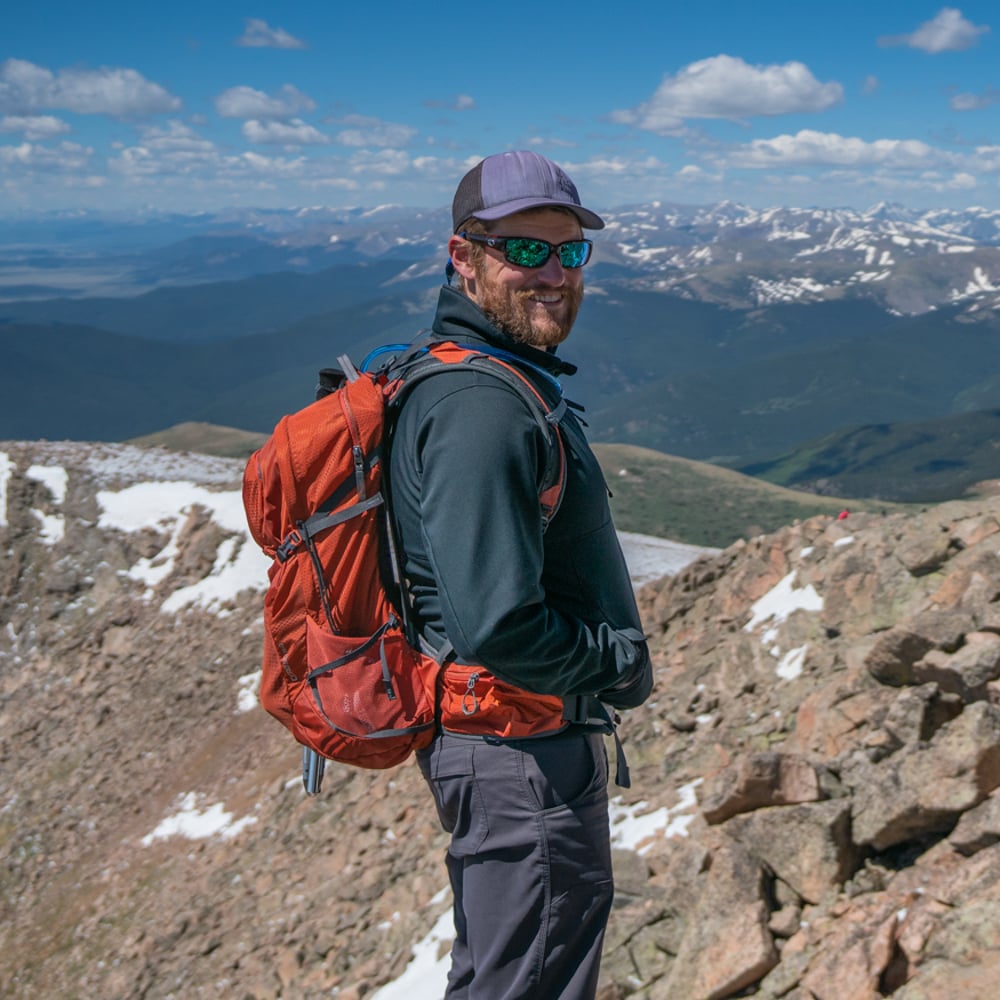 Daniel John is a commercial and editorial photographer in Boulder, Colorado with a passion for travel and adventure. Daniel's obsession with photography was cultivated during a year-long backpacking trip through Asia and Oceania where he documented incredible places and people. When he isn't editing photos, you can find him exploring the mountains and streams of Colorado. You can connect with him on Instagram (@ImagesByDJ) or through his website.