ProView – Thermarest Questar 32F/0C
This Labor Day, we decided to escape the crowds and head out to the backcountry of the Wind River Range in Wyoming. Alpine lakes, great fly fishing, gorgeous scenery and great weather is exactly what a girl needs to decompress and take in some good ol' nature. Not to mention escaping the crowds. We saw absolutely no one for 72 hours.
Thermarest Questar 32F/0C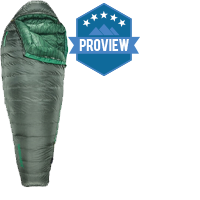 Product Description: As the lightest bag in our award-winning Questar line, this bag makes the perfect partner for experiencing the joy of the backcountry. We've loaded this bag with the comfort features that Therm-a-Rest bags are known for. Our SynergyLink™ Connectors integrate the bag with your sleeping pad while allowing our Zoned Insulation to keep fill where you need it most. The fit of the bag has been perfected in our onsite cold chamber to create our W.A.R.M. fit and allowing room for multiple sleep positions without compromising thermal efficiency. Stuffed with water-resistant 650 fill Nikwax Hydrophobic Down certified by the Responsible Down Standard, the three-season Questar is ready for your next backcountry adventure. The Questar is offered in three sizes, and designed to fit both men and women. Compression sack and storage sack included.
Offer price: MSRP: $219.95 - $259.95
Quality

Features

Fit

Durability
Summary
This bag packs SMALL! If you're looking to lighten your load in the backcountry, but still want a feature-packed, down insulated sleeping bag for three-season camping, this is the comfy, cozy bag you need for a great night's sleep. 
Pros
Down insulated, very warm
Packs extremely small
Weights 1 lb 3 oz
Stuff sack included
Mummy style
SynergyLink to connect to a sleeping pad
Toe-asis footwarmer
Chest pocket perfect for stashing phone or other small items
Cons
Synergy clips are a bit tricky and take a bit more time to clip and unclip
Full disclosure, I love backpacking, but I don't love carrying a heavy pack. I'm always looking to reduce weight as much as possible. It's a constant battle, and difficult to lighten the load while balancing the need for warmth and comfort. And I'm one to get pretty cold. Let's just say you'll often find me sleeping in my down jacket. 
When I had the opportunity to test the Therm-a-rest Questar 32, I was excited to see if a person who runs extremely cold could cut the weight, without freezing at night.
Fit/Comfort
This bag is a mummy shape, that has lots of room in the top half of the body. I typically am a side sleeper, and I like to have one knee bent in a "number 4" looking position. Mummy bags usually resort to me feeling confined and trapped. I found that wasn't the case at all with this bag.
The Questar features more of a "human" shape, with a tapered width that increases in the chest area, I found it perfect for tossing and turning sleeping like myself.
The SynergyLink Connectors also kept my bag secure and centered on the pad, so the tossing and turning throughout the night didn't result in my waking up to find myself on the cold hard ground.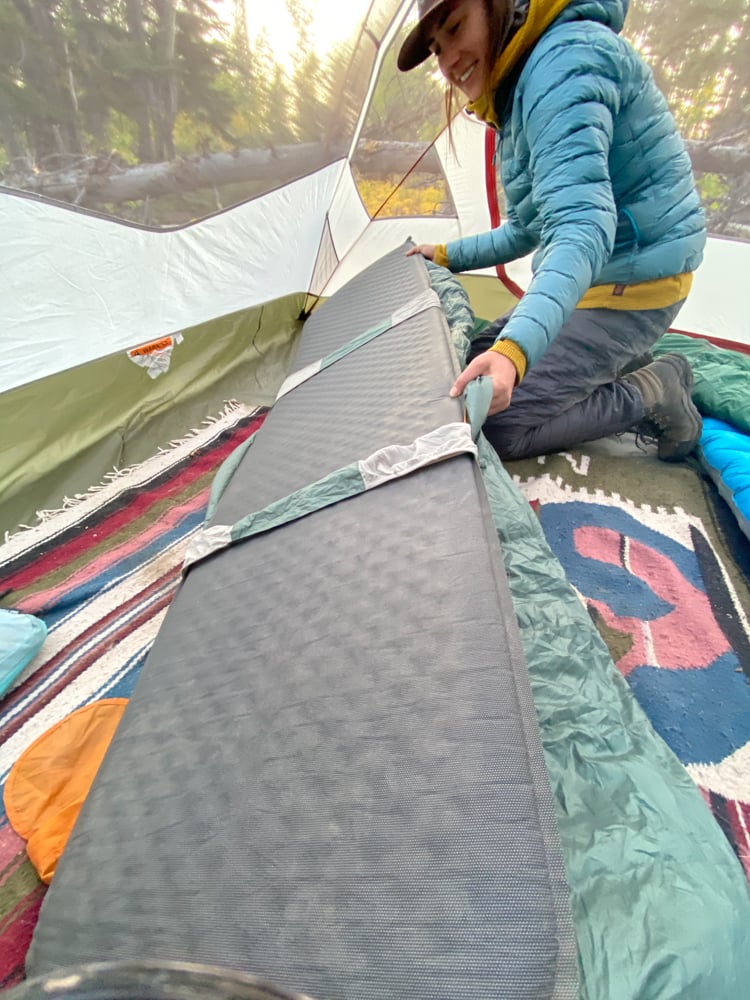 The SynergyLink Connectors also kept my bag secure and centered on the pad, so the tossing and turning throughout the night didn't result in my waking up to find myself on the cold hard ground.
The Questar's Toe-asis footwarmer is a contoured footwarmer feature that kept my feet nice and toasty, and I found myself actually tossing my extremely thick wool socks and sleeping with naked feet. Something I definitely wasn't used to with other sleeping bags.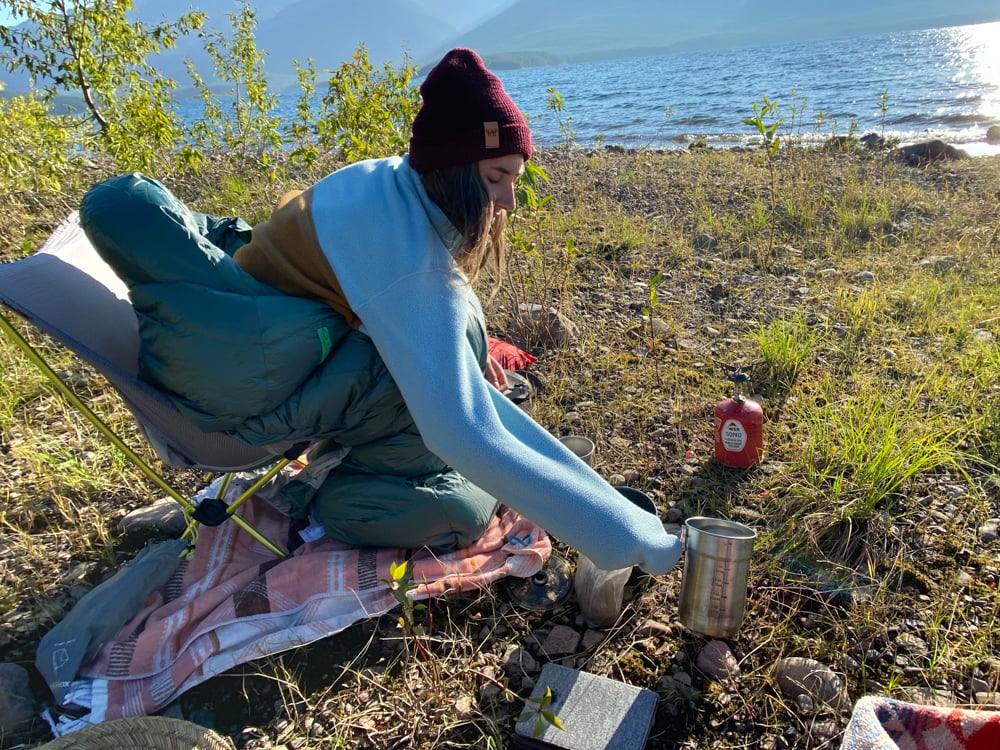 Specs:
Max user height – Short 5ft 6 inches, regular 6ft, long 6ft 6 inches
Shoulder girth – 58" small, 63" regular, 66" long
Hip girth – 58" small, 61" regular, and 64" long
It also works great as a general blanket. During the colder mornings, I would wake up and sip some coffee down by the alpine lakes. Unzipped, and folded out you can keep your feet warm and toasty and toss the top layer over you for a comfy blanket!
Look/Style
I know color isn't an important factor for most, but I love the green and the accented zipper colors. It's a well put together package, that from a design standpoint is really great.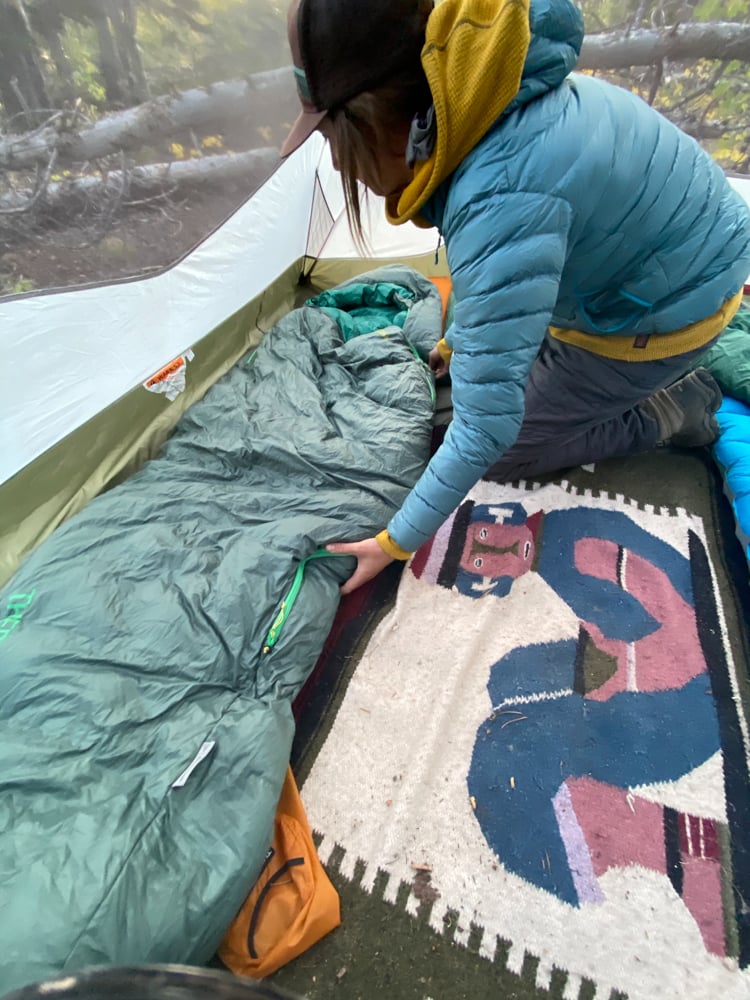 Features
My favorite part is the SynergyLink Connectors on the bottom of the bag, which have two very wide and stretchy "straps" running across the bottom. There are three fasteners to allow you to unclip, stretch across and reclip. These were a bit tricky to clip in, because of the flat design – mostly so you don't feel them underneath you, so I typically kept them clipped and just slipped my sleeping pad in through the bottom. It fit perfectly with my NeoAir pad. 
The bag is filled with 650 fill down and has a Nikwax hydrophobic treatment, which helps you stay warm even in moisture. I like sleeping with the rain fly off, which can result in a dewy morning, and this bag kept me perfectly warm. It absorbs 90% less water than untreated down, without the negative effects of harmful PFCs.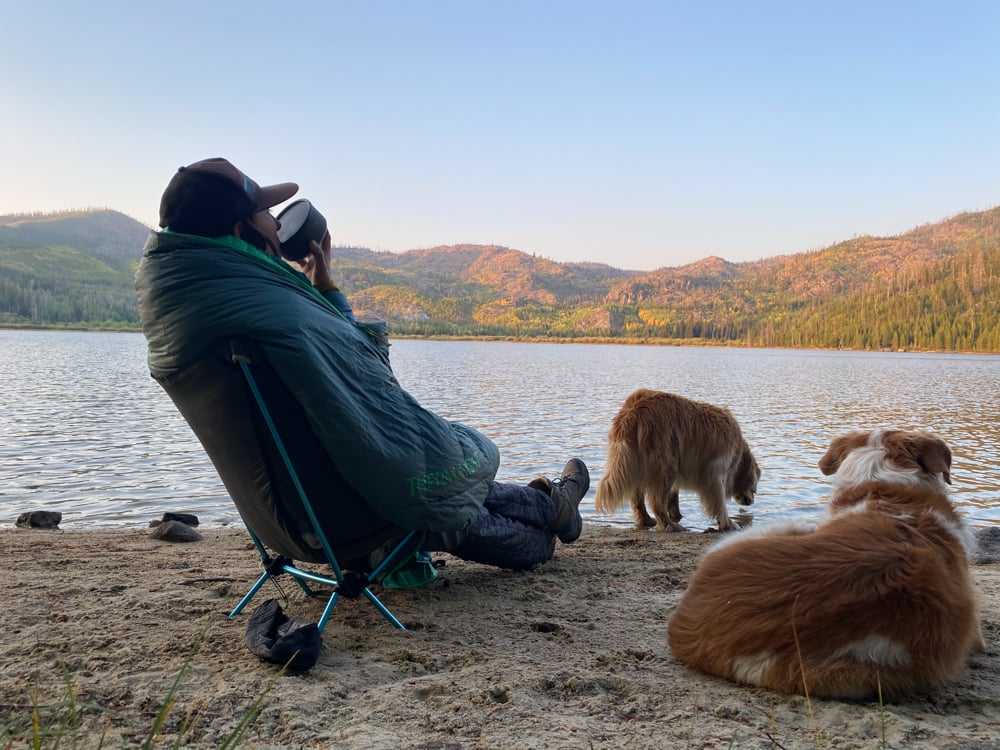 The down insulation stays fluffy and puffs up quickly after taking it out of the compression sack. It also features zoned insulation, which maximizes the warmth and provides captured heat in the places you need it the most. Therm-a-rest's down is also Responsible Down Standard Certified, meaning the waterfowl the down is harvested from are treated humanely. A very important feature. 
Their W.A.R.M fit (which stands for with additional room for multiple positions) is implemented technology that gives the bag a roomier feel for the tossers and turners like me, without having you feel like you are an actual mummy.
I love the extra large hood design, which allowed me to fit my camp pillow inside, and helps keep the neck supported even when tossing and turning. You can also synch it down for more warmth.
The full-length zipper draft tube is perfect for hotter nights, or when you want to use it more as a blanket. A couple nights I unzipped and then used the snap at the top of the bag to clip the top layer to the side of the hood. It allowed me to separate my legs, and peak out that foot when I got too hot.
The stash chest pocket is also perfect for keeping my phone safe (don't worry I only use it for pictures in airplane mode to fully disconnect), so I didn't lose it in the tent.
Weight/Packability
This bag packs extremely small, and I found myself surprised at how compressed I could actually get it to be. It packs very easily, and the compression straps cinch it down to a very small size. It also comes with a storage sack to keep the down lofty when you're not using it.
It's not necessarily as small and light as an extreme ultra-lighter might require, but perfect for the avid backcountry adventurer looking to cut weight without sacrificing comfort or features.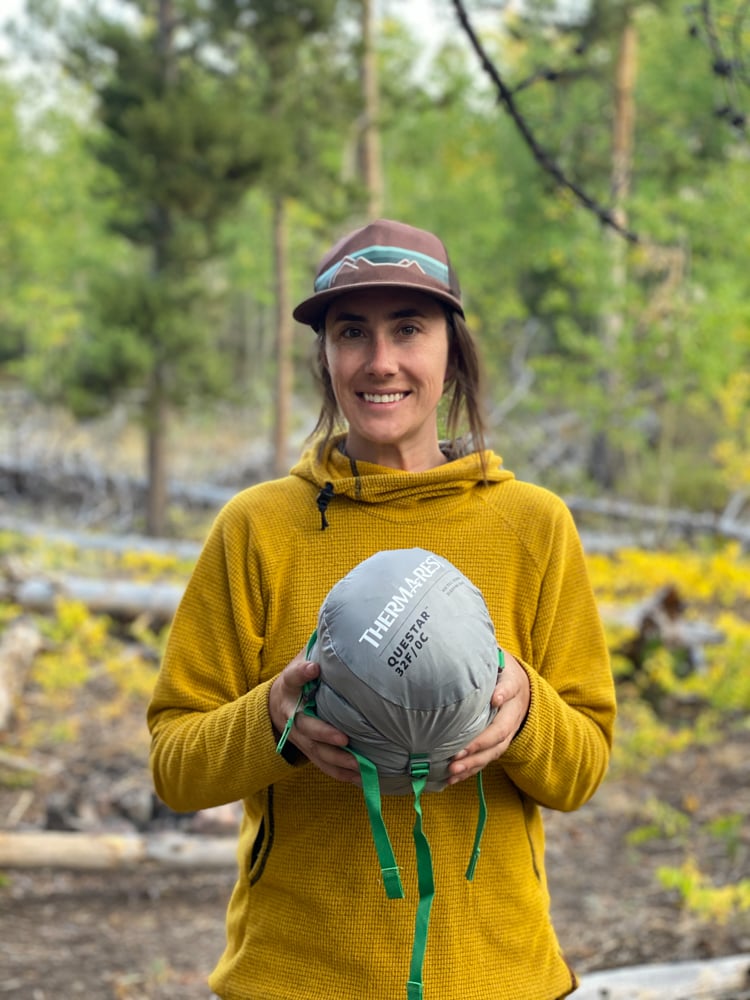 Durability/Construction
This bag is holding up really well so far and I'm very confident it will withstand the harshest of beatings. The zippers are working perfectly, as they should. I often find zippers on other bags get caught when zipping, but with the Questar I haven't had that issue at all. 
Therm-a-rest offers a Limited Lifetime warranty on the bag – which have a 2 year limited warranty. They also cover you with their Bettter Sleep Guarantee, which means if you're not liking it, you can return it within three months and you get a refund – no questions asked. I love that a company offers this, and stands by their customer satisfaction.
The Final Word
I love this bag, and find it to be absolutely perfect for three-season backpacking. Guaranteed comfort and warmth without lugging around a heavy bag, Therm-a-rest has implemented designs that help accommodate a more realistic "human" sleeping position, perfect for a tosser and turner like me. 
Shop the Thermarest Questar 32F/0C on Outdoor Prolink. Not a member? Apply today!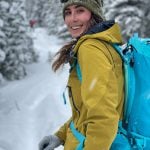 Jess Villaire is the Marketing Manager at Outdoor Prolink. You'll typically find her out with her doggos skiing, mountain biking, hiking, SUPing, drinking beer, or rearranging furniture. Follow her on Instagram @jessisupsidedown.