ProView – Thule Approach Review
I was lucky to be able to put the Thule Approach tent to the test this spring and my oh my, was I stoked! This tent is absolutely amazing for any type of car camping adventure. I am big on last minute adventures and I always dread pulling all my gear and getting it ready to go. Having a tent already attached to the roof of my car is what I call a dream, mostly because I hate setup/takedowns. But doesn't everyone? The Thule Approach tent made all of that so simple and easy for me to do on my own (bad weather, great weather, night time, etc — it only took me a few minutes to set up!).
Thule Approach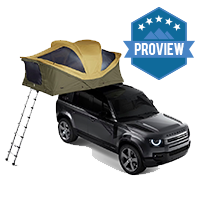 Product Name: Thule Approach
Product Description: On top of the world, on the top of your car. Thule Approach is a tent that makes adventure travel easier, more comfortable, and more fun. The car top tent maximizes interior space, giving you a great place to hang out in, as well as a comfortable night's sleep. For an even more spacious experience, the tent is compatible with an annex or awning (sold separately). Made for rugged adventures off the beaten path, this rooftop tent is equally great for local explorations or weekend getaways with family and friends. Transform your vehicle into a home away from home and live the van-life experience no matter what you drive—SUV, sedan, truck, or hatchback.
Offer price: MSRP: $2,799.95
Currency: USD
Quality

Durability

Fit

Features

Eco-Friendly
Summary
Having a roof top tent has amplified my camping adventures. It's my favorite piece of equipment for so many reasons, but the fact that it is always with me is a huge benefit for someone who loves to just pick up and go.
Pros
 

Easy set up/take down
Exceptionally durable/high quality material
Installation is super simple.
Cons
Condensation build up
Visually – the product is pretty bulky
Not hard cased.
Living in Montana you really have to be prepared for all types of weather conditions, which makes this tent so complimentary to the conditions I have endured. I wanted to put this tent to the test, so I mostly adventured into the backcountry (as far as the road would take me). I showed up in the dark a few times, I woke up in the middle of a windstorm one night/morning (thought I was going to blow away), and once I camped in the rain. I was lucky enough to avoid the snow, but I don't have a doubt in my mind that this tent could uphold conditions especially with the rain fly feature.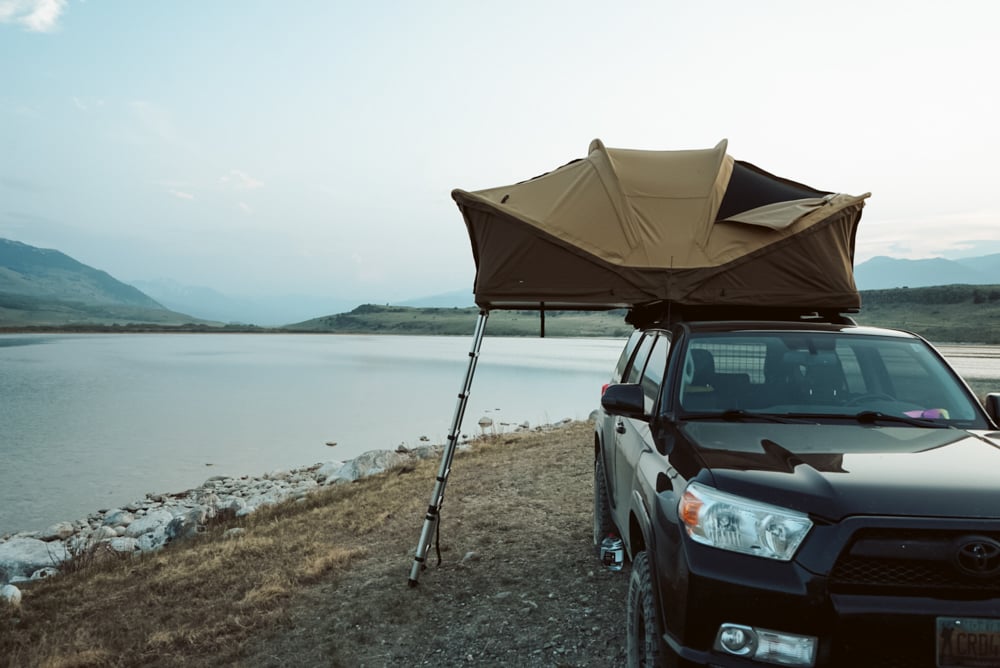 Fit/Comfort
I am about 5'8" and had more than enough room. I also had another friend who was 6'1" in the tent along with two full size dogs (Belgian Malinois and a Lab/Shepherd mix). We all fit with plenty of room. I definitely recommend adding a cover to the mattress if you are going to throw pups up in the tent with you (muddy paws, long nails, hair, etc. — just helps keep it cleaner).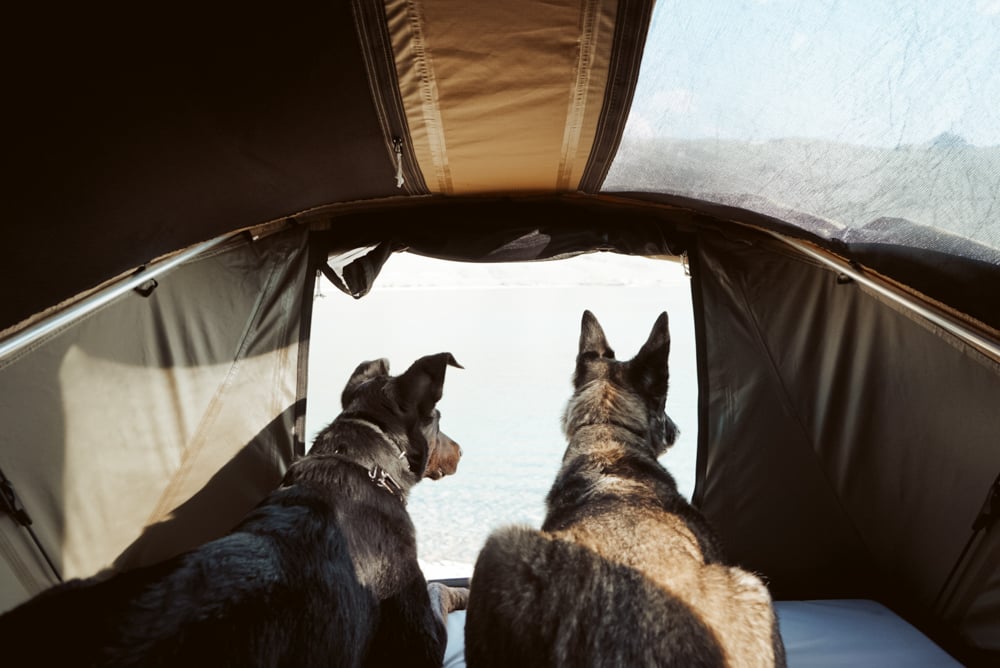 Look/Style
The Thule Approach tent comes built out of an aluminum body and then you have a cover to zip everything up and keep the tent together during travel. I personally think the tent is a little bulky and would prefer something slimmer, however I was really surprised how it did not affect my mileage at all. I drive a 4runner SR5 and it was a big concern of mine that my mileage would suffer, but when applying the correct Thule crossbars with the tent I didn't see a change.
Features
The Approach came with a rain fly, surprisingly comfy mattress, ladder to get in and out, and window vents that open up so you can see the stars at night. It was absolutely magical to watch the star constellations in the mountains. There were also built in pockets on each side to store items you wanted to keep handy. The only recommendation I would add is that you would want to get a mat that helps with condensation depending on how much or little you keep air flow going. Also two mouth breathing dogs can add to that 🙂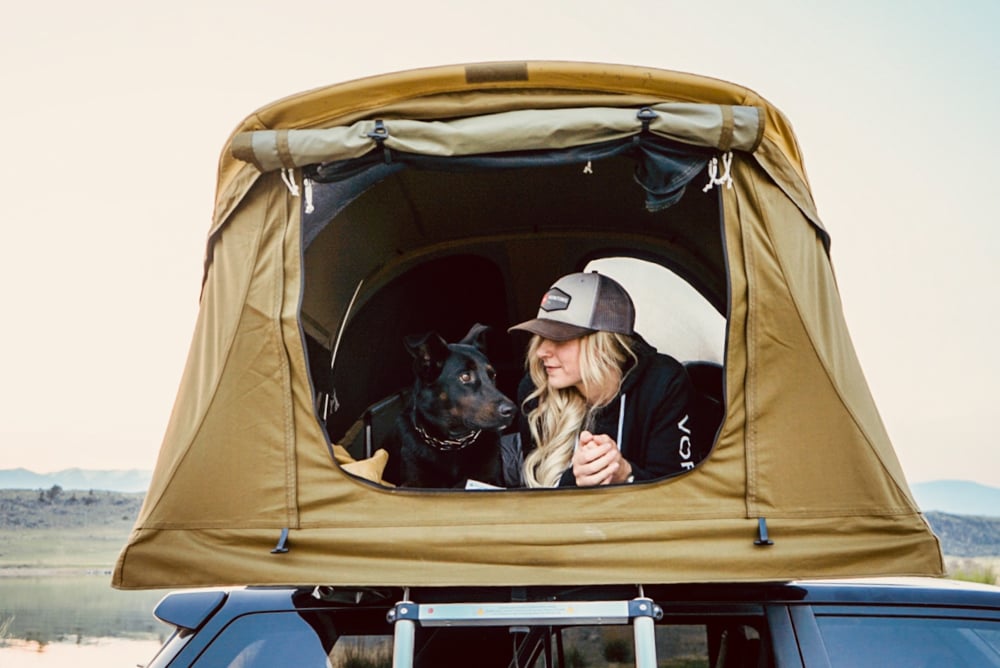 Function/Performance
The set up is super simple. Once you park level, you just unzip the cover, unlatch the ladder and pull it towards you. The tent will pop open and then you can pull the ladder down to the ground. Make sure to lock the ladder into place before stepping on it or it will continue to move on you. It never took more than 5 minutes to have everything set up and ready.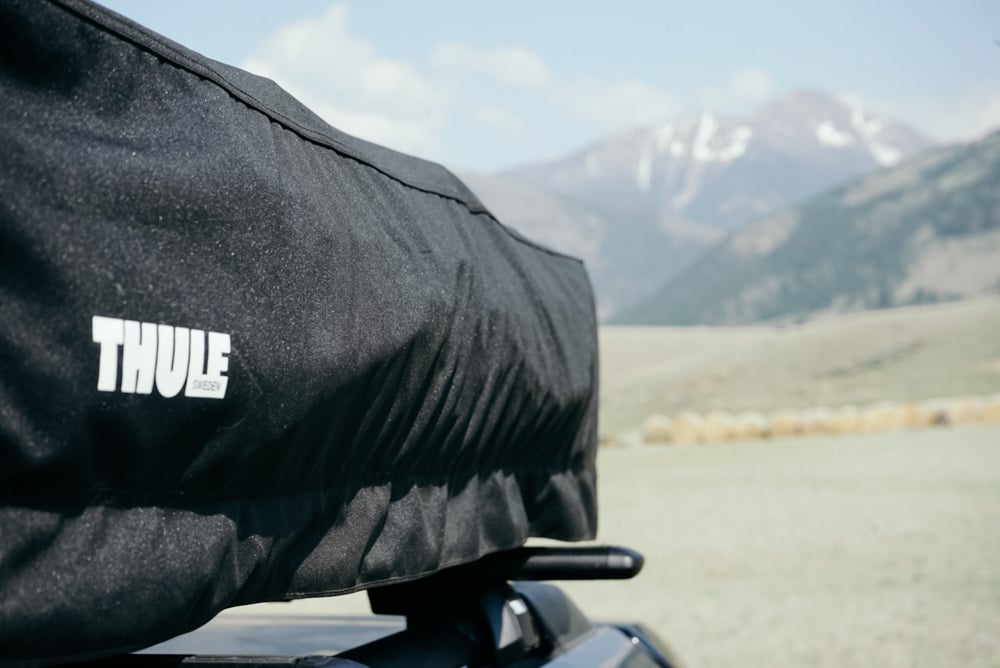 Durability/Construction
I put the Thule Approach tent to the test in as many conditions as I could. Rain and wind were the big ones. I was really impressed with how the tent handled the conditions especially while being on top of a car. One take away from camping in the rain, you want to make sure that you air your tent out when you get home so that it can dry up and breathe. You can tell how much thought went into the design of the tent, with the built in support underneath, mattress comfort, zippers to keep everything sealed while traveling, breathability options, etc. It really is the most ideal tent with high quality materials that can withstand just about anything.
The Final Word
The Thule Approach tent has replaced all of my camping tent needs (except for backpacking for obvious reasons). It's the perfect tent for a night getaway or a week-long camping trip. My favorite feature about the tent is that it's ready to go and doesn't take up any room inside my car. Especially traveling with doggos, gear, etc. room is so valuable. One upgrade I will be adding to my tent is another layer for the mattress and some sort of condensation pad to help with moisture. Other than that, I'm stoked!!
---
Shop Thule on Outdoor Prolink. Not a member? Apply today!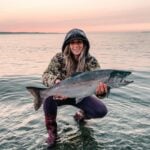 Melissa is the biggest animal lover you'll ever meet! The outdoors is her passion and greatest teacher, and more often than not you can find her hunting or foraging somewhere in the mountains of Montana or getting lost on a trail with her two four legged friends. When not outside, Melissa works for Outdoor Prolink as their Business Development Manager