ProView – Ultimate Direction Women's Ventro Windshell
Despite the fact that I live in Alaska and winter shows few signs of slowing down, I get warm quickly during aerobic activities.  I despise wearing bulky clothing and do not find comfort in feeling bundled up.  When the thermometer refuses to climb above the freezing mark, however, protection from the elements is necessary when heading into the outdoors.  I have taken the Ventro Windshell on multiple runs around town and out on some of our amazing cross-country ski trails over the past few weeks.  This jacket has provided just the right amount of protection to keep me comfortable without any bulk.  
Ultimate Direction Women's Ventro Windshell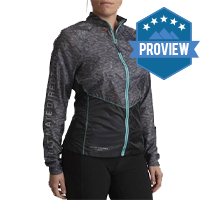 Product Description: And don't feel like you're in a sweat lodge, because the Ventro breathes.
Offer price: MSRP: $89.95
Quality

Features

Fit

Durability

Eco-Friendly
Summary
The Ultimate Direction Women's Ventro Windshell is an ultra-light weight shell that works as the perfect top layer for any outdoor aerobic activity when light protection from the elements is needed.  Its packability and comfortable fit will have you reaching for it every time you head out the door for a high motion adventure.
Pros
Ultra-light weight
Easily packs into its own pocket
Integrated vents
Comfortable fit
Cons
No secure pocket
Fabric is loud
No color choices
Function/Performance
The role of a windshell is to provide protection from the elements while allowing breathability and providing wind resistance to restrict heat loss.  This shell functioned very well.  I found it to be a perfect top layer over a merino wool shirt when running or skiing. Even though I would still sweat, the fabric combined with the venting allowed enough breathability to prevent my base layer from becoming saturated while also keeping me warm when a breeze picked up or I had to stop to adjust my gear.  The jacket is very light, so the heat retention was only enough for a quick stop. (Think stopping to snap a photo, sip some water, or read a map.)  For longer stops or if the temperature dropped, it also worked as a fine mid-layer when combined with a puffy coat or fleece.  This jacket never became saturated, even during my harder workouts, so I never felt the need to remove it; only add to it when necessary.  While this shell is water resistant and held up fine to light flurries and fog, this would not be my shell of choice for heavy precipitation.  
Fit/Comfort
I really enjoy the fit of this jacket. It is big enough to feel comfortable without being baggy or drafty.  It is trim enough to look good without being too tight. Even with an athletic build and muscular upper arms/shoulders, I never feel restricted wearing this jacket.  It fits easily over both a base layer and a vest.  Instead of a fully elastic waist (which can feel restricting and ride up), there is elastic only in the bottom of the side panels of the jacket.  This elastic combined with a longer back panel keeps the jacket perfectly in place.  Similarly, there is elastic on the bottom half of the wrists to keep the sleeves nicely in place without a constricted feeling.  The polyester material is also very soft and comfortable to wear over just a t-shirt or tank top in warm weather. 
Look/Style
Many other windshells I have tried have been boxy and not sleek.  This jacket is cut to be much more flattering.  It certainly has the look of athletic gear and likely will not double as your around town jacket, though it is plenty stylish in its own category.  This jacket truly has a women's specific cut catered to our anatomy and is not just a rebranded men's jacket.  The Ultimate Direction logo is sparkly and eye catching.  The light blue zipper offers a small touch of fun color, but I do wish more colors were available.  While neutral colors are okay for track workouts and easy trails, high visibility colors feel a bit safer to me on roadways and mountainous areas where it is important to be seen by others.  
Features
Like most ultra-lightweight gear, the features with this jacket are minimal.  There are two (one on each side) integrated vents along the top of the back to increase breathability.  It does not have pit zips, but instead has a vent located just below each arm.  There is no hood with this jacket, which I find preferable for high motion activities.  The sleeves are cut a bit longer to provide protection for the back of your hands without having to  wrestle with thumb holes.  There is one hidden pocket inside the chest of the jacket.  This interior pocket closes with an overlapping flap.  I do wish the jacket had at least one pocket that securely closed (or a clip inside the existing pocket) so that I could feel comfortable stowing a house/car key as needed.  
Weight/Packability
Calling this jacket ultra-light is no exaggeration. Weighing in at a mere 2 grams, this jacket should appeal to even the most weight stringent backpacker. It packs easily into its own chest pocket and can be further compressed. This jacket will easily fit into a backpack, hip pack, vest pocket, or running utility belt. There is also a loop on the pocket flap that would allow the jacket to be securely clipped onto a harness with a carabiner.
Durability
Though this jacket has handled trips through the laundry with ease and light brushes with vegetation, the fabric is extremely light weight.  It is perfectly built for in town running easy trails, but I do not anticipate it would hold up for heavy bush whacks or climbing on sharp rocks.  The zipper is light weight but sturdy and has yet to malfunction or snag.
Friendliness to the Earth
Ultimate Direction acknowledges the importance of protecting the environment that we all love to enjoy.  Their website states their offices are dedicated to recycling and composting.  They also align with groups that help protect threatened wild lands and waterways.  Some of their products do utilize recycled materials (this particular jacket is not one that does) and they state their plastic water bottles have always been BPA free.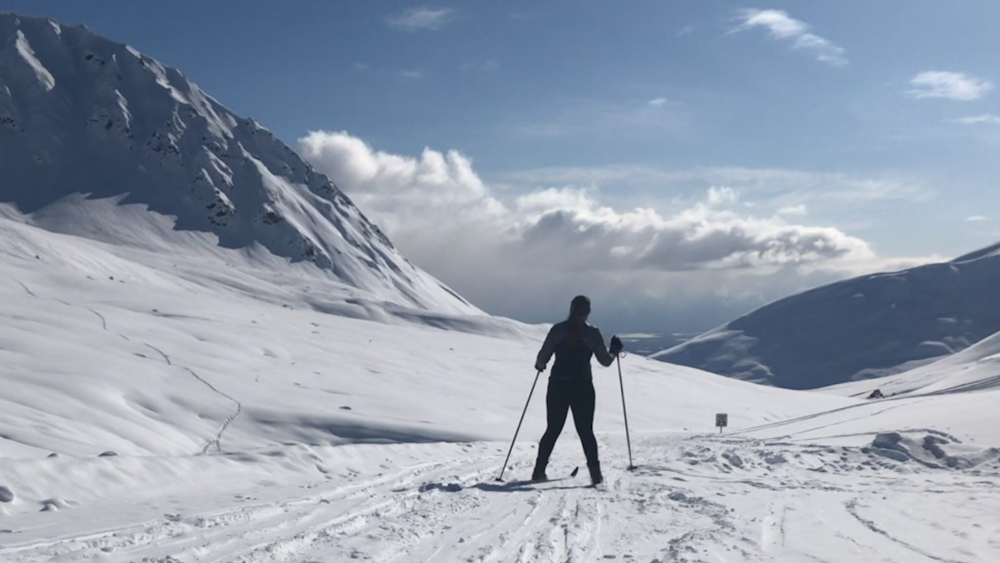 The Final Word
After a long, dark winter, nothing is more exciting than enjoying the spring sun and training for upcoming summer adventures. I am so glad to have found a jacket to help me enjoy the shoulder season days so comfortably! With so many benefits for so little weight, there is no reason not to bring this shell along for any fair-weather outing where you may catch a chill.
Shop Ultimate Direction Women's Ventro Windshell on Outdoor Prolink. Not a member? Apply today!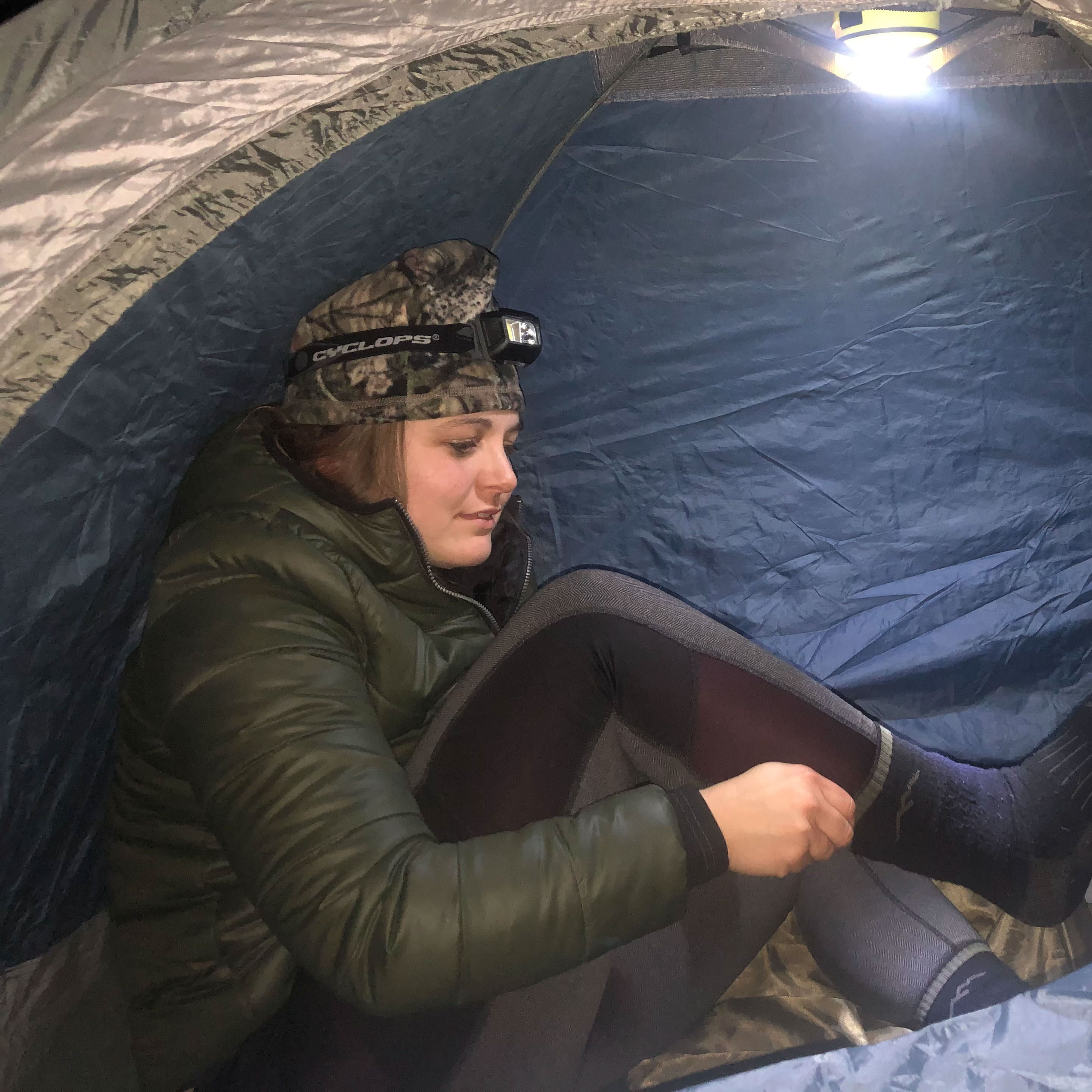 Michelle currently resides in South Central Alaska and works as an environmental technician for the Native Village of Eklutna performing fish, wildlife, and habitat surveys in an effort to restore their historic lands to their traditional bounty. When not at work, you can fine her hiking, skiing, climbing, horseback riding, running, biking, hunting, fishing, or trying out new ways to explore the outdoors. She can be found on Instagram under michelle_ventures. To learn more about the river restoration project, visit eklutnariver.org.