ProView – Wild Country Revo
Imagine you are out rock climbing in a place that requires a soft touch since the sandstone seems to be only one step further in the geological timeline than loose sand. Your route might only have two or three drilled pitons in the 65 or 70 feet you are climbing. Add in the fact that your belayer has just learned how to put on a harness 20 minutes ago and you get a recipe for a serious case of the nervous nellies. In comes the Revo.
Wild Country Revo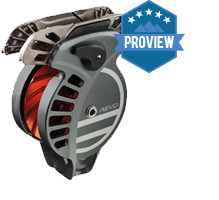 Product Description: The first bi-directional belay device with a backup. Whether you are a seasoned climber or roping up for the first time, the REVO makes belaying simple, safe, and more intuitive.
Offer price: MSRP: $144.95
Quality

Ease of Use

Durability

Functionality
Summary
A well-designed tube-style device that is perfect for the nervous leader with a green belayer or for the experienced climber who wants the added benefit of a backup feature that is always there but is never in your way.
Pros
Tube style device with an internal locking function that truly serves as an "in case of emergency" backup

Belaying, especially lead belaying, is made super smooth across a wide range of ropes (8.5mm-11mm) which is great for program/guide use

Omni-directional set up
Cons
Because the locking function is truly a backup you end up working a bit harder than you would with a standard tube device and a lot harder with a standard assisted lock device

Even in break position (and with the device not locked), there is less friction than with a standard tube device (especially with thinner ropes)

It weighs 275g and has a ton of moving parts. User is warned to "not drop the device" which makes it the only piece of gear I own that I truly worry about it breaking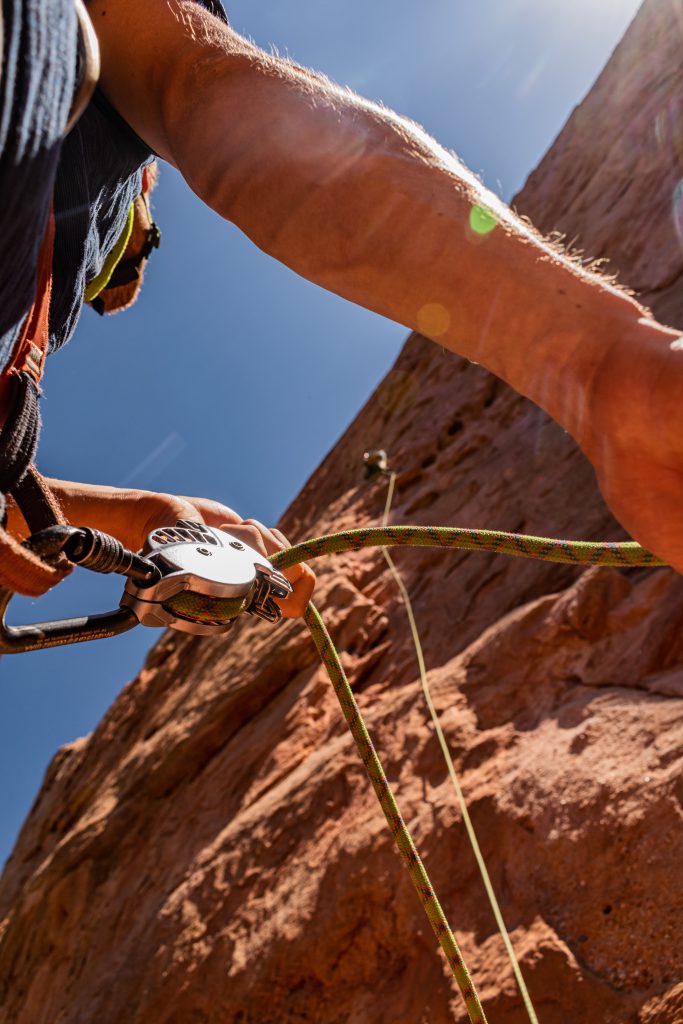 The situation above happens to me on a daily basis as a guide. While guiding 6 days a week, primarily in the Garden of the Gods in Colorado Springs, Colorado, I have the wonderful opportunity to teach and guide many newcomers in the vertical world of climbing. You work in that environment with a delicate balance between being mentally strong and by not thinking about it. The Revo, however, can add an unparalleled level of confidence in your belayer.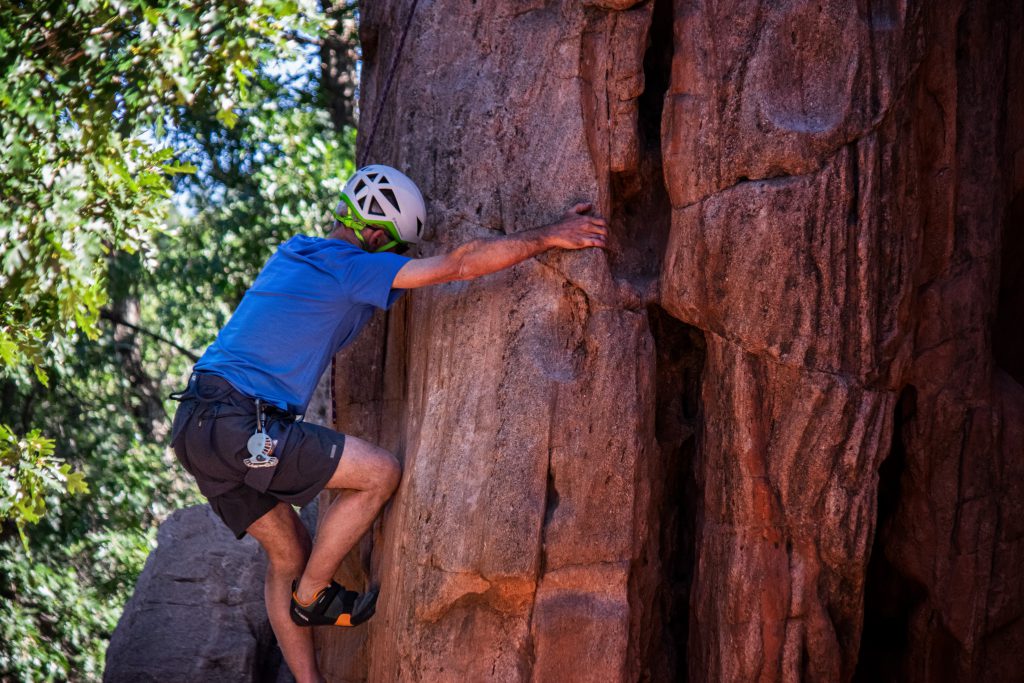 Performance
The Wild Country Revo is an addition to the growing field of assisted belay devices, but it stands out in almost every way that an assisted belay device could. I have a hard time calling it an assisted belay device as it truly is a catastrophe avoidance device. The locking function is inertia driven which means at the speed of 4 meters per second the device locks thus stopping all further movement. "If the Revo does not lock it is because you are doing your job as a belayer and controlling the rope correctly" (from the user manual). This is one of the most noticeable facts about this device: in nearly two months of heavy use, I have never had the device lock. Which is great, but makes you wonder if it is worth the near $150 price tag.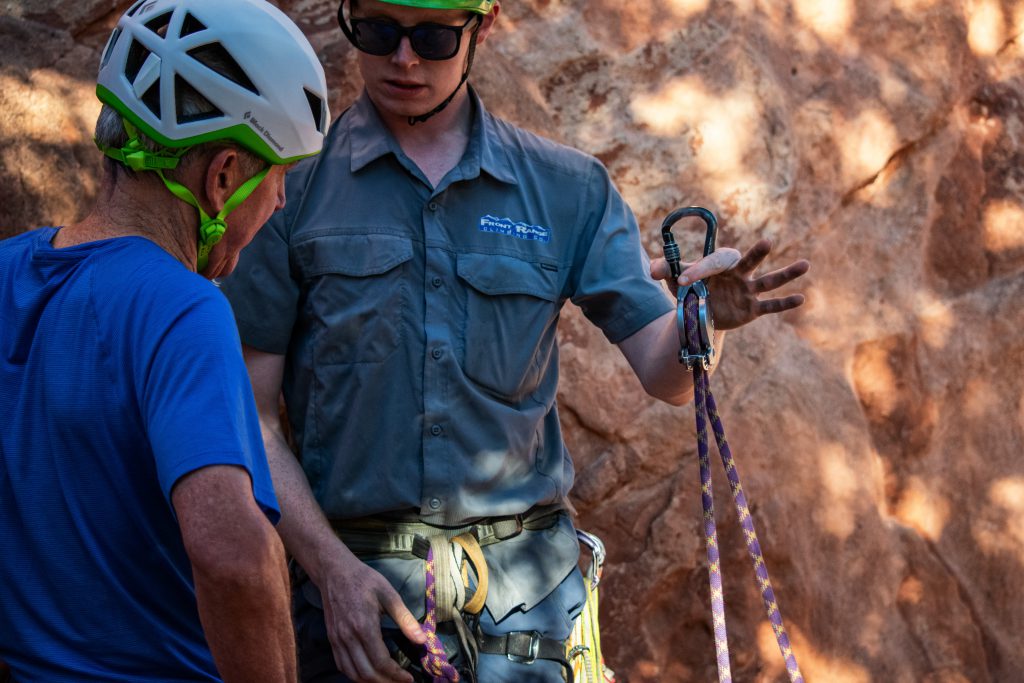 Features
This device is designed to operate as any other tube style belay device: you belay (top rope and lead) and lower as you would with a standard tube device. This helps keep the functionality and usability of the device at a very low learning level. The best benefit I found was giving this device to clients to belay me or others with as it operates the exact same as our tube devices with the added function of the back up: lower too fast or climber falls without a hand on the break strand? No worries, the device will lock quite quickly. How quickly? To test this I grabbed a fellow guide and took some whippers. We a tied a catastrophe knot roughly 3 feet away from the device on the break strand side and had the climber take a fall without having hands on the break strand. The device locked on its own after roughly 2 feet or less of rope went through the device.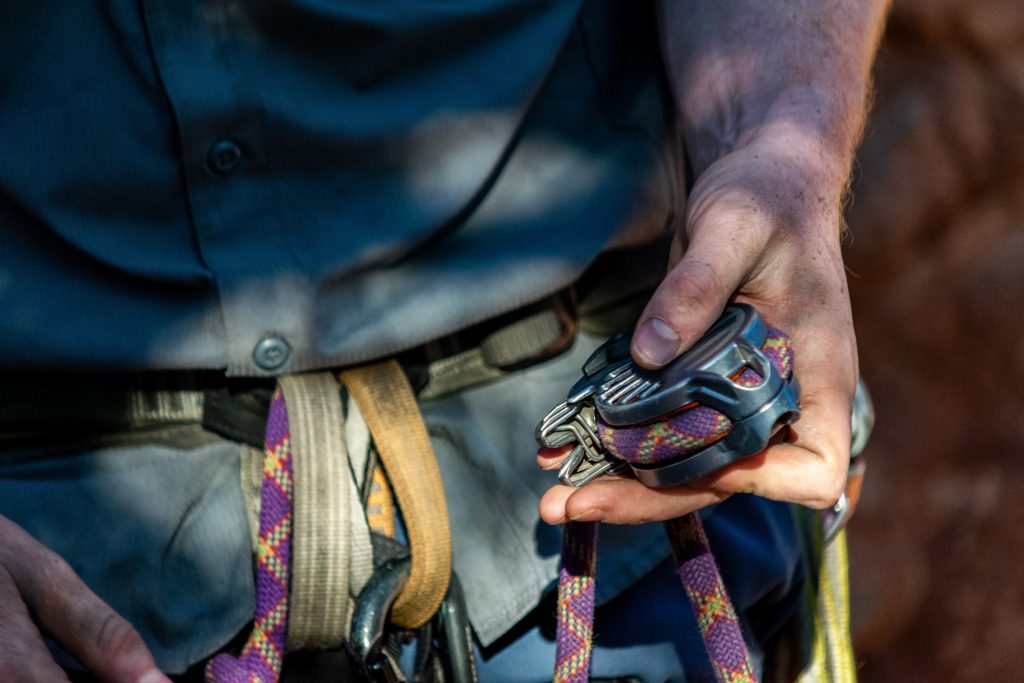 Another huge design feature is that it is omni-directional. No matter which way you feed the rope through the device it will work correctly. No more making sure your rope follows the diagrams that have become so standard on our devices. This, too, is a huge benefit with clients who have never belayed before as it keeps the set-up process simple and safe. Because the main feature of the device is the wheel that the rope goes around, taking in or paying out rope is smooth and easy – easier than any other belay device I have ever used. It is worth repeating that lead belaying with the Revo is so simple there is no longer an excuse for short roping. This gave me confidence in the guiding world as getting short roped and pulled off a route has a high probability of happening especially with other locking belay devices. I never taught my clients to use anything besides a tube device as it teaches the proper functions of belaying and is much easier than teaching a new belayer how to lead belay with a Gri-Gri or another such device. I have started teaching clients to use the Revo because the skills are transferable to a tube device with the added safety of the device's backup function.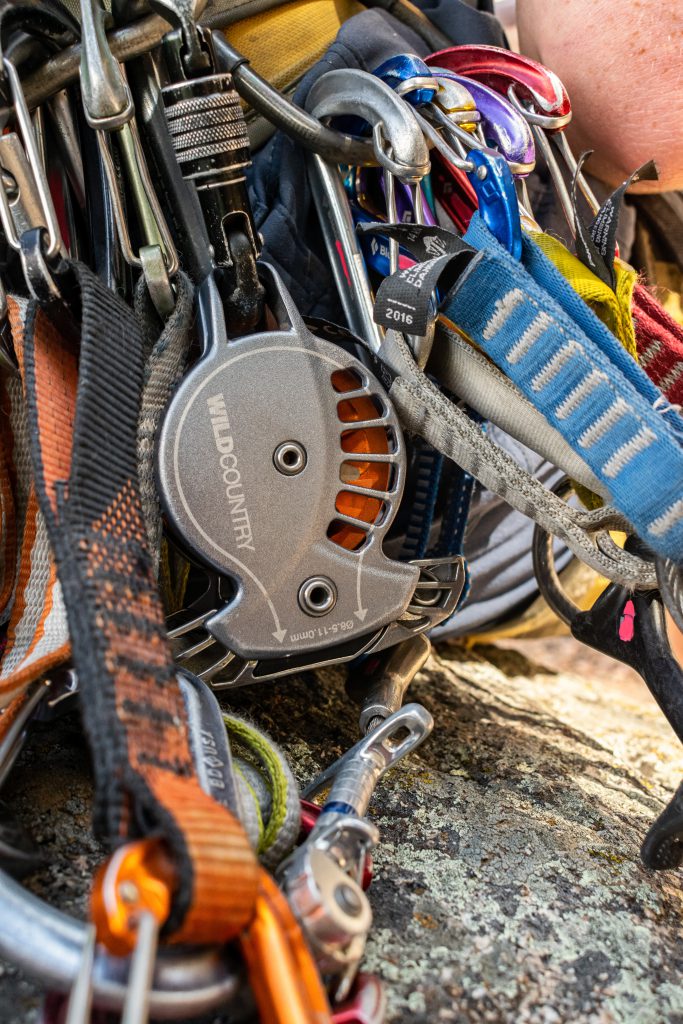 Room For Improvement
It is worth mentioning that this ease of rope movement does come at a cost. Because the device has an overall level of friction that is less than other devices, your hands have to be engaged a lot more than they would with even a standard tube device. It is also a lot more challenging to keep the rope taught at all times and rope can easily slide back through the device while you are in your belay process. This makes it a tough device for belaying hang-doggers.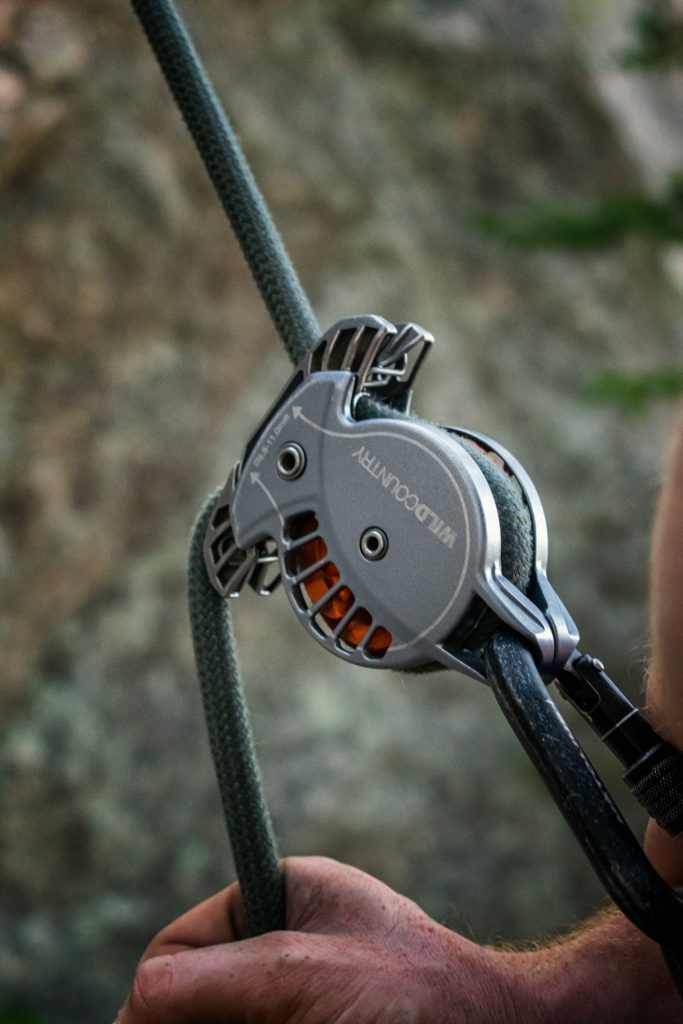 The Final Word
A well-designed tube style device that is perfect for the nervous leader with a green belayer or for the experienced climber who wants the added benefit of a backup feature that is always there but is never in your way.
For more on how to use the Wild Country Revo, find Patrick's instructional video below.
Find Wild Country Revo on Outdoor Prolink. Not a member? Apply today!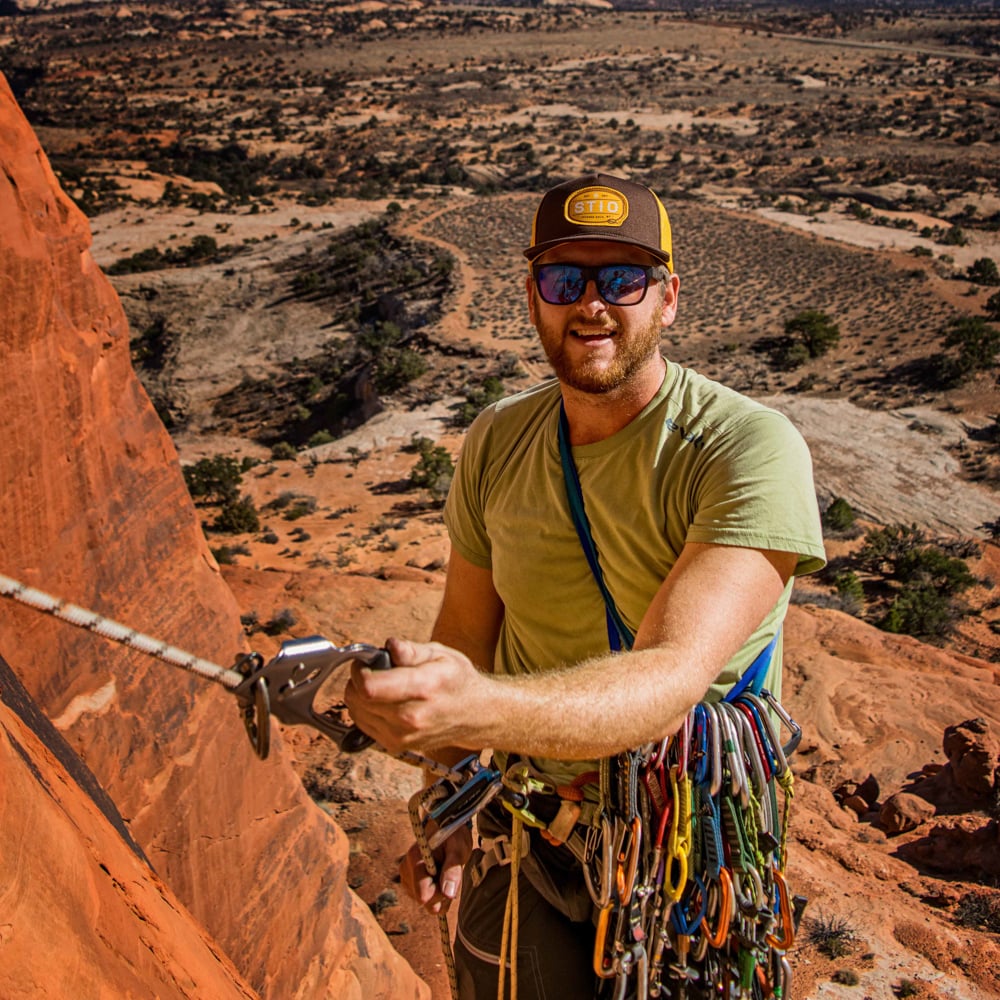 Patrick Betts is the Technical Director at Front Range Climbing Company and is based in Moab, Utah. He has been in the Outdoor Industry since 2009 and guides year-round in Colorado, Utah, and beyond. When he is not guiding, you will find him traveling to climbing destinations around the world. Patrick is an experienced adventure photographer who enjoys taking photos of people pushing their own limits and capturing the landscapes of the areas that rock climbing takes you. Follow along @adventurethrulens