So You Want To Shred Japan's Backcountry?
Let's be an alchemist for a moment. We're making a delightful potion for a shredder's paradise. The ingredients for the potion are: cold air mass from Russia, warm water from the Sea of Japan, beautiful mountains (and volcanoes), deep powder turns, deliciously cheap food, and top it off with acres of 25-30 degree slope angles. We shall call it … Japan.
When I started snowboarding in 2008 I had no idea you could visit Japan with the sole purpose of going snowboarding. Since 2018, this perfect potion has been sitting on my shelf, waiting for me. That's when my manager at Arapahoe Basin Ski Area gave me a taste of his Japan trip, regaling stories of deep powder lines upon his return. Hearing his stories and seeing the breathtaking pictures had me yearning to see if the legends were true. Well folks, this winter myself and four friends drank the potion and I can confirm my journey was indeed pleasing, mesmerizing, and serene. Our focus for the trip was to snowboard as much as possible, so we spent half of our time resort riding and the other half in the backcountry.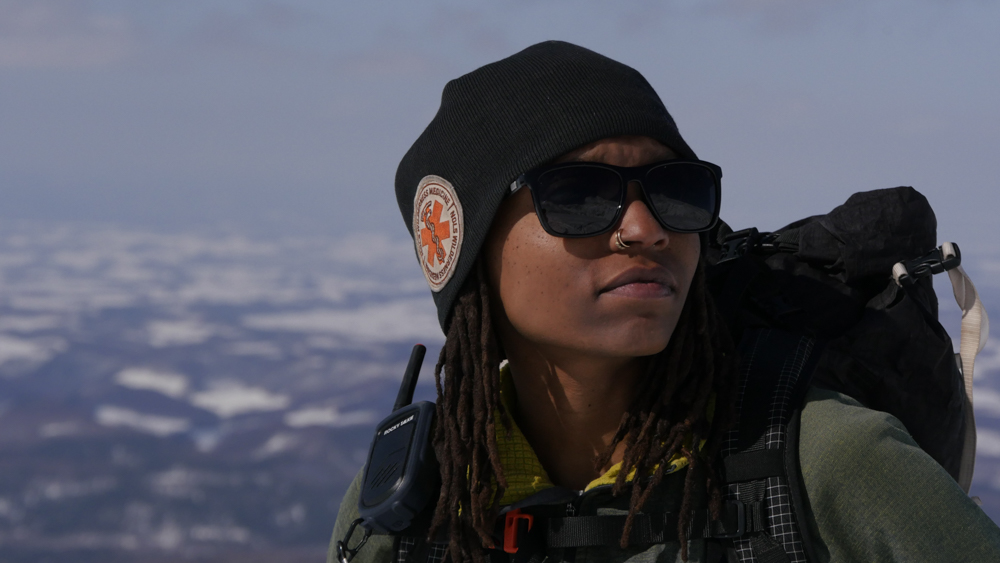 Before backcountry snowboarding in Japan I've only ever been riding in the backcountry in Colorado. I got hooked on the uphill when I realized time slows down while skinning. You also become poised with the rest of nature, meditative in your pursuit–"left, right, left, right." With backcountry snowboarding, you learn how to use the fancy gear, but what you really learn is perseverance, mental/physical/emotional discipline, and patience. Following six weeks in Japan, I'm sharing what I learned along the way in the process of planning and moving through my trip. If you want to shred Japan's backcountry, here's where I suggest you start.
Where to Shred Japan's Backcountry
Japan offers some of the world's best snow seasons. With an average of 500-600+ inches of consistent snowfall/year, you are almost guaranteed to have the ride of your life — with an added bonus of delicious food after. But where should you go to ride the powder you've dreamed of? And how do you get there?
Japan's best snow is split between two islands, Hokkaido (North Island) and Honshu (Main Island). Consider how long you want to stay at each location when planning your adventure. Seeing many locations in a short amount of time allows you to see more of Japan, but is less intimate of an experience. On the flip side, staying in an area for longer allows you to really feel out the mountains and know the flow of the land, but you may not see as many places.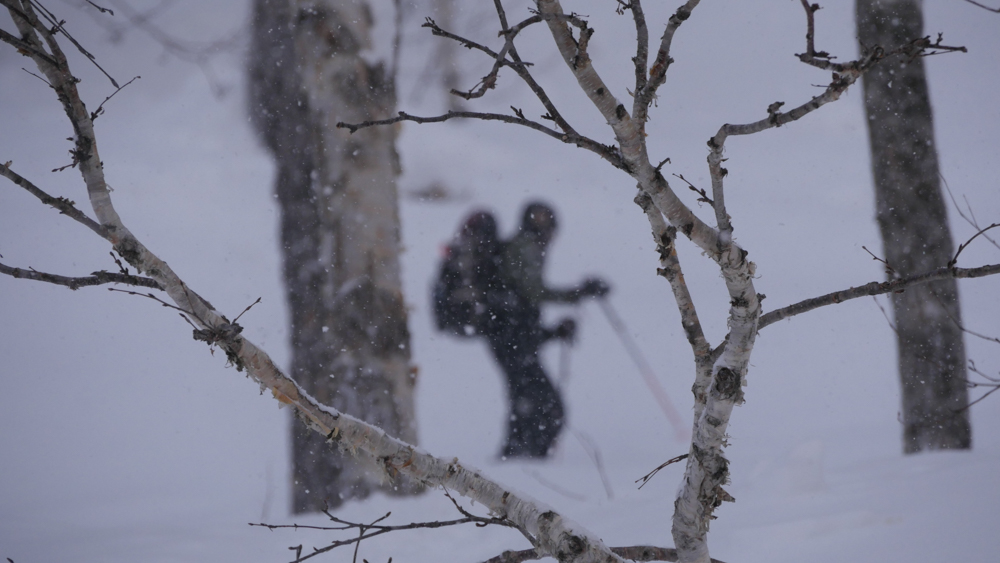 Another consideration is renting a car or taking public transportation to destinations. Contrary to the United States, Japan has phenomenal train/bus systems that can get you almost anywhere – and it's always on time. The Google Maps app is your best bet when planning your routes as it gives you multiple route options, prices, and directions. Using the train/bus (roughly $5.24 roundtrip from Niseko to Makkari trailhead) will be cheaper than renting a car (on average $80/day for a two week trip in a minivan), but renting a car will provide you more access to backcountry trailheads.
Below are some suggestions on places to explore.
Hokkaido
Mt. Yōtei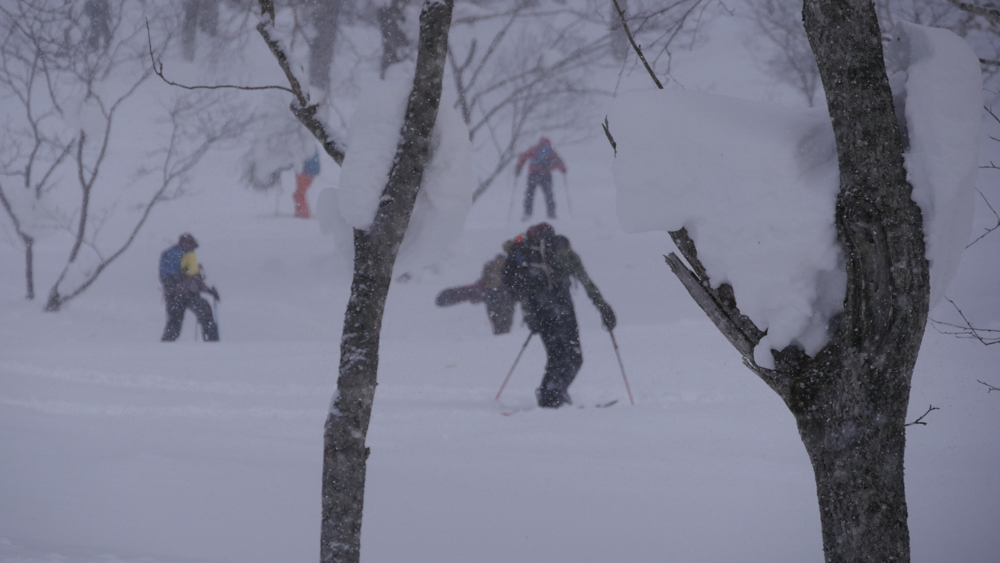 Situated in Shikotsu-Toya National Park, about 30 minutes from Niseko, Mt. Yōtei is an iconic volcano worth exploring. She offers a wide range of backcountry terrain for all levels and multiple routes are accessible via public transportation. The crew and I spent five, mid-february days in the Niseko/Rusutsu area and a window opened up to tour Mt. Yotei as the report on Japan Avalanche Network stated moderate risk at treeline and low risk below tree line. As we parked our van, we saw no one in the parking lot except a friendly group of Europeans, in a RV, who greeted us warmly. The Makkari route proved to be challenging as we quickly gained altitude with each step. It took us about three and a half hours to arrive at tree line and we stopped there because above tree line was a windblown, icy-crust all the way to the summit. The ride down was steep, deep and exhilarating to say the least. More route details, including transportation information, can be found here.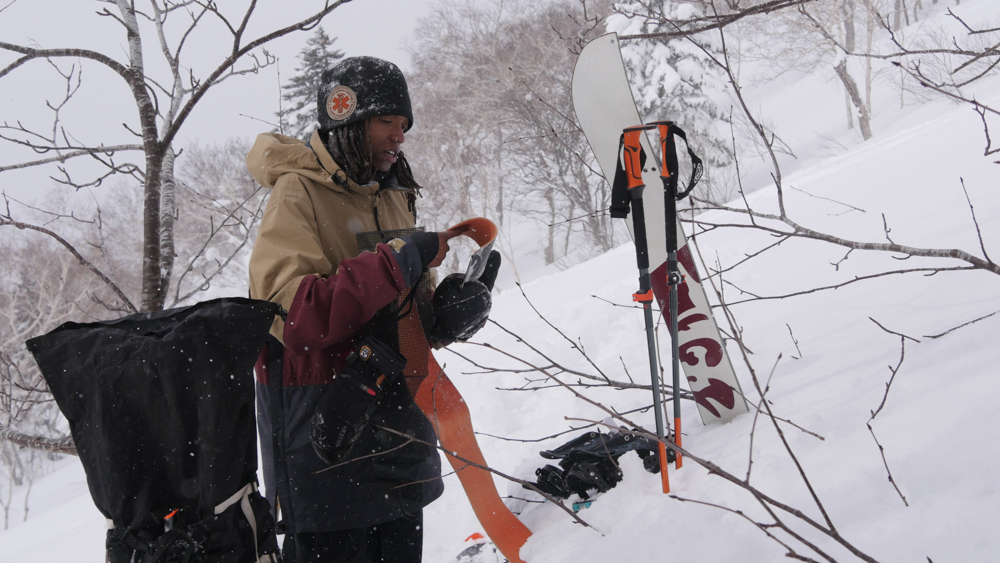 Tokachi Range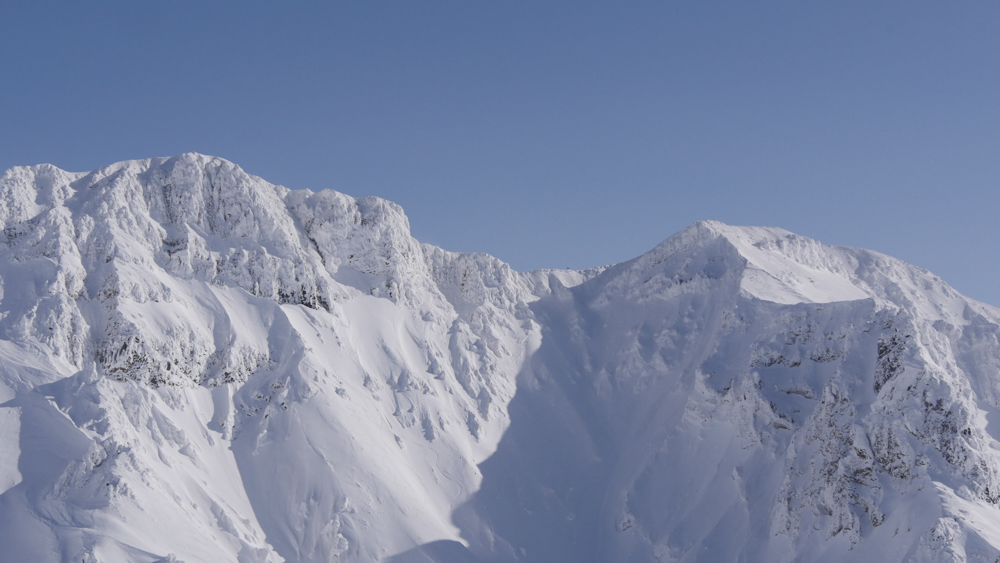 We had the privilege of touring Sandan-yama (Sandan-mountain) located in Daisetsuzan National Park the first week of March. This intermediate hike provides the perfect scoping window into some of Japan's best backcountry snow and lines. What makes the Tokachi Range so heavenly and worth the trek? For one, Tokachi faces the cold north, helping to maintain quality powder deep in the valleys long after the snow has stopped falling. Second, because of the high altitude, Tokachi range has extremely light snow that makes it feel like you're surfing on a cloud. Third, this area is bus accessible (Tokachidake Line Bus Info) from the town of Kamifurano and lodging is available near the base of the mountain at Fukiage Onsen Hakuginso – just be sure to take off your shoes upon entering! These facts are no secret as the parking lot was packed with backcountry tourers, snowshoers and spa go-ers admiring the views. We dirtbagged it in the parking lot for three days being lured in by the monumental mountains and the wonderful Hakuginso Lodge which also offers hot springs and a large communal kitchen. We used the bathrooms and water from the kitchen sink free of charge (that's all a dirtbag really needs anyway, right?). Although you can't overnight park at the lodge unless you're a guest, there is a parking lot shortly down the road with access to a free natural hot spring.
Note: most of Tokachi range is high-alpine and in the months of January/February where snow is plentiful you may have to stay at tree line. March is the ideal time for visibility and since most lines are north facing, trust it'll still be good by then.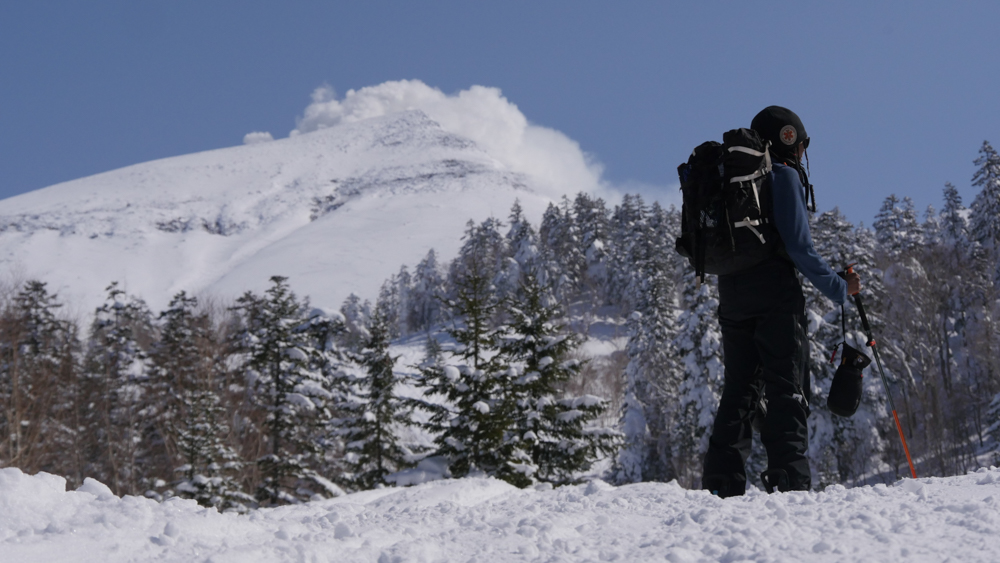 Asahidake Ropeway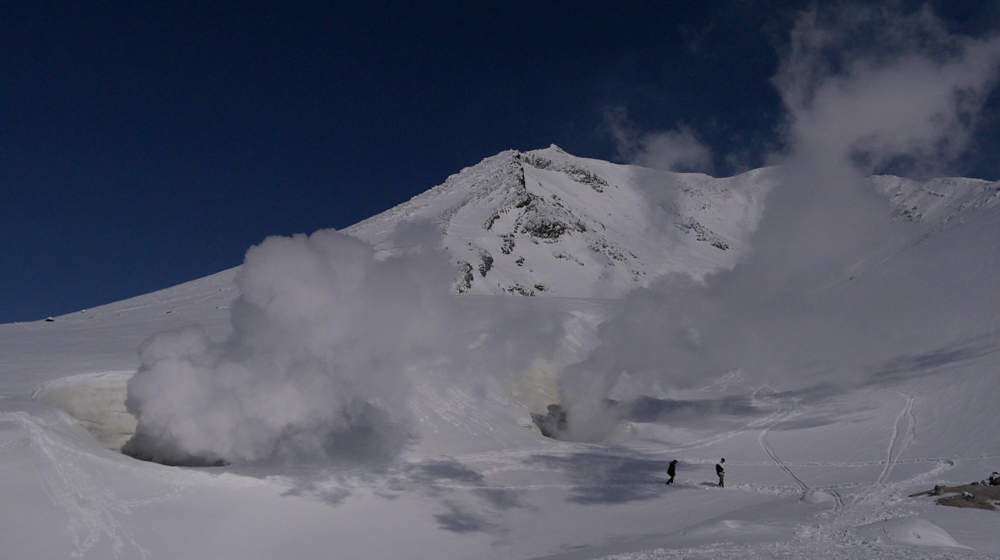 Asahidake (sunrise peak) truly lives up to its name as you will catch the most beautiful sunrise and sunset on Hokkaido's tallest mountain. I would highly recommend looking at the forecast ahead of time so you have clear skies to take in the incredible views from the top of the ropeway, and if you are even more adventurous, from the top of Mt. Asahi.
We went on a partly sunny day and were rewarded with insane views of the surrounding peaks that were sticking out of low lying clouds giving it a truly incredible atmosphere. Backcountry touring above the clouds is a magical experience and Asahidake offered what were possibly the most scenic and most astounding views of our entire trip. On top of all the views, there are multiple active volcanic fumaroles that constantly blow thick stacks of misty smoke from their mysterious depths.
Not quite a resort, but there are numerous lodging options available at the base of the mountain. Asahidake is also bus accessible from the town of Asahikawa (bus schedule) paying $13.50 for a one hour and forty-five minute bus ride up the scenic road. Mt. Asahi is equipped with one tram line for uphill access. Their pass rates are very flexible with the most popular being the four hour or just a one way trip if you're just going up to climb some peaks and spend a lot of time up high (see prices here). Overall, the Asahidake ropeway is a Hokkaido staple and should be high on your list of places to shred.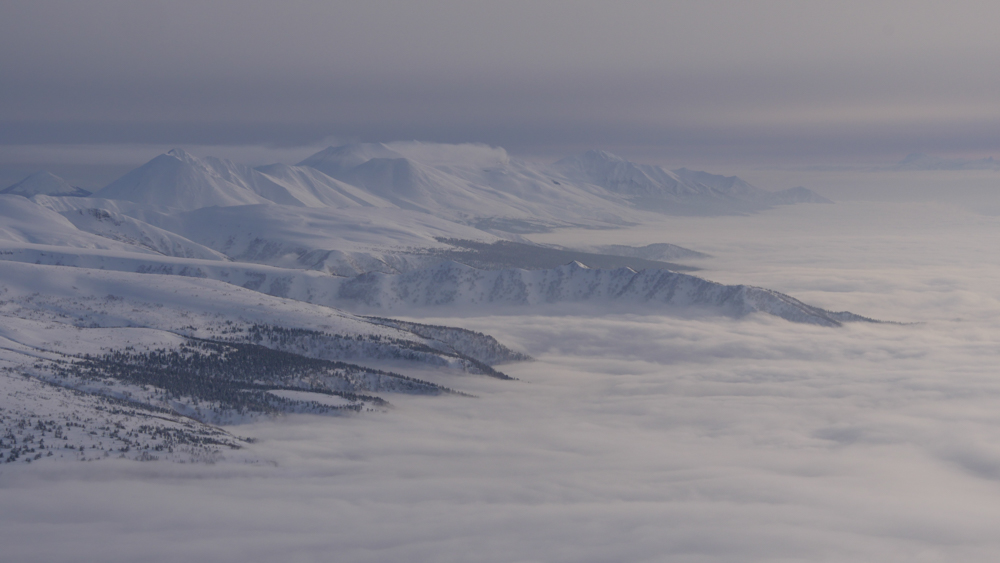 Honshu
Hakuba Valley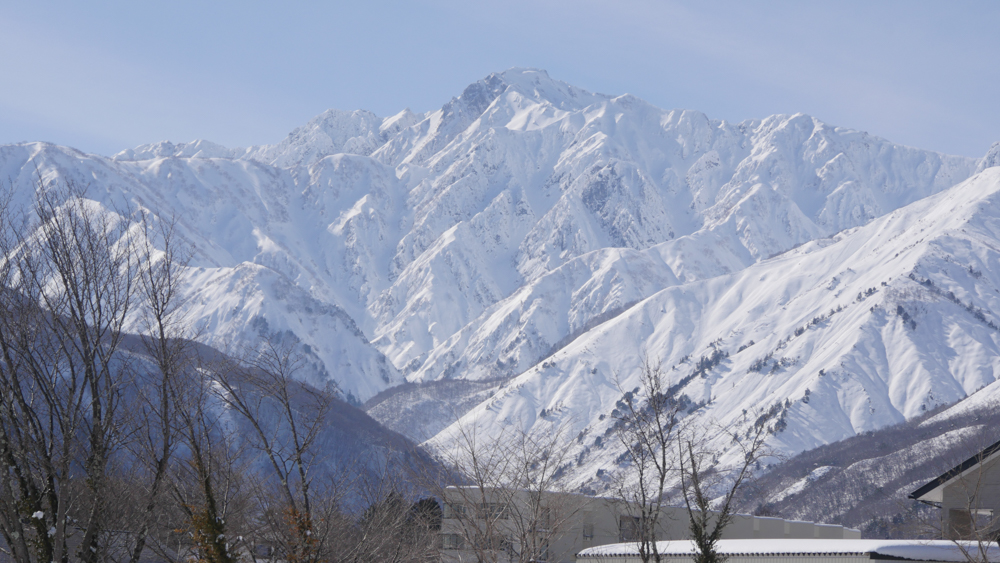 Referred to as the "Japanese Alps," Hakuba valley has phenomenal views and even better terrain. Located in prefecture Nagano, Hakuba Valley and surrounding area is easily accessible from Tokyo if you only have a short amount of time, or want to cut down on travel time. Via Google Maps you could take a four hour train (roughly $72 one way), you could rent a car and drive roughly four hours (on average $80/day for a two week trip in a minivan), or you could take a five hour charter bus (roughly $43 one way). We frantically made it to the Keio charter bus station through Tokyo's Monday morning train rush hour; an exhilarating experience I think everyone should partake in once. By the end of our bus ride our stress had vanished and the magic of Hakuba Valley unfolded. Blown away by the dramatic mountain peaks, I thought I was in a dream until I realized – THIS IS MY DREAM – and it felt so self-assuring. Hakuba Valley comprises 10 resorts spread out along the mountain range (see trail maps) with a free bus connecting all of them with a valid ski pass. We explored Hakuba Goryu, Hakuba 47 and Hakuba Cortina. Hakuba Cortina (roughly $37 lift ticket) was our best day in the valley through the backcountry gates; this small but mighty resort did not disappoint. Also, Hakuba Valley is epic pass friendly offering five consecutive days at Hakuba Valley resorts.
Lift-accessed Backcountry
Many resorts have a backcountry system in place that allows skiers and snowboarders to access backcountry terrain with the help of the resort's lifts. Most resorts offer 4-5 hour lift tickets which lets you ride resort pow in the morning and backcountry pow in the afternoon.
Hokkaido
Rusutsu
Rusutsu is hands down my favorite resort in Japan. The vibe, the terrain and the 711 convenience store all rock! The East mountain (see trail map) is where you'll get your tree run fix along with access to the backcountry gates. $66 (see lift ticket prices) for a day pass, or using the epic pass, will provide one of your best days in Japan hands down.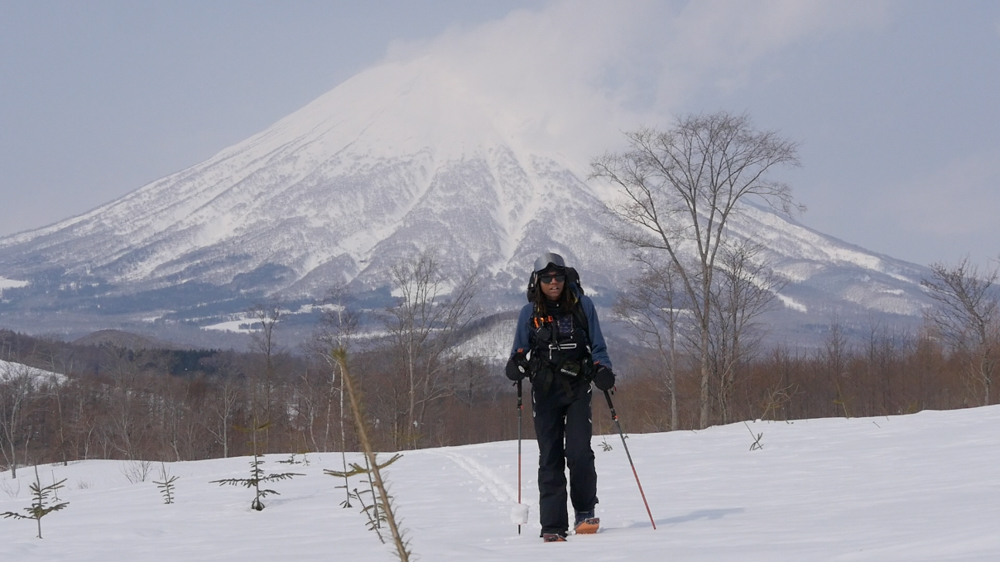 Niseko
You could consider Niseko to be the "Aspen of Japan." The resort and surrounding town are very Westernized, you might forget you're in Japan for a moment. In fact, there are entire ski shops run exclusively by Australians and Kiwis. If you want more interaction with locals, this isn't quite the place. Niseko is made of four resorts (trail maps): Niseko Annupuri, Niseko Village, Niseko Grand Hirafu and Niseko Hanazono. I had my best backcountry powder days at Hanazono with fresh tracks all day long through backcountry gate four. A $64 regular season lift ticket provided my friends and I turns we will never forget.
Furano
If you get the chance to make it up to Furano it is well worth the trip and $49 regular season lift ticket. Skip the struggling and head straight to the Furano ropeway to access backcountry gates one and two (see trail map). There's a huge amount of terrain accessible out of Furano's gates that give riders access to some of the longest, continuous uninterrupted fall-line skiing. On any route you take, you end up on a long track that leads to a small concrete dam at the bottom. Shortly after the dam, the track feeds back into the ski resort making for really efficient backcountry laps.
When to Shred Japan's Backcountry
Time keeps on slippin', slippin' into the future. No really, when you travel to Japan you will be one day ahead of the United States. So when should you make plans to time travel to Japan?
January
Notoriously known as "Japanuary," January gets its rep from consistent dumps of snow, cold temperatures and great snow quality. A downside of Japan in January includes: foul weather resulting in low visibility in the backcountry and lift closures due to high wind.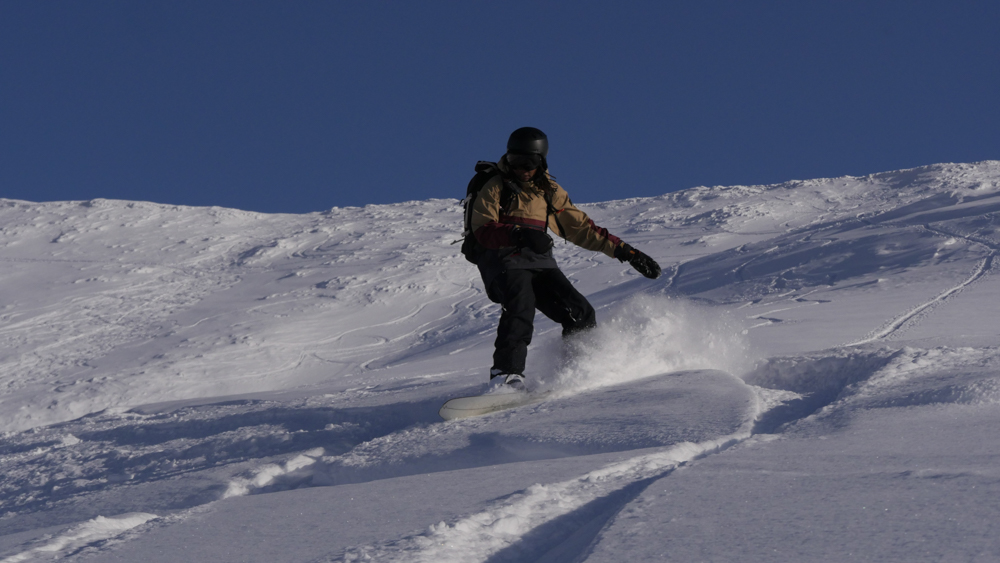 February
Early February still allows for catching some big blower winter storms. February is less busy than January, and in late February the crowds dissipate. February is considered the regular season in Japan and you can expect to pay regular season prices.
March
March brings more fine weather days so it's ideal for the backcountry type ski areas like Asahidake and the Tokachi range. March also provides stabler backcountry conditions at the expense of you might not be riding in waist deep storms. Alas, mid-march and beyond is considered spring ski season and you will see lift prices fall drastically.
April & Beyond
Many of the highest peaks, especially the iconic Mt. Fuji, are mostly considered too icy to safely ski or ride from the summit before April.
Hiring a Backcountry Guide vs Self-Guided
Traveling to a different country with new terrain, new snowpack, and new weather systems is refreshing and thrilling while simultaneously concerning and overwhelming. Especially if you are new to the backcountry and/or are adventuring with an inexperienced group it may be worth it to find a backcountry guide. Not only will they lead you right to the best pow laps of your life (it's their job), most guides are native to Japan and will ensure you have a safe mind-blowing experience. Also consider a guide if you will be in Japan for a short amount of time. You don't want to spend most of your trip hiking hit or miss spots when a few 100 meters away your dreams could come true. Some places are as reasonable as $100 a day.
Most guide companies offer backcountry gear rentals including beacon, shovel, and probe. Hokkaido Mountain Guide Association, Explore-Share Hokkaido Backcountry Skiing Guides, and Shugakuso are great places to start for guiding and gear services.
Backcountry Resources
Whether you decide to hire a guide or not, informing yourself about the area you plan to tour is always important. Below are great resources for exploring Japan's backcountry.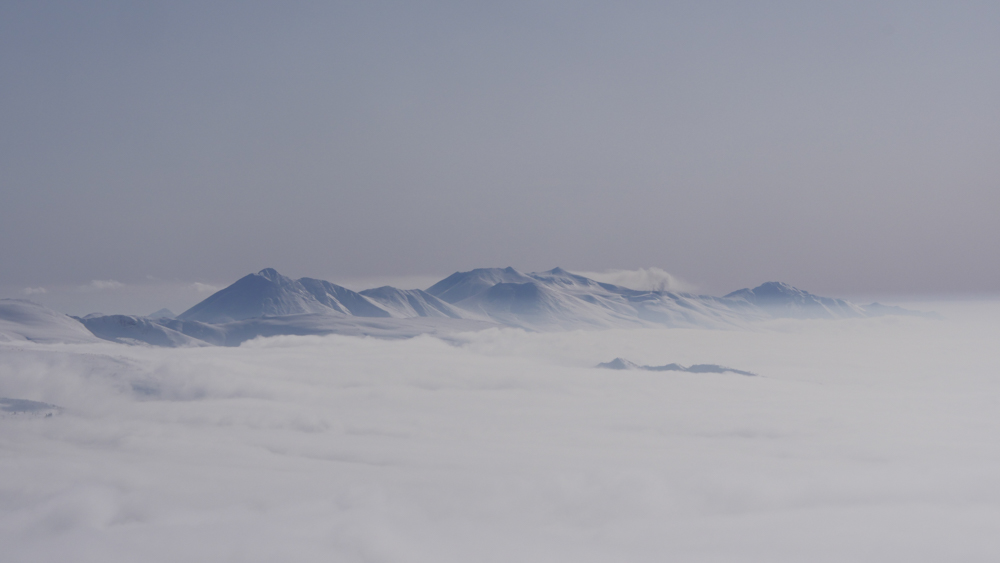 Avalanche Information
Knowledge is POWDER. Unfortunately, not every area of Japan has avalanche information and you will have to use your best judgment as well as reports from other areas and weather forecasts to make decisions.
https://nadare.jp – The official Japan Avalanche Network website which gives avalanche updates to five different regions: Hakuba, Myoko, Kagura Tanigawa Takeru, Niseko/Yotei/Yoichi/Shiribetsu and Tateyama
https://furanoavalanche.org/posts/ – Sporadically posted avalanche updates for the town of Furano and surrounding areas.
Windy.com – A trustworthy weather forecast model offering the most accurate next-day weather forecasts in Japan.
Route Information
Hokkaidowilds is hands down the single best online resource for finding routes and topographical maps around Hokkaido. Their website allows you to filter routes by region, best months, difficulty, aspect, hut trips and more.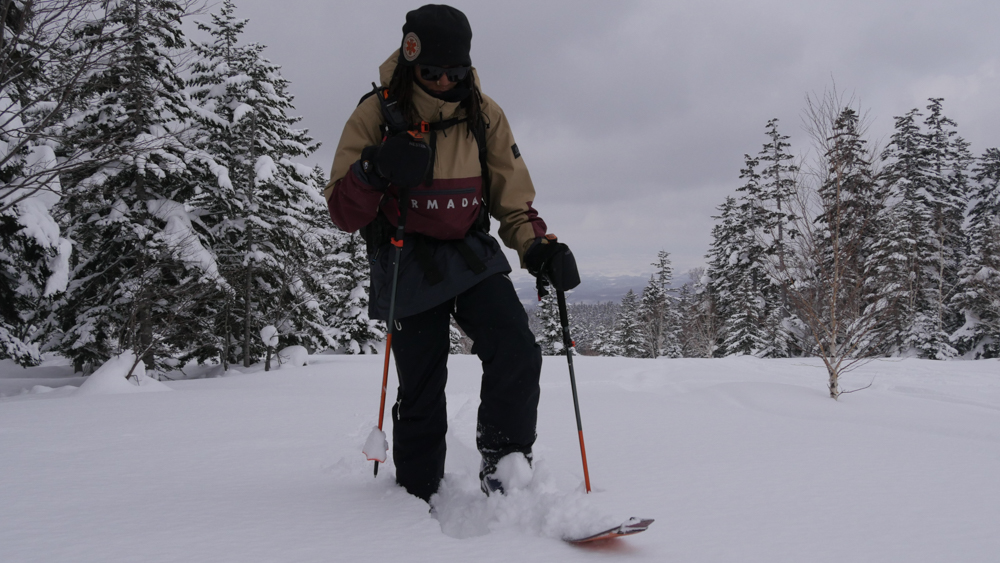 Final Tips/Recommendations
I've given you a lot of information in this article, I hope you're still following along because these remaining tips are crucial to icing on the cake of your Japan trip.
Onsen
There is nothing better than sitting in a hot pool of water made from a volcano after touring all day. Onsens are EVERYWHERE in Japan and they are relatively cheap (roughly ¥800 = $6).
Roller Board Bag
A small, minor detail but makes a world of a difference when you navigate through the airport and around towns. Lugging a snowboard, or three, with one arm and your phone for navigation in the other is asking for a slow-paced sweat fest. Skip the hassle and buy the roller board bag.
Backcountry Huts
I highly recommend planning a hut trip with your crew while in Japan. Hokkaidowilds offers information on various huts spanning throughout Hokkaido. Most huts are volunteer maintained and best of all FREE! Just treat it like you're a guest in someone's home and leave it better than you found it.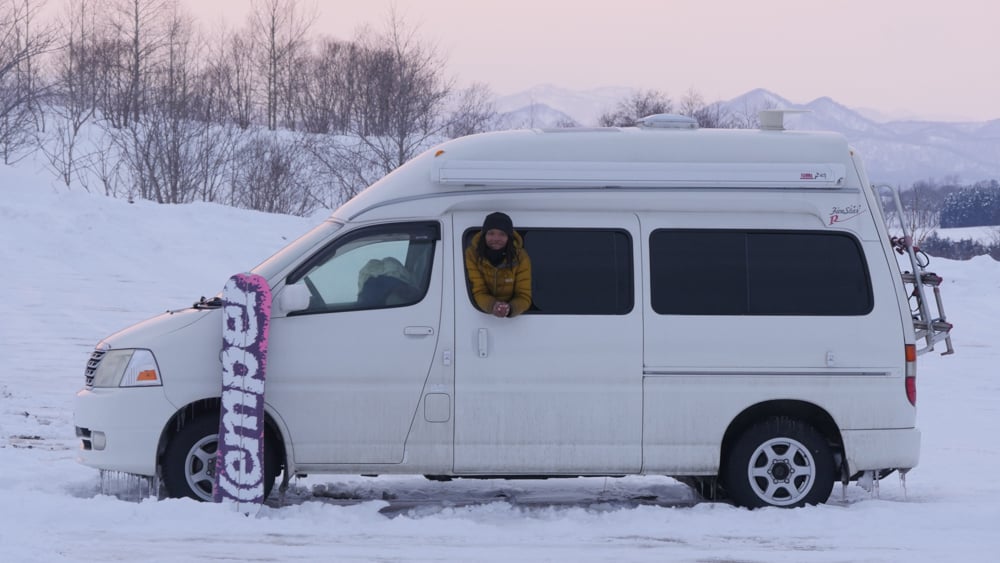 The Final Word
If you have even an inkling of desire to travel to Japan for their world class snow – make it happen! Next year is never promised in these unpredictable times and when it's all said and done you'll only have your experiences to reflect on. Spending a month and a half in Japan was a dream come true and because of it I am more brave in my pursuit of life. There is something magical that happens when you do something that scares you and step outside of your comfort zone. Don't let your dirtbagdreams be only dreams!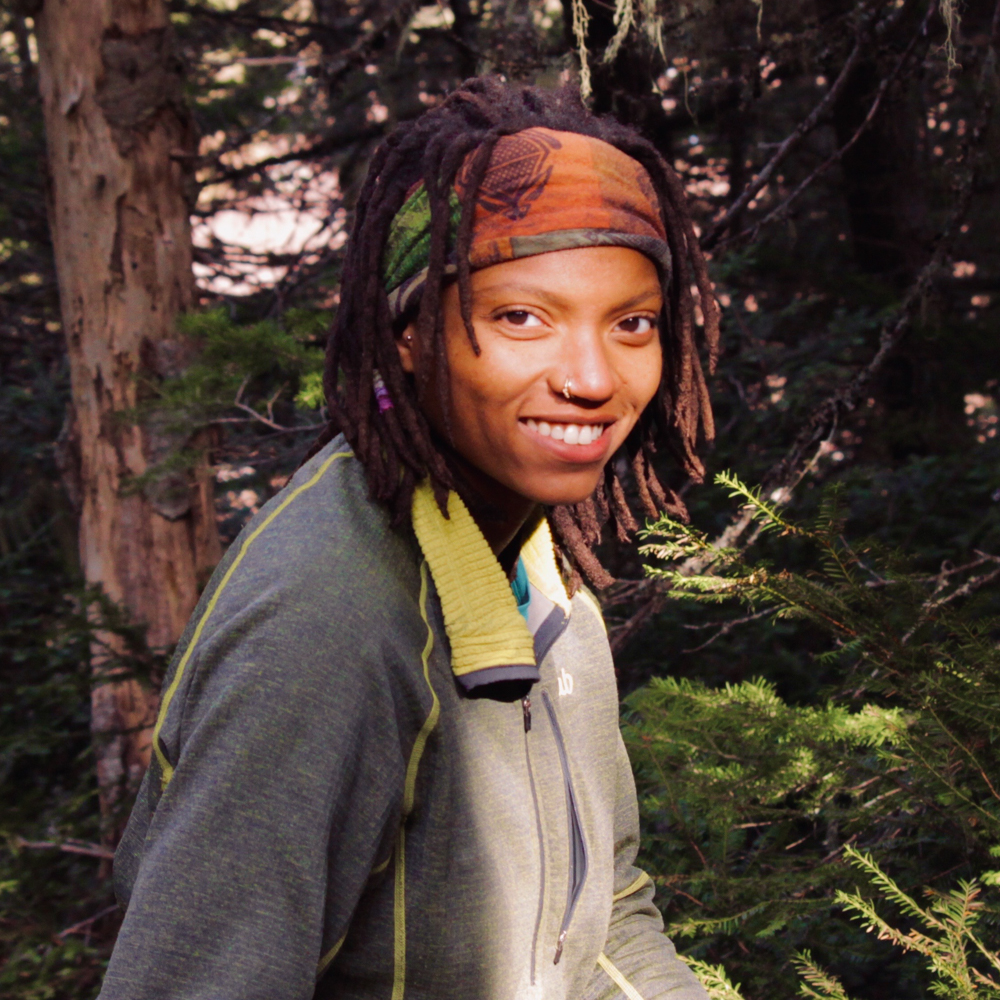 Amber has been a part of the outdoor industry since 2018. Currently, she works as a field guide for Open Sky Wilderness Therapy in Durango, Colorado. Snowboarding is her main hobby but also enjoys backpacking, running, climbing, and hiking. She will try almost any activity twice. Other hobbies include: meditating, gardening, writing and painting.
Instagram: @_scend_it