ProView – Bern Winter Watts
There I was, standing on the top of Jupiter Peak in Park City, Utah about to drop in on a powder day.  Just 20 minutes prior, I was boot packing through the deep snow right after a ski patroller dropped the rope, watching people stop before the top to seek closer lines. But I continued trekking with one goal in mind — the summit.  It was windy, unfamiliar territory, and steep terrain.  Under the prayer flags marking the summit, I strapped my board on, tightened my gloves, pulled my goggles down, and secured my Bern Winter Watts helmet.  Then I was off — through the chutes in the steep, thigh-deep powder.  It was by far one of the best lines I have ever ridden, but I would not have felt the confidence to attack such aggressive terrain without my Bern Winter Watts helmet.  It not only kept me warm on top of the tallest peak in Park City but also kept me safe as I pushed past my comfort zone. 
Bern Winter Watts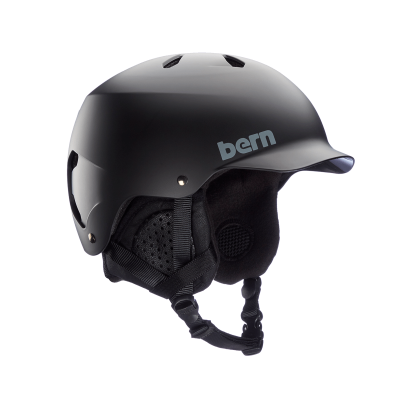 Product Description: The Watts; our original visor helmet. Still delivering looks and performance in all seasons. Providing both comfort and safety, the Watts has a variety of different versatile options to meet your needs whether you're on your board, your bike, or on the slopes. The Watts utilizes our premium liner featuring Boa technology for a more adjustable fit range. It's also got drop-in audio ready ear pads. The Watts uses a thin ABS shell lined with EPS Foam to create a burly lightweight lid that meets certifications for both bike and snow. A summer liner may be purchased separately
Offer price: MSRP: $99.99 - $129.99
Quality

Features

Fit

Durability
Summary
I would honestly give the Bern Winter Watts helmet a 5 star rating.  It is a beautifully designed helmet in a classic visor design, incredibly comfortable and lightweight, has extensive features, and performs in a variety of conditions.  Not only is it durable for the snow, but it is also bike certified and turns into a bike helmet with the purchase of the summer attachments.  I recommend this helmet to any high impact snow sport adventurer who is also a mountain bike enthusiast.  Well done Bern! 
Pros
Boa Fit system
MIPS
Comfortable
Durable
Lightweight
11 vents
Audio ready ear pads
Cons
Summer attachments are sold separately
Boa fit system design could be more comfortable
No option to close vents
I currently live in Park City, Utah at the base of the largest ski resort in the United States, and I got over 60 days on the slopes this winter.  I have been snowboarding for almost 20 years now and continue to push myself to become a better rider every day.  I wore the Bern Watts Helmet in all conditions — sunny, windy, snowy, warm.  And I was able to test out the helmet at multiple resorts across Utah including Park City, Snowbasin, Snowbird, and Brighton.  My style of riding includes big mountain lines, tree runs, and other off piste terrain.  I do not fall often, but I always wear a helmet to ensure my safety because the mountains are always unpredictable.
In the near future, I am planning to purchase the Bern Summer attachments to use this helmet for mountain biking all spring, summer, and fall.  Due to the durability of this helmet, I have full faith it will last me until next winter as well.  I am already looking forward to taking the Bern helmet with me on more splitboard tours next winter.  Being an outdoor enthusiast and nomad, I have grown accustomed to a minimalist lifestyle.  While I have a lot of outdoor hobbies, and consequently a lot of gear to haul around, I chose to invest in versatile gear so I can limit the number of things that occupy my space.  I am super stoked to have a bomber helmet to add to my kit — one that is lightweight, durable, and versatile.  And one that has the capability to be an all-season, multisport helmet.  That is RAD!
Fit/Comfort 
The Bern Watts helmet has a sink fit design, meaning it sits lower on your head and wraps around, offering a wider range of protection.  The internal foam liner is extremely comfortable and the Boa technology ensures that the helmet fits snugly.  I noticed that when I put the helmet on and adjusted it perfectly to my head it did not move around or jostle when I was jumping, slashing through trees, and charging fast down steep lines.  
Look/Style
I got the Bern Winter Watts helmet in the matte grey color, but the helmet is also offered in four other color options.  The helmet has an original visor design which is such a classic look.  I will admit that the way I look in a helmet is definitely a determining factor when making a selection in addition to safety features and comfort.  I love the way the helmet looks on me and the visor is functional in keeping the sun out.  My goggles fit both over and under the helmet.  My only minor complaint is because the visor is slightly curved my goggles were not completely flush against the helmet.  There was not a huge gap, but I wish it fit slightly better with my goggles.  On sunny days I would often just wear sunglasses with the helmet and those fit great!
Features
I truly love all the extensive features that this helmet offers.  The option to add MIPS is probably my favorite and most pertinent feature due to the fact that it offers added protection against rotational forces.  I need this level of protection for both snowboarding (and mountain biking when I purchase the summer attachments), which leads me to the next feature that the helmet is both bike and snow certified, an aspect that I didn't know existed in a helmet before I met the Bern Watts.  The Watts helmet also includes 11 vents for optimal airflow which kept me nice and cool when on the slopes and when boot packing up peaks.  I was also surprised by how lightweight the helmet was because it feels really durable and burly at the same time.  The Bern Watts helmet also features drop-in audio-ready earpads.  I have not tried out this feature yet but I love that it provides me the option to one day.
Weight/Packability 
One of the aspects that stood out to me the most when I first put on the helmet was how lightweight it is.  This Thin Shell construction however did not compromise the performance and durability of the helmet.  It has an ABS outer shell making it one of the most durable helmets in the Bern line.  On multiple occasions, I would tour up the resort after it closed and would carry the Bern Winter Watts on my backpack on the way up.  It was so crucial that the helmet was light enough to not weigh me down on the tour.
Function/Performance
I was pleasantly surprised by how well the Bern Watts helmet performed in a wide variety of conditions. When I first tested out the helmet, Park City was in the middle of a large storm cycle. I slashed through trees, ripped through powder, and dropped steep lines off Jupiter Peak. The helmet not only kept me warm despite active snowfall and windy conditions, but felt secure through high speeds and fast movements. On the flipside of the spectrum, the Bern Watts helmet also accompanied me on plenty of spring skiing laps here in Utah. I loved being able to still wear a helmet when it was warm out and not overheat, but also look cool. Just a quick swap from the ski goggles to the sun glasses and this was the ultimate slush lap set up. I cannot emphasize enough how versatile this helmet is and how much I was able to trust it's durability/performance through all conditions.
Durability/Construction
I got a full two months of snowboarding in this helmet and I can already tell that it is going to last me all bike season once I buy the summer attachments.  The Bern Watts helmet features a thin shell construction and an ABS outer shell making it one of the most durable helmets in the Bern line.  The fact that it is bike and snow certified not only makes it the perfect all season helmet, but it also speaks to it's design.  Bern truly had multiple high impact sports in mind when they created the Watts line.  As an athlete in both snowboarding and biking, I feel comfort knowing that I can be protected in both of sports that I love and do often.
Before You Buy
If you're considering buying this product know that the summer attachments are not included and do need to be purchased separately. There is also an option to not select MIPS, and I highly recommend the extra protection that MIPS provides.  Not all colors are offered with the MIPS addition so make sure you make the right selection and add MIPS to protect your brain from rotational forces.  It is also important to measure your head circumference to ensure you buy the right size.  The Boa technology allows you to make minor adjustments if you are in between sizes, but helmets need to fit perfectly so size is crucial.
Room for Improvement
I only have a few areas of improvement for the Bern Watts helmet.  One being, I wish the helmet had an option to close and open the vents to adjust to even more variable conditions.  I also wish the area that tightens around the head was a tad more comfortable.  The system that tightens around my temples and forehead feels like a thin band.  If it were a larger cinch system it would most likely be more comfortable for a longer time for those all-day slope excursions.  It would be convenient for me as well if the summer attachments were included just because I am an athlete in both snowboarding and mountain biking.  But it is nice that snow-specific athletes can purchase the Watts helmet just as the winter version.
Final Word
Overall, this helmet is perfect for any high impact snow sport. This helmet lives up to that capability and is able to withstand all elements.  The Bern Winter Watts helmet fully met the product description I read online. Before receiving the helmet the Bern website mentioned its durable, lightweight, and versatile nature.  The detachable winter attachments allow for the helmet to be converted into a bike helmet making it the perfect all season helmet for all your adventures.  I do not own the Bern Watts summer attachments, but I plan on purchasing them to turn my snow helmet into a bike helmet for the summer/fall.  I truly love all of the extensive features of this helmet: the ample vents, MIPS, Boa fit adjustment system, drop in audio ready ear pads, lightweight design, comfortable foam interior, and all season capability.  My favorite feature by far is the versatility with it being both snow and bike certified.  As a dual sport athlete this is not only convenient but also a minimalistic approach to owning as little gear as possible. 
I would honestly give the Bern Winter Watts helmet a 5 star rating. It is a beautifully designed helmet in a classic visor design, incredibly comfortable and lightweight, has extensive features, and performs in a variety of conditions. Not only is it durable for the snow, but it is also bike certified and turns into a bike helmet with the purchase of the summer attachments. I recommend this helmet to any high impact snow sport adventurer who is also a mountain bike enthusiast. Well done Bern!
Shop Bern Winter Watts on Outdoor Prolink. Not a member? Apply today!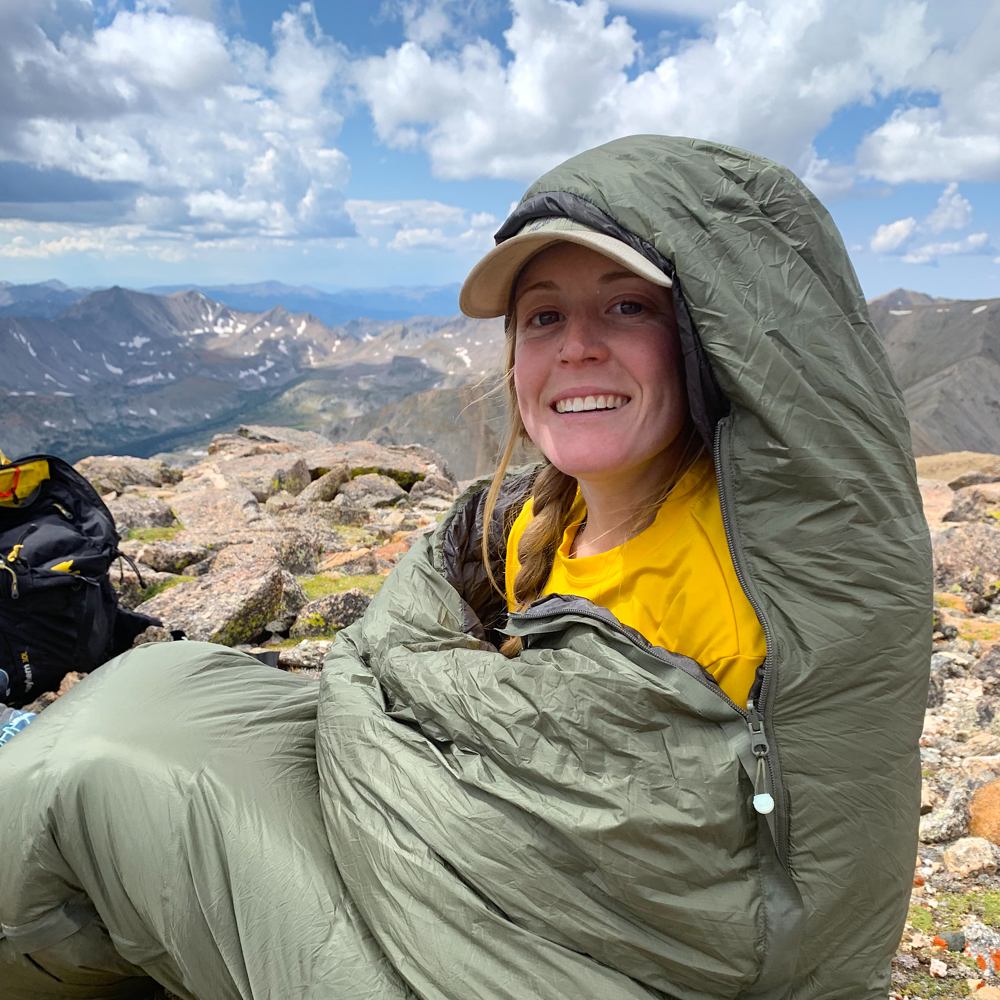 Bethany worked as an outdoor educator/trip leader for three years after graduating from CSU in 2017. Bethany's passion for experiential learning was sparked after she embarked on a 30 day NOLS outdoor educator course in the Winds after she graduated college. Since then her outdoor job pursuits have taken her to California, Wyoming, Tanzania/Mount Kilimanjaro, Hong Kong, Montana, Idaho, and Colorado. She is now living in Park City, UT with her friends where she is a full time nursing student and ski bum. When she's not drinking coffee or eating a breakfast burrito, you can find her snowboarding, backpacking, mountain biking, rock climbing, and trail running in her mountainous backyard. You can connect with her on instagram at @adventuresof_b.