ProView – Black Diamond Zone Climbing Shoes
Kolin Powick, Climbing Category Director for Black Diamond, accurately describes the Zone climbing shoes as "business in the front and party in the back." These moderately aggressive and downturned shoes mean business and keep you in the zone sending steep routes and problems while making sure you look good doing it.
Black Diamond Zone Climbing Shoes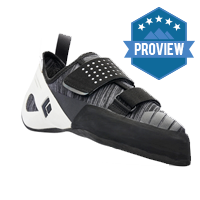 Product Description: The Zone is a two-strap Velcro shoe that combines the award-winning comfort and breathability of our Momentum climbing shoes, with the high-performance last of our Shadows to create a shoe built for sending at the gym or the crag. The Zone's upper consists of our Engineered Knit Technology, which provides stretch where you need it, support where it matters and all around exceptional breathability—meaning you can go hard at the gym without worrying about your feet overheating. The shoe's last is downturned and based on our aggressive shape, making the Zone adept at pulling hard on steep rock or plastic. The Zone's sticky Fuse rubber is molded—inspired by the way we forge our carabiners—and not cut from one sheet of rubber. This is our engineered solution to optimize our shoe's rubber and rands for consistency and comfort. The shoe's vamp area also has printed rubber for extra friction while toe-hooking, and the medium-flex midsole adds a balance of sensitivity and power. For hard training sessions, this is Zone you want to be in.
Offer price: $140 MSRP
Quality

Features

Fit

Durability
Summary
The Zone climbing shoes excel on steep to vertical rock and in the gym to help you send hard routes and boulder problems. They tend to run small, so be sure to fit them before buying. 
Pros
Two Velcro straps
Printed rubber on vamp
Precise edging and hooking, stylish
Cons
Uncomfortable for long climbing sessions
I am a climbing wall employee, Outdoor Recreation student manager for Grand Canyon University, and a full-time mechanical engineering student. This leads to a jam-packed schedule where my climbing for fun is often fit into short and hard burn sessions. Mid-way through testing the Zone shoes, I injured my wrist while climbing and bouldering in Flagstaff, AZ. While injuries simply suck and I had to start being cautious with how hard I climbed, it forced me to focus on good footwork. Through this, I was able to see just how well the shoes performed, and they did not disappoint.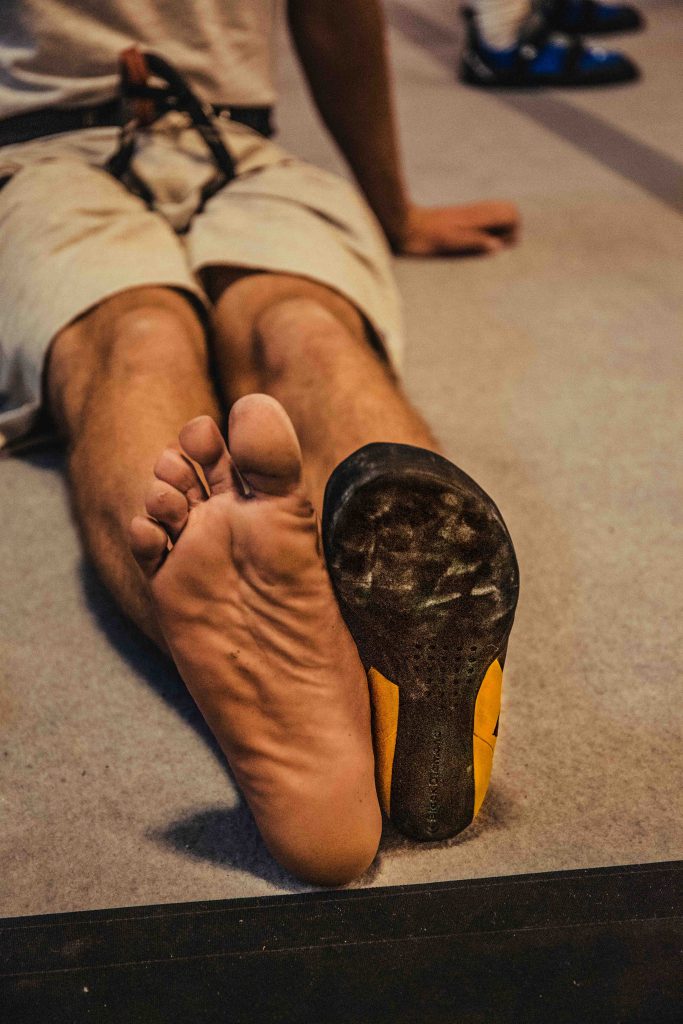 Fit/Comfort
As someone with very flat feet, it has always been difficult to fit into any downturned shoe. Because of this, the Zone climbing shoes are uncomfortable for me. However, I had my friend Zack (sporting the same size foot and some good arches) use them on a few bouldering problems and he found them to be more comfortable than I did. In general, a downturned shoe is going to be less comfortable than a neutral climbing shoe. Regardless of the climbing shoe, trying it on to make sure it is a good fit for your foot type is critical. Black Diamond uses its Engineered Knit Technology on the upper of the Zone which allows them to breathe exceptionally and not irritate your skin. I normally use leather (or leather synthetic) shoes but quickly became a fan of the knit upper.
When it comes to fit, Black Diamond goes above and beyond by offering the Zone in a standard and low volume style. I used the standard volume which worked well for me. For sizing, they seem to run on the smaller side and do not stretch out much as they are broken in. I would recommend being sure to try them on before you buy, especially if switching from another brand.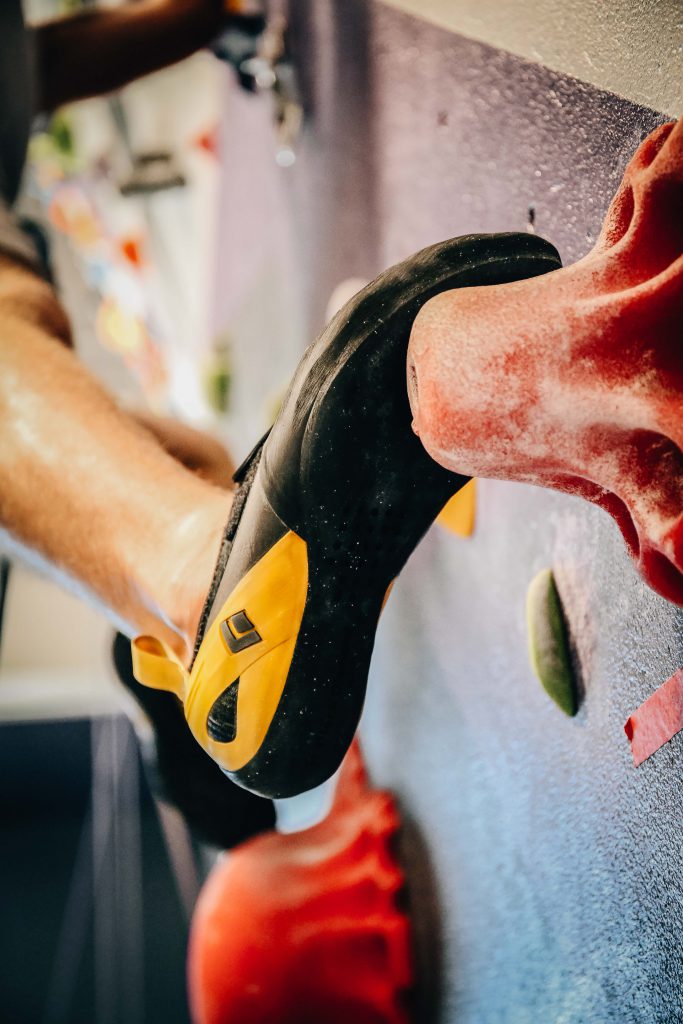 Look/Style
While everyone has their own unique taste in style, I think the Zone is one of the best-looking climbing shoes on the market. The boldly colored heel of the shoe perfectly contrasts the black shoe body. While the Zone boasts a similar look to the more neutral Momentum shoe, these really catch the eye as a sharper-looking shoe (in my opinion anyway).
Features
The Zone shoe is furnished with features that keep you focused on the climb rather than on your feet. The Engineered Knit Technology upper provides great breathability. The 4.3mm Fuse rubber is printed and molded, allowing it to be thick or thin in the areas you want it to be. The downturned last allows for steep pulling in the gym or at the crag with a regular last volume that fits regular to high volume feet. If you have a lower volume foot you may want to try the Zone LV (Low Volume) shoe. My favorite feature of the Zone shoe is the two Velcro straps. The upper strap is extra wide and perforated. The wide strap helps lock your foot into the shoe while the perforations allow the shoe to move with your foot while climbing. The rubber on the midsole also features perforations that essentially make the shoe spring-loaded to maintain their shape.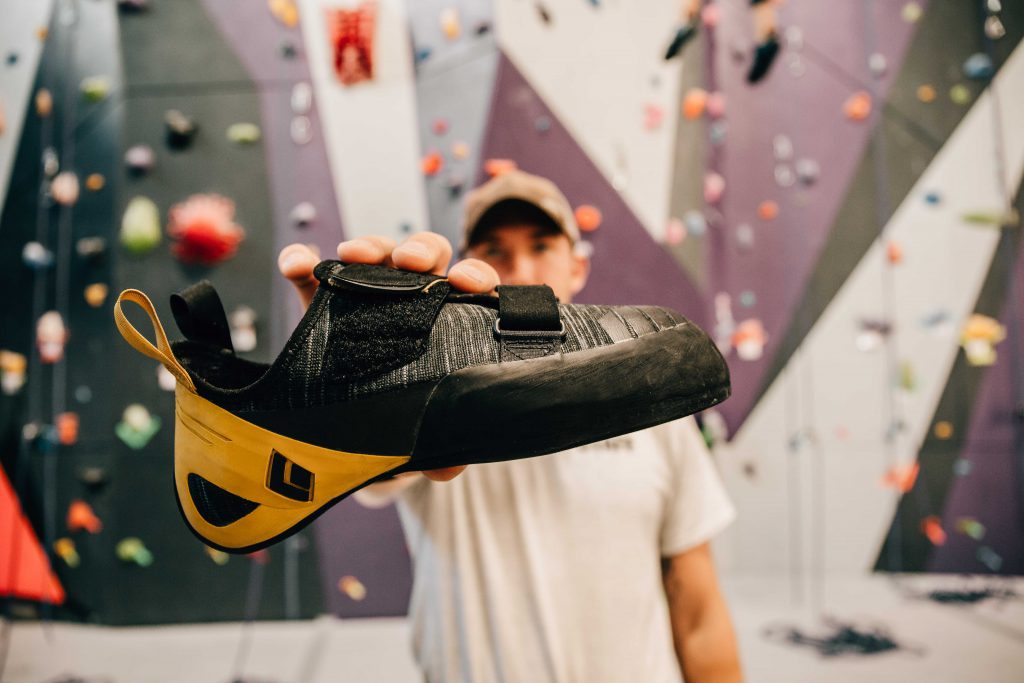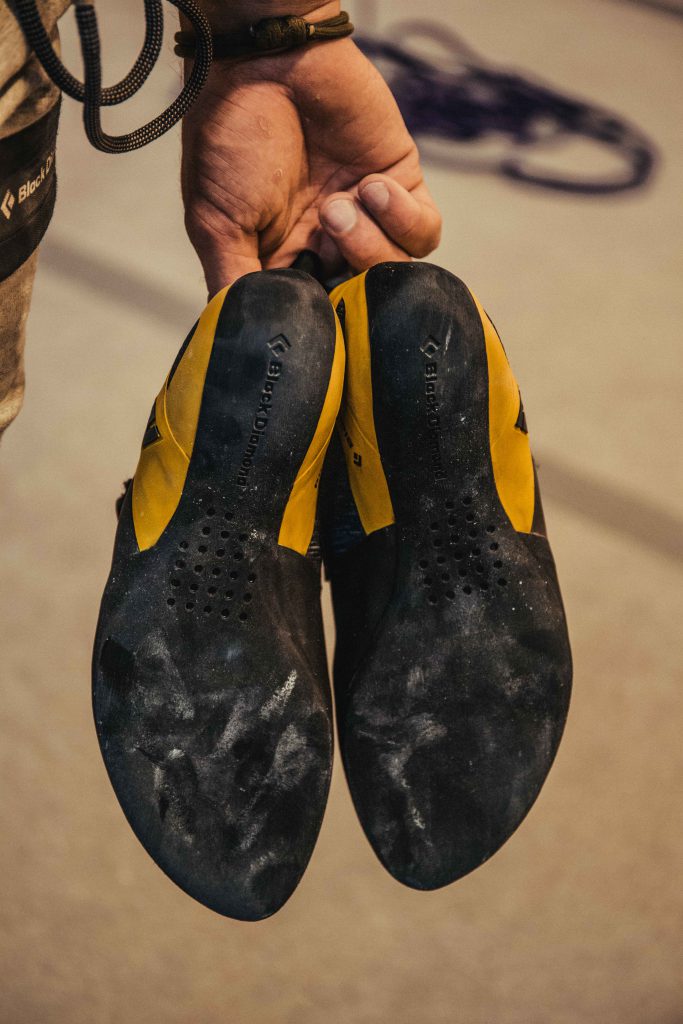 Function/Performance
When the rubber meets the wall, the Zone gets the job done well and looks good doing it. I used this shoe a lot in the gym for both bouldering, sport climbing, and testing moves while route setting. I also made a few trips to The Pit and Priest Draw in Flagstaff as well as Atlantis outside of Superior, Arizona for sport climbing and bouldering. The Zone excels on vertical and overhung rock as well as edging and hooking. The rubber sticks well and feels solid on technical edging both indoor and outdoor. I also am a big fan of the Velcro strap. The wider upper strap locks in your foot well which is always a concern for me with Velcro climbing shoes.
The tradeoff for great edging and hooking is the performance on slab and crack climbing. For a downturned shoe, the Zone can smear better than I thought it might but does struggle with any crack climbing. I would not consider this a negative for the Zone but just the reality of climbing with a downturned climbing shoe.
Durability
So far, I have not had any issues with the Zone's durability. After a few months of using the shoe, the rubber is still in good condition and the shoe has held its shape well. My only concern with the shoe's durability is the heel loops. While there have been no issues with the ones on my shoes, I have heard of others who have had theirs eventually rip. However, if you are careful to fully loosen the shoe when sliding them on, this should not be an issue.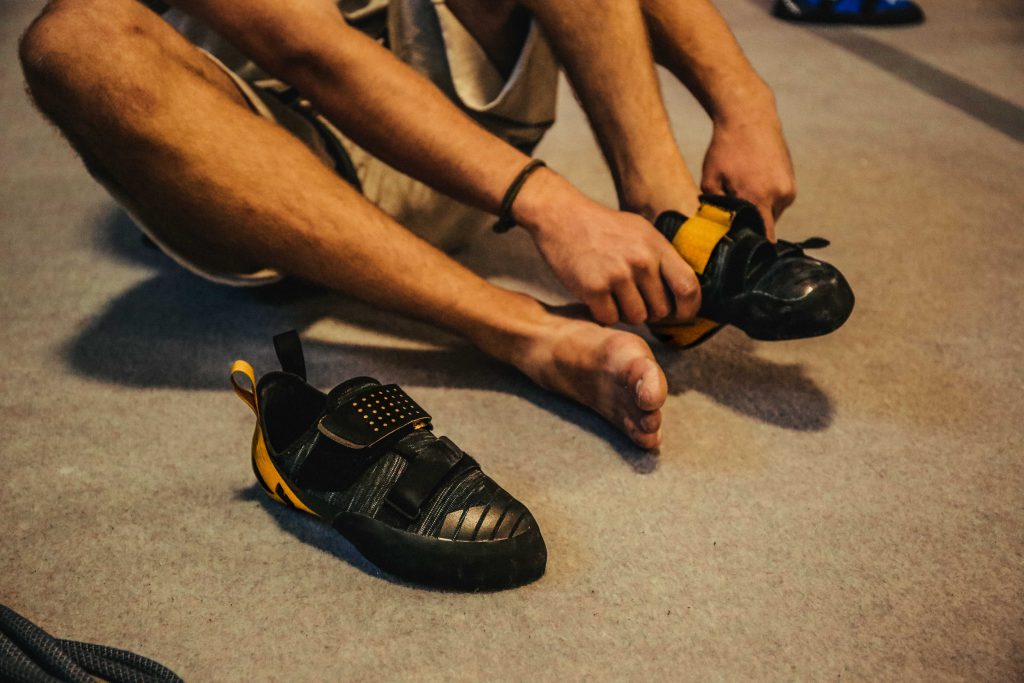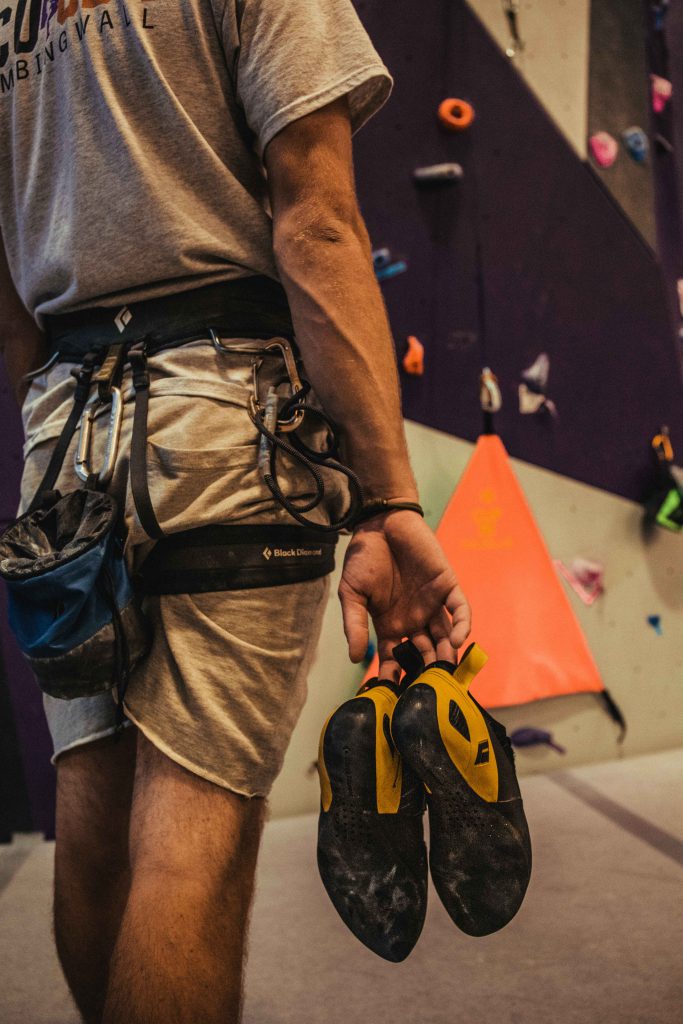 Friendliness to the Earth
Black Diamond strives to take responsibility not only to make the best performing gear but to do so while minimizing adverse environmental effects. Check out their site for more information on Black Diamond's sustainability efforts and environmental ethics.
The Final Word
All in all, the Zone has proven to be a great climbing shoe. If you are looking at a shoe for steep and hard climbing that won't break the bank, the Zone is the shoe for you. My only reservation would be for any of my flat-footed friends out there, as downturned shoes are rough on flat feet. Regardless of the shoe you buy, make sure you try it on to get the right size and fit for your feet. Happy sending!
Shop the Black Diamond Creek 20 on Outdoor Prolink. Not a member? Apply today!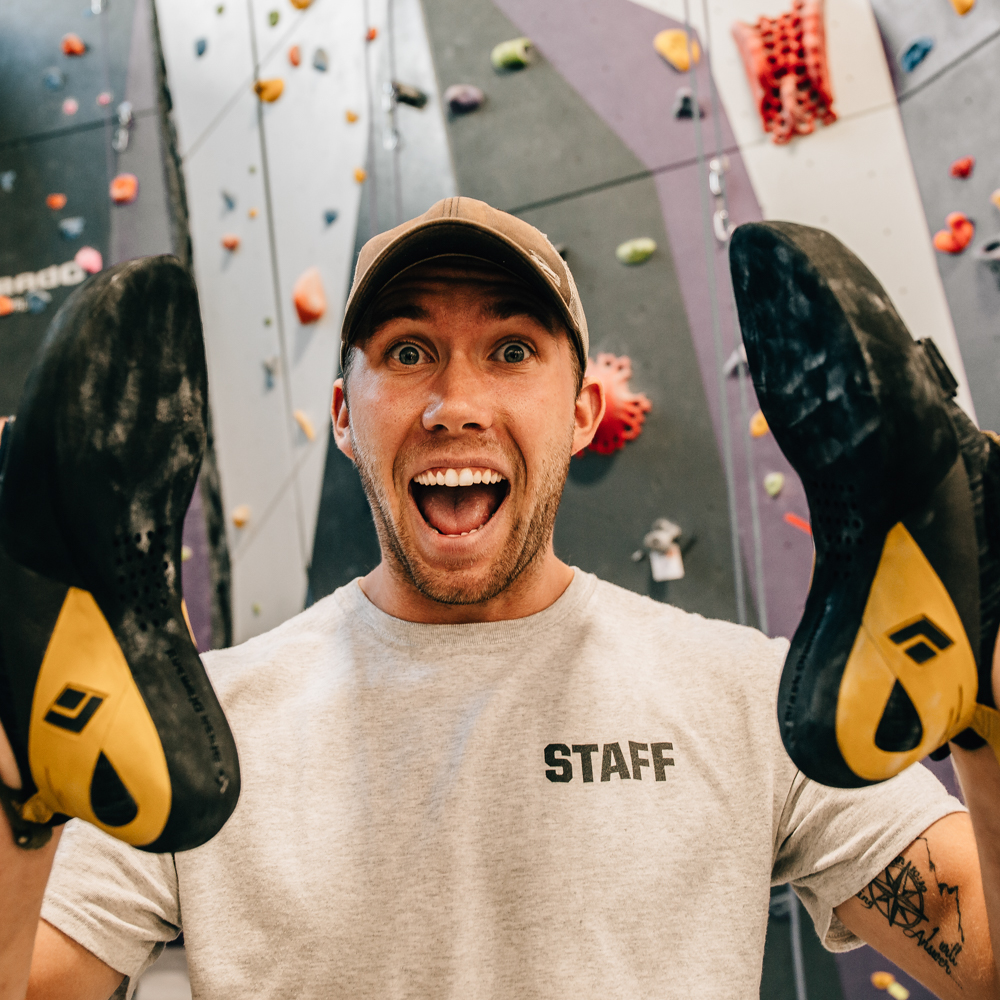 Daniel currently works as a student manager for Grand Canyon Universities Outdoor Recreation Department as well as working at the school's climbing wall. Over the past two summers, He has guided with Peak 7 Adventures in Washington leading a 50-day outdoor expedition leadership course called the Bower Adventure Course (BAC). Daniel is a member of the Mountain Rescue Association and Inland Northwest Search and Rescue volunteer. You can connect with him on Instagram @conrad_daniel.