ProView – Gregory Rhune 22 Review
Have you ever just had a season that became wildly busy? All the sudden, four months have flown by, and you can't slow life down even if you try?
That was this past fall for me. I ended up spending less than a week in my home during the months of September, October, and November. Some trips were pre planned, and others were spontaneous due to unforeseen circumstances. It felt like I lived and worked out of a duffle bag, bopping around states. I already travel to and from Salt Lake City for work on a regular basis, then on weekends I was either flying or road tripping, while still trying to keep up with emails and projects during downtime.
Gregory Rhune 22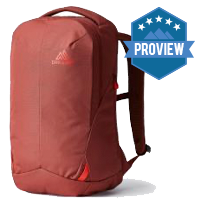 Product Name: Gregory Rhune 22
Product Description: Defined by performance materials and recycled fabrics, the Rhune 22 delivers on a commitment to make a better product a better way. The intuitive organization and innovative AirCushion mesh cover all your needs in this ideal, everyday pack.
Offer price: MSRP: $139.95
Quality

Features

Fit

Durability
Summary
True to size this backpack makes being active and productive easy. It keeps things organized using detailed designs, all contained in a sleek small bag that stays close to your back while on the go.
Pros
Well designed pockets, and compartments
Easy to grab your belongings
Cons
Could have added features: waist strap and should pads
If you've ever spent time working remotely you've probably sat on your computer in odd places on the side of a road or in random coffee shops, using your phone as a hotspot. Since I was bouncing around so much I needed a reliable way to tote all my gear around. While packing, I wanted things to fit into my backpack easily with a semblance of organization. There's always a level of chaos that comes from travel. Knowing where things belong is a game changer. The Rhune 22 pack by Gregory, was created with attention to detail, design, and materials.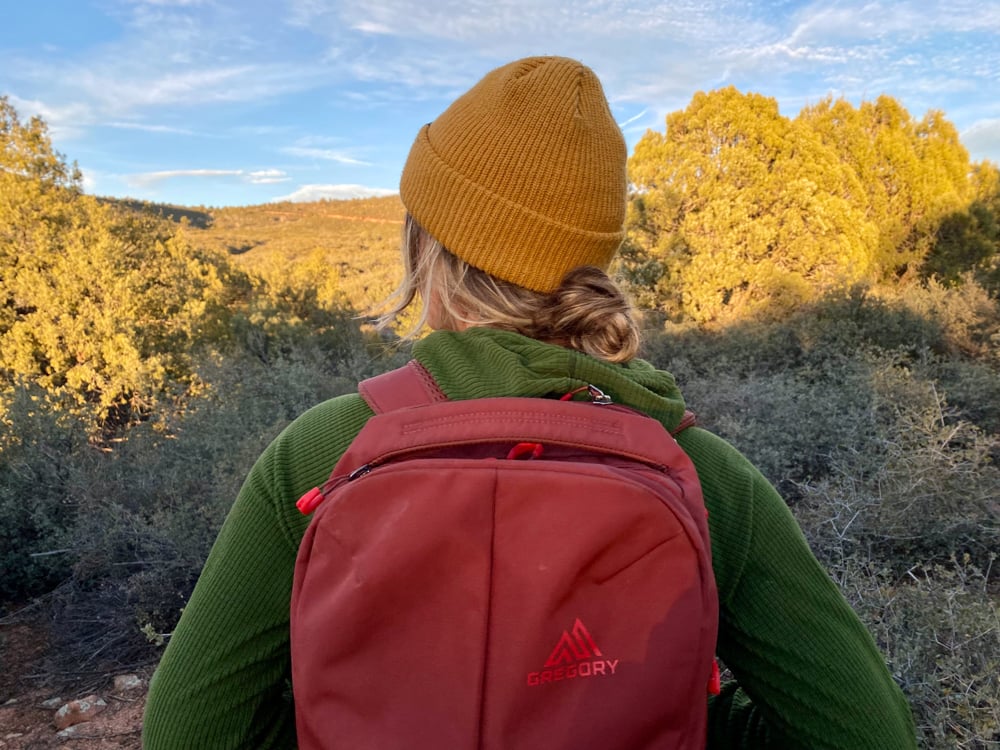 Features
Made for people like me who are on the move, the Rhune 22 has a sleek, streamlined design. It keeps things organized and contained. All the "bells and whistles" are on the inside of the pack's main body. It has two main compartments. The first includes a laptop sleeve, a folio sleeve, a zippered pocket, and pen holders. The second compartment has three mesh pockets, serving as extra space for knick knacks. There's several other pockets for quick access on the top, side, and a little shoulder strap pocket (perfect for keys or headphones). A handle on the top makes for easy transport between locations, and a sleeve for a water bottle finished off the details.
The back panel padding was designed to be moisture wicking and makes carrying your essentials around breezy and dry against your back. It's made with certified recycled polyester materials, keeping the environmental impact mindful. It's comfortable enough to walk around with for hours (if your belongings are light), but I do wish the shoulder straps were wider. I used the pack as a carry-on for a long weekend, and while not super heavy I found my shoulder uncomfortable by the end of the day from the straps. Slightly extra padding, or a wider design would fix that in a jiffy, and next time I'll probably just pay a little extra to bring a suitcase instead of a carry on.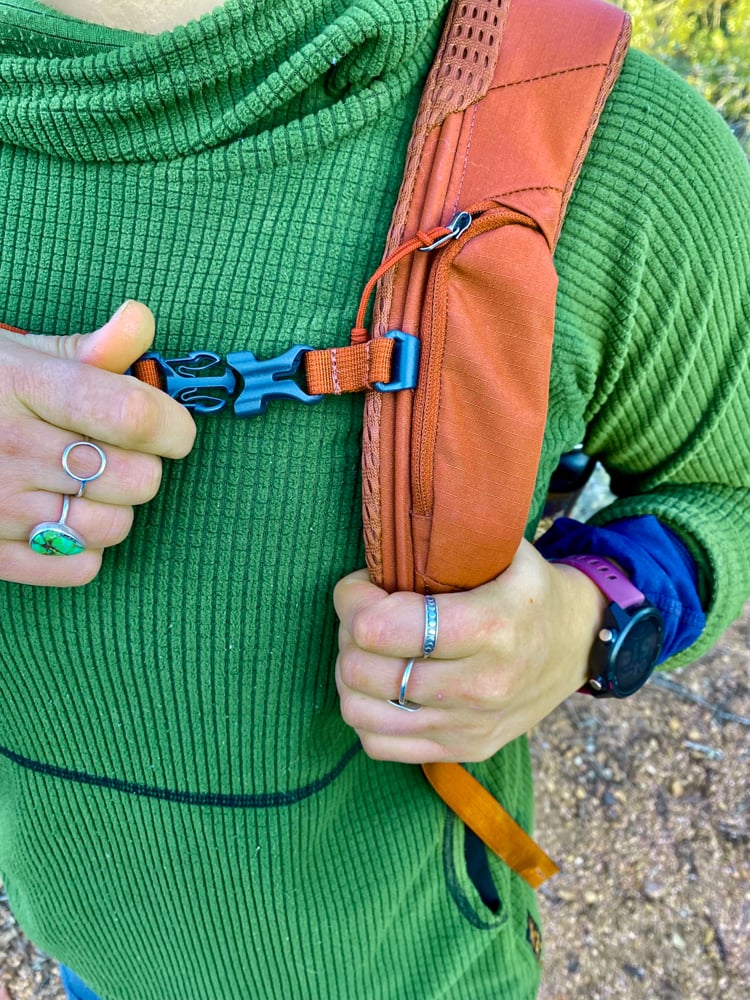 Ease of Use
While using the pack I've appreciated the ability to grab what I need and then replace it without having to dig around or unpack lots of other items. It fits my work items, and anything else I might need during the day (such as layers, coffee flasks, notebooks, and cameras). The backpack feels durable and sturdy. I can chuck it in a car, carry it through airport security, and keep my belongings close. I do wish the pack had a waist strap. The fit is close enough that I can bike with it, but it still slides around slightly when doing so. I'd prefer to have my backpack secure if I'm carrying my laptop in it while biking to and fro.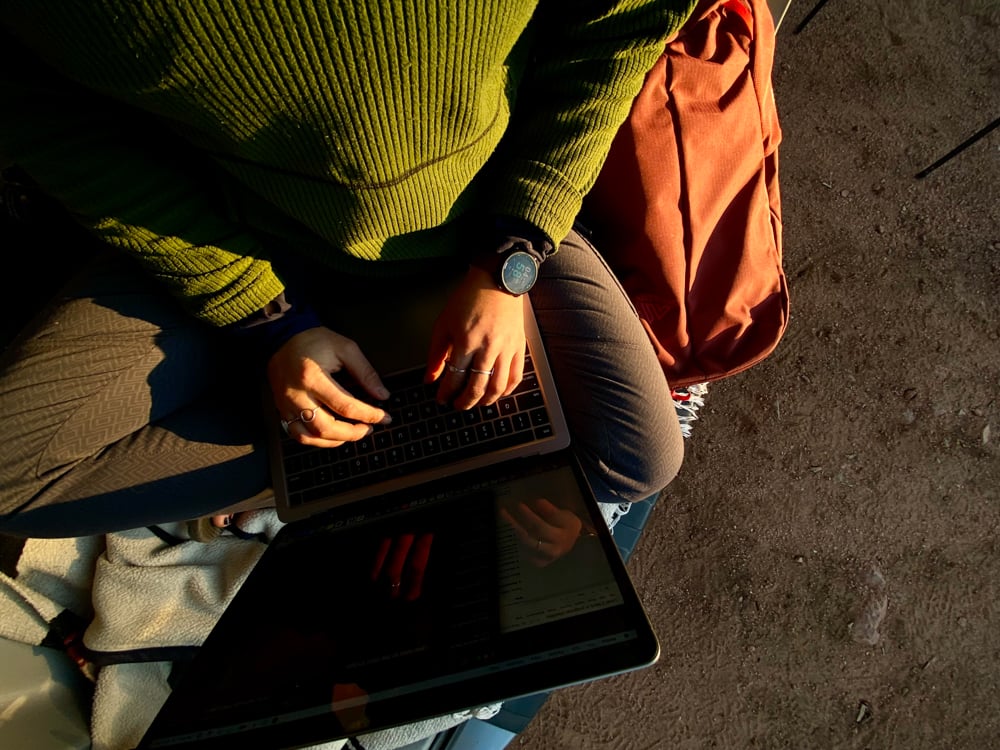 The Final Word
Overall, I have been impressed with the Rhune 22. As a long time Gregory pack lover, I expected to, but it was particularly nice during such a busy season of life. Being on the move so much during the last few months, I've been grateful to have a backpack that made pulling my laptop out easy, and keeping notebooks and granola bars within arms reach at all times. Life can feel chaotic and full at times, and anything that helps keep the little things together is worth it. It makes more mental room for the big stuff, adventures good and hard. 
If you'd like to read about a larger version of this pack, the Rhune 25, check out Proview – Rhune 25 Review by Mollie Bailey.
Shop Gregory Rhune 22 on Outdoor Prolink. Not a member? Apply today!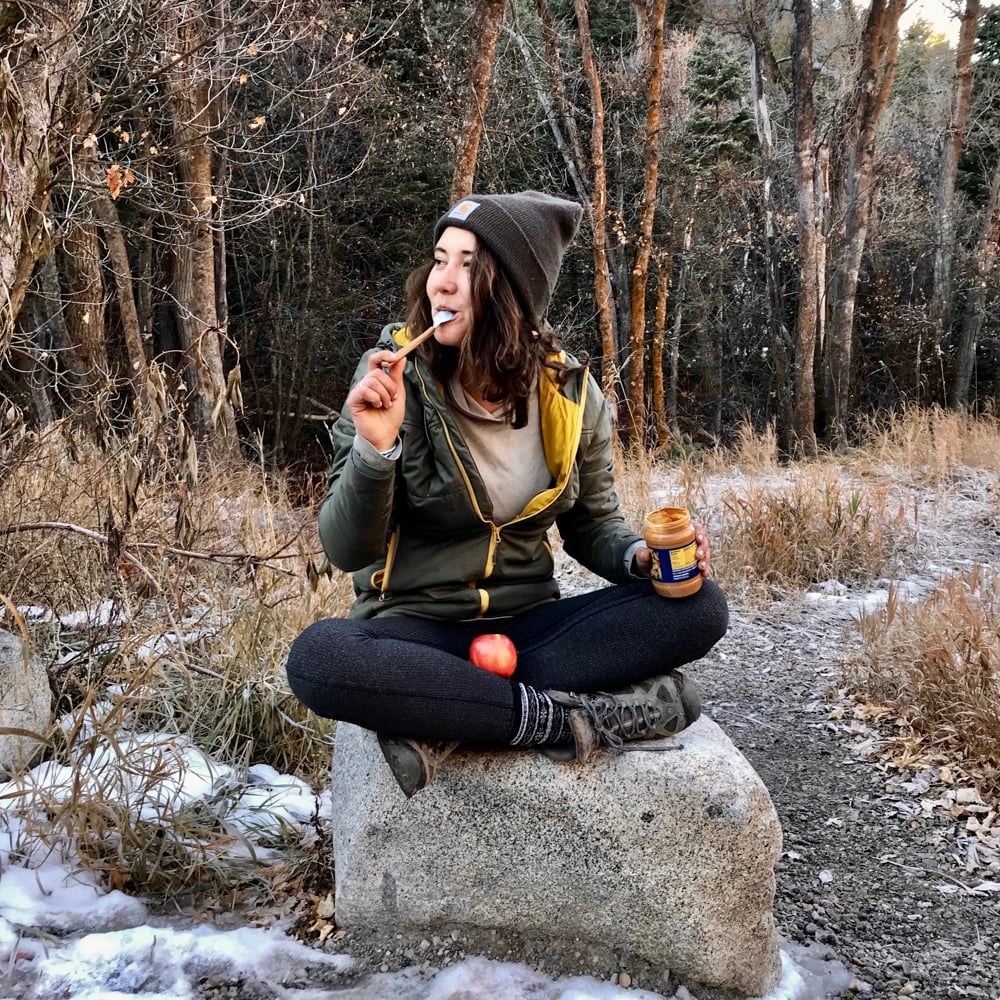 Allie Fuller is a Field Supervisor for Second Nature Wilderness Family Therapy. She works year-round with at-risk youth in the alpine desert and Uinta mountains. She's passionate about empowering young women to find strength while in nature. She slept under the stars for over two hundred nights last year. Allie has been doing outdoor youth work since 2012 in Utah, all over Colorado, and in the UK. When off-trail she's road tripping around the west with pup Flint in a beat-up Subaru. She loves finding spots to boulder, tucked away hiking trails, drinking excessive amounts of coffee, and she's never without snacks. You can connect with her on Instagram at @​allie.e.fuller.