ProView – Rab Khroma Kinetic Bib and Jacket
I've been snowboarding since high school. The leaps that the industry has made in shells and outerwear for women is unfathomable. I am so happy to be able to comfortably and confidently adventure into the backcountry, especially with the Khroma Kinetic Bib and Jacket.
Rab Khroma Kinetic Bib and Jacket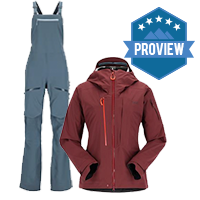 Product Name: Khroma Kinetic Bib and Jacket
Product Description: If you love the ski up as much as the ski down this jacket is designed for you. Highly breathable and protective, it regulates temperature and keeps weather out.
Offer price: $365-$385 MSRP
Quality

Durability

Features

Fit

Eco-Friendly
Summary
The Khroma Kinetic Bib and Jacket are an awesome pair that make recreating in the backcountry comfortable and warm. I am always tweaking my backcountry set up and these will be the first pick for almost all of my adventures. 
Pros
Lightweight
Comfortable
Breathable

 
Cons
Could be considered pricey
Have you even owned something that just excels at everything you need it for? The Khroma Kinetic Bib and Jacket are the perfect outer layer for any trip into the backcountry, be it traversing huts, steep technical ascents, or long days of minigolf (quick ups and downs exploring a wide swatch of backcountry terrain).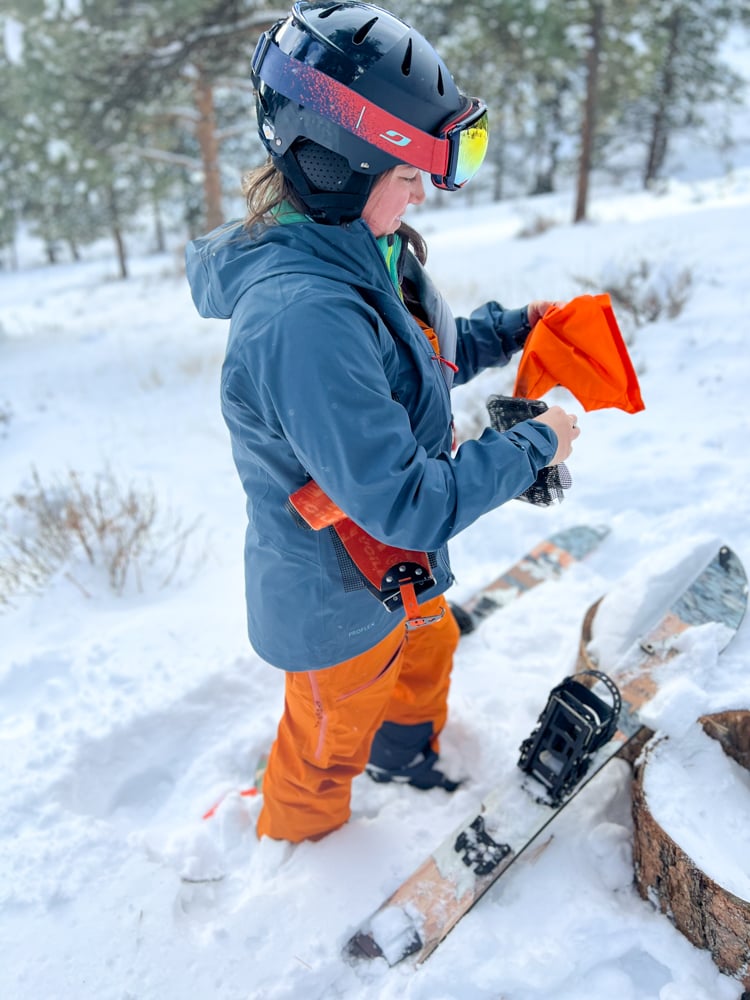 Fit/Comfort
I am no stranger to Rab clothing. I'll admit I am a fan of their outer wear and have many different types of jackets. One thing I do find confusing is their sizing. I have a medium in most of my jackets but chose to go with a large for the Khroma Kinetic Bib and Jacket. The idea was to be able to fit layers underneath (my medium puffs, if needed) and have a roomy fit on the bottom if I wanted to add wool base layers. This was the right choice! If you have bigger hips or just want some space, size up.
Comfort wise, I love the feel and breathability of these shells. They have an incredible waterproof lining but also well placed zippers to dump heat when you're working hard going uphill. The description touts, "the protection of a hardshell with the comfort of a softshell," and I think they nailed it.
I was never a bib fan in my early years of riding. For many years I went with snow pants and a jacket with a snow skirt. Little did I know I didn't have to deal with the skirt riding up, or unsnapping, or snow getting dumped into the back of my waist. Bibs were the answer! I now recreate in the backcountry in exclusively bibs. They keep everything in order, and offer added protection when you decide to delayer on the top. Bibs aren't just for four year olds playing on the bunny slopes, these are for technical ascents, long days, and being comfortable apres.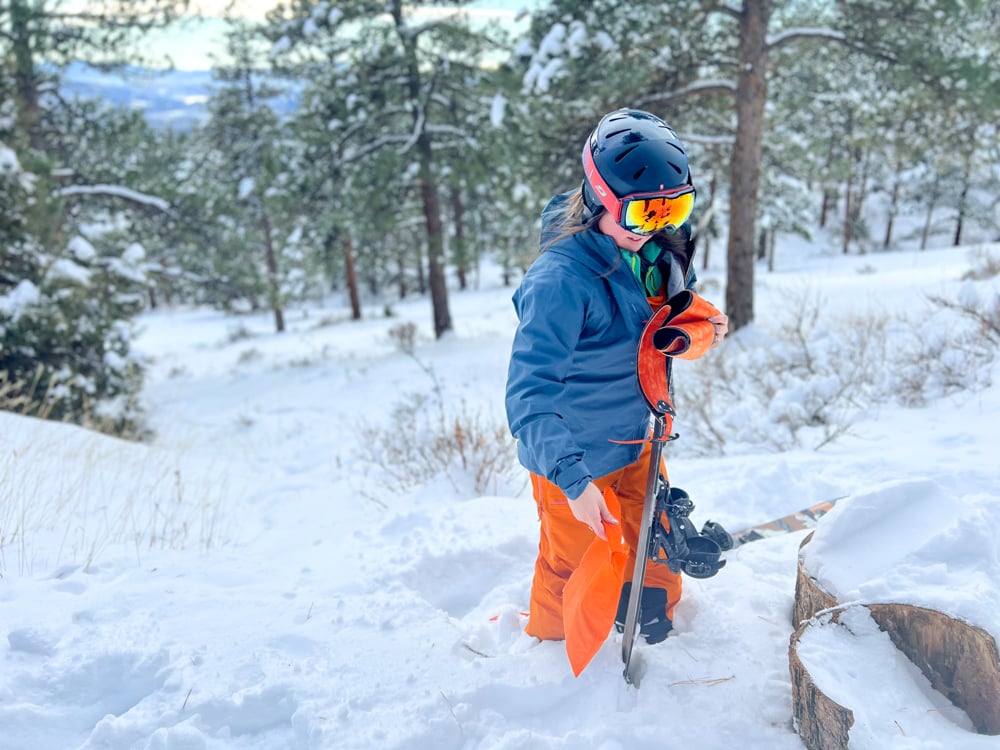 The cut of the jacket is *chef's kiss*. The bibs fit really well also. As long as you're in the right size, both items fit like a dream. I'm surprised with how comfortable they are.
Look/Style
As an avid user of Rab outerwear, they've always had an interesting color selection. For some reason, the men's color options are always on point, and the Women's seem just a little off. I went with the orange bottoms which I thought would be more of a khaki according to the photo online but ended up being very bright orange. This wouldn't have been my preference if I could tell what they actually looked like. Paired with the blue top, this set up gives me a little bit of a masculine look. I don't mind that at all, but as a women split boarder in the backcountry, sometimes it's nice to remind others there are women are out there too, even when we're all bundled up.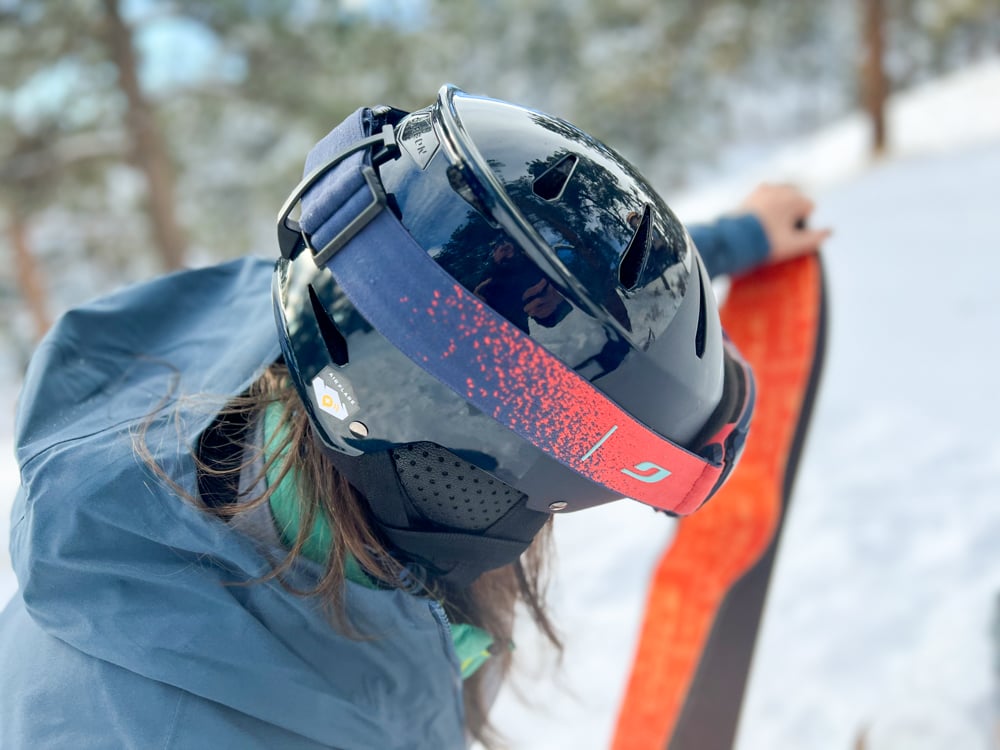 Features
This is where the Khroma Kinetic Bib and Jacket really shine. All the features come together to create a seamless jacket that's a joy to wear and functions well in the backcountry.
Durability/Construction
Both shells are made with Proflex™ fabric. It is extremely waterproof while still being highly breathable. It's also durable — no worries about those branches on the skin track or rough rocks during the transition. One of the things I like most about the jacket is that it doesn't seem overbuilt and bulky, but it'll last for seasons to come. You take it out of the box and think, "No way this'll hold up, it's soft!" And then you're proved wrong adventure after adventure.
On the jacket, there are two zips on the rear arm area for dumping heat while climbing, three pockets, two of them mesh lined, two way zipper, and a hood that fits over your ski helmet for super windy or cold days. The bibs have a big front pocket on your chest which is great for keeping your beacon secure, and warm. There are two way size zips that allow you to dump heat on both sides.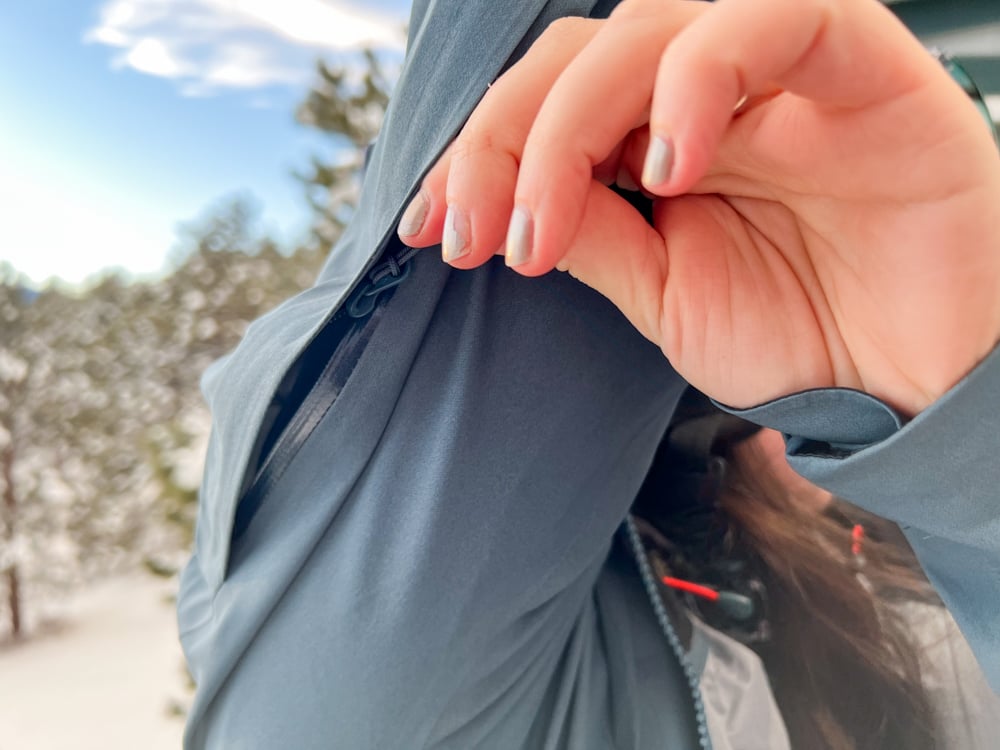 Waterproofing
The waterproof rating is HH 20,000mm, which is a meaningless number if you aren't deep into hydrostatic head and water pressure. Luckily, Rab has a full video explaining how that number is measured and what it means exactly. The same page also explains how a fabric can be waterproof and breathable at the same time. Black magic? Or science?
Materials
One of my favorite features is the Fluorocarbon-Free DWR. DWR stands for durable water repellent and you will find it on many outdoor gear items. Anything that comes in contact with rain and claims to be waterproof usually has DWR. Tents, rain jackets, soft and hard shells, you name it. Fluorocarbons are a chemical compound that have been linked to respiratory illness and are absolutely miserable for the environment. All DWR should be Fluorocarbon-Free, thank you Rab!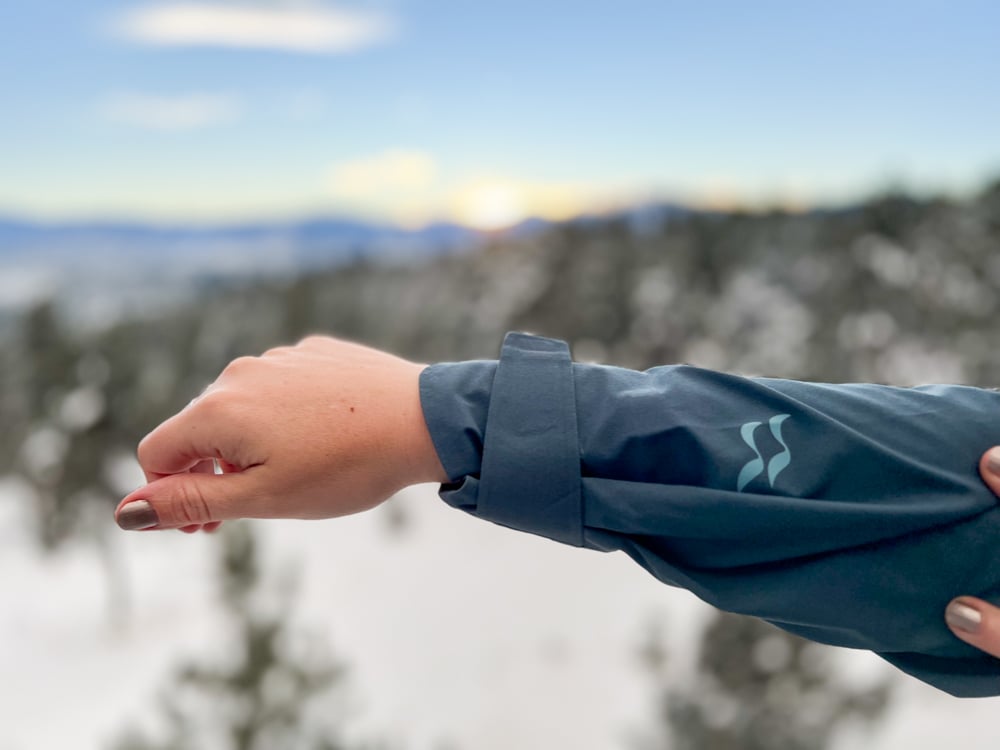 I also really like that this material is stretchy. It makes wearing the bibs while climbing very comfortable. There is a surprising amount of give and bend, the material moves with you, not against you, which is a bonus on top of waterproof and breathability!
Weight/Packability
While I won't be taking off my bibs and packing them in a backpack for the ride down the mountain, it is great to know both items are easily stuff-able. They are both lightweight and roll up easily for travel. According to my scale, the bibs are 1 pound 5 ounces and the jacket is 1 pound 1 ounce, both women's size large.
As a Set
These two pieces function really well together. If I weren't wearing bibs, I would be looking for some extra pockets on the jacket and a low-profile snow skirt. I would highly recommend the light shell/bib combo. It's such a relief to have two items that function so well together you don't have to think about your system once you're on an adventure. I also like having the bibs to keep my beacon in. In one safey class I was in, the guide mentioned he had seen many a jacket ripped off someone caught in an avalanche, but never pants or bibs. That's where my beacon goes from now on!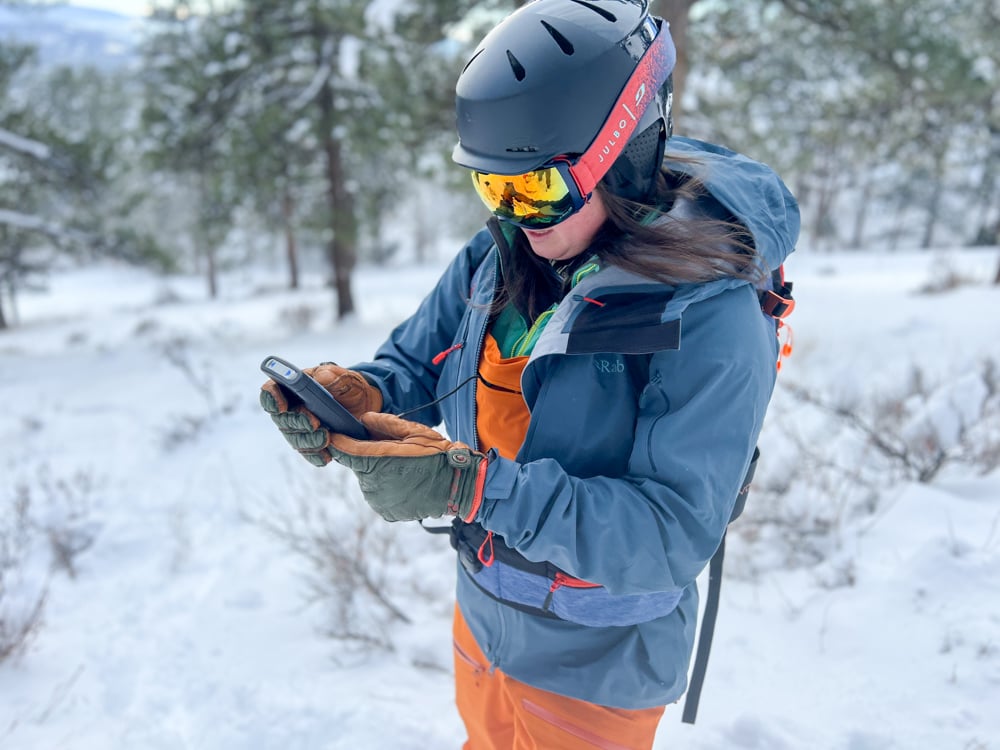 What sets this product apart?
These two items are extremely functional. I love that they aren't bulky and you can pick and choose what you want to layer under them. Because of that, they'll last through three seasons of wear every year, and I would maybe even wear the jacket in summer for climbing 14ers and wind protection.
The technology involved in the fabric is both breathable and waterproof. So instead of sweating through your ascent, you can open the vents, let the fabric breath, and keep trucking. Very nice to have your gear let you enter a state of flow.
Who is this product for?
This product is for anyone adventuring in the snowy or windy backcountry. The bibs I will be wearing both in bounds and out, to hut trips, and for cross country skiing. If you're working hard outside in cold temperatures, these are great items to have in your layering system.
Room for improvement
There is one big thing I could see that would improve this set is having both sides zipper down completely on the bibs. As it is, only one side zippers down to get the bibs on and off. This means, when inevitably, you have to go to the bathroom, you have to take everything off to complete the task. It's a big disrupter in the backcountry, and also very cold.
Friendliness to the Earth
Besides the Fluorocarbon-Free DWR, Rab is working to get to Net Zero. You can find out all about their efforts at their page here.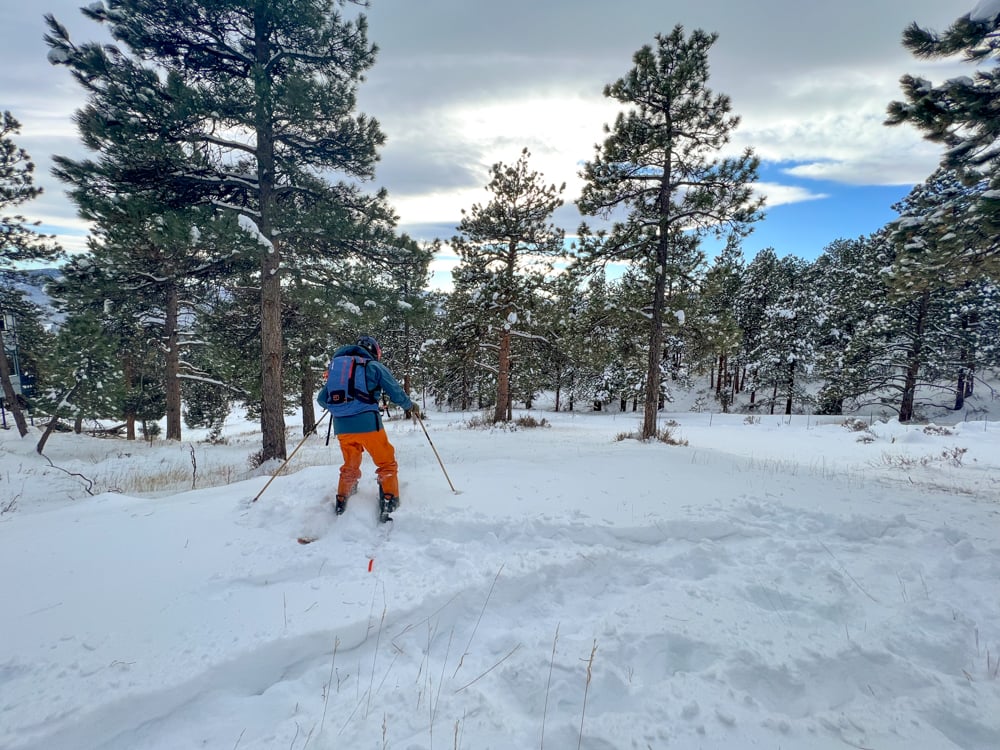 The Final Word
The Khroma Kinetic Bib and Jacket are an awesome pair that make recreating in the backcountry comfortable and warm. I am always tweaking my backcountry set up and these will be the first pick for almost all of my adventures. While I'm not a fan of the colors, that's hardly at the top of my list when looking for hard working shells.
Shop the Khroma Kinetic Bib and Jacket on Outdoor Prolink. Not a member? Apply today!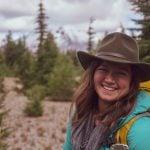 Roxy Dawson lives in a van full time and travels around the country working as an adventure journalist, searching for backcountry adventure, and using her dog as a pillow. Like most adventurers, she loves coffee, hot springs, and getting pretend lost. She works for Outdoor Prolink as the Content Marketer. She is trying to make a small positive impact on the world, and a larger one in her community. Follow her on Instagram at @roxyjan_