ProView – Nite Ize Dog Gear
I received these items during the colder season, which means the afternoons got dark very quickly — what a perfect time to test out some NiteIze Led lights!
Nite Ize Dog Gear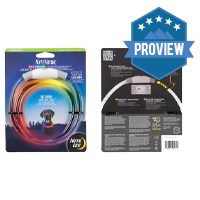 Product Name: Nite Ize Dog Gear
Product Description: Light up gear to keep your pooch safe in the dark.
Offer price: MSRP: various
Quality

Features

Durability
Summary
These Nite Ize dog products were perfect for those early winter evenings and morning walks. The collar & & collar light makes it easy to feel safe at night. 
Pros
Easy-to-use
Innovative
Light-up functionality + easily rechargeable with micro USB ports
Cons
No indicator as to when the battery will run out
SpotLit Collar Light cover was hard to get off

 
Our small community has many open spaces nearby so we let Leia, our pup, run about giving us the opportunity to see how bright Night Ize can be!
Nite Ize – Spotlit Rechargeable Collar Light – Disc-O Tech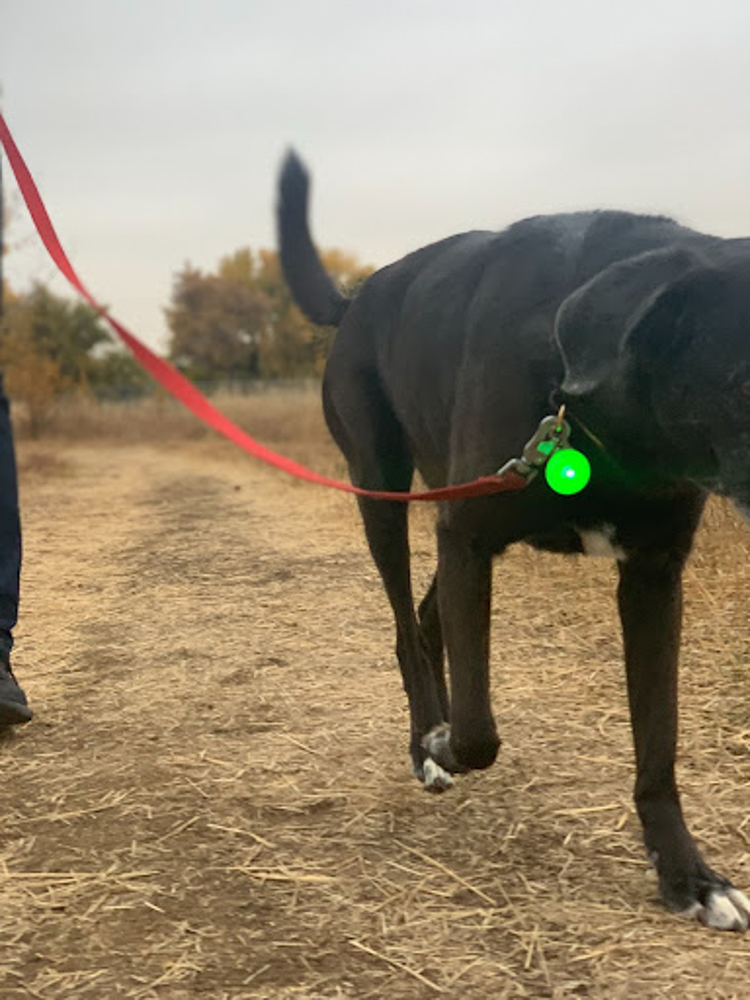 The SpotLit was super helpful to use on our long evening walks. We walk to a large field by our house, and Leia runs around sniffing everything. It's great to have this light attached to her collar, and even with her head down it is still shining bright. The light can fade in and out of all the rainbow colors or just stay one color at a time. The extra-large size makes us visible in the dark. It's easy to attach to the dog's collar and easy to turn on with a press of a button. This light & the collar are both rechargeables over universal MicroUSB (you certainly have a handful of these lying around your house – it is not included with the collar).
Room for improvement:
Two things that stuck out to me is to make the back cover stay attached to the light when it's being charged, so it doesn't get lost easily, and add some kind of battery level indication to remind users to set it when the battery is low and avoid having the light die during walks.
NiteHowl Large Rechargeable LED Safety Necklace – Disc-O Select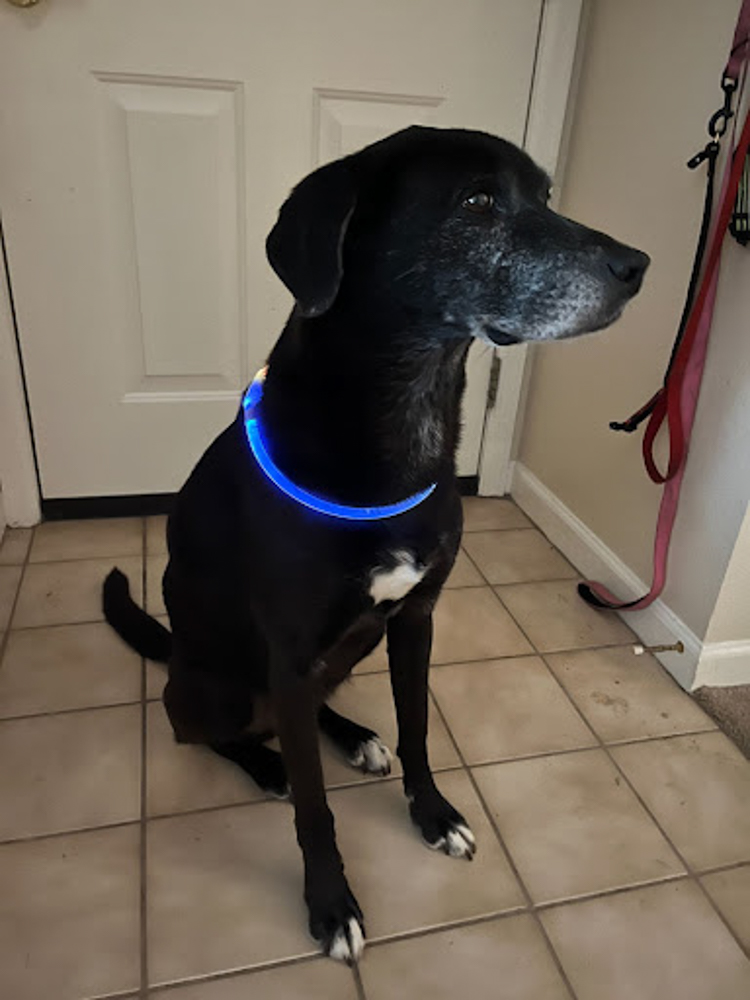 We LOVE this collar. We usually take Leia's leash off every time we enter the house. We have created a habit of thinking that she gets relief from it not being on. Most nights, for a quick potty right before bed, we take her outside without her leash, and this collar is our go-to, as we made the collar big enough to slide on and off her neck, but still very secure! The collar will fit any size neck. You can cut the filament down to any size yourself. One-size fits all applies here. This collar has a color-changing Disc-O mode for a beautiful color blend of all the colors, or you can choose from red, green, or blue. This collar illuminates over 100% of the length of the device. So visibility is excellent, making it very noticeable to me and others. The collar also has an easy-to-take-off cover over the charge!
The colors are super fun! Here are how the options work:
1st click: DISCO MODE! Each side of the power supply shoots a different color light through the solid transparent tubing. The colors stay on for about 1 second each and cycle through these colors; Red, Blue, Purple, Turquoise, Yellow, Green, Pink.
The lights are only in the power supply and NOT throughout the transparent tube; you don't have to worry that cutting the tube would cut off one or any colors. It will light up the same way, no matter how small.
2nd CLICK: Solid red
3rd CLICK: Solid green
4th CLICK: Solid blue (probably the most attractive solid color)
5th CLICK: Off
Room for improvement:
It would be nice to have some kind of battery level indication to remind users to charge it when the battery is low and avoid having the light die during walks.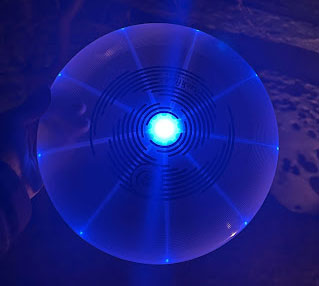 Nite Ize – Flashflight Rechargeable Light Up Flying Disc – Disc-O Tech
I like that the disc is well-balanced and feels like your standard Frisbee disc in weight, size, and shape. Very easy to throw like any other disc.
Unfortunately, Leia isn't too much into a frisbee, but it gave my partner and me a great excuse to play some night frisbee!
The Final Word
These products are easy-to-use and a fun way to provide light for evening walks. I highly recommend adding these to your doggie box.
Shop the Nite Ize Dog Gear on Outdoor Prolink. Not a member? Apply today!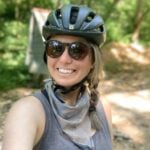 Originally from Arkansas, Heather now resides in Boulder, Colorado and currently works for Outdoor Prolink! Heather has completed a Thru-hike of the Appalachian Trail, a 1000-mile bike tour, the Colorado Trail, and the Montana section of the CDT (Dreams of a triple crown). You can now find her outdoor time revolving around gravel cycling and bikepacking. Connect with her on Instagram by following @tiltgravity