ProView – Rumpl Original Puffy Blanket
I sleep in my car. A lot. Summer, winter, rain, hail – it doesn't matter. There's something about being snug in a tight space, nothing but the open sky right out your door and birds singing you a good morning song that lures me to roads leading to the unknown every weekend. For the past year, I've only had my 0 degree sleeping bag keeping me cozy.
Summer nights were spent in my underwear, feet draped out the bottom of the unzipped bag, trying to sleep in the heat radiating off my body. Enter, the Rumpl Original Puffy Blanket. At first, this thing was keeping me cozy at home on the couch, lying on the back porch on warm days, and allowing comfy breaks between routes at the crag.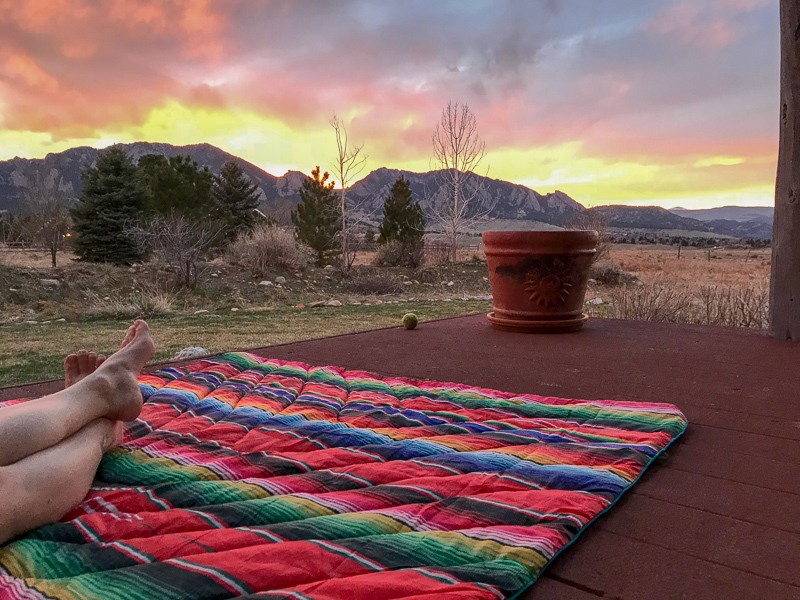 I was hesitant to bring it along on my car-ventures or to let a bunch of dogs trample it. I am rough on my gear, and don't wash things nearly as often as I should (dirtbag in the making.) However, I gave it a try, brought it along, to see if this blanket is really necessary for outdoor adventures. As you can see, Bits approves. And I approve of this blanket's durability.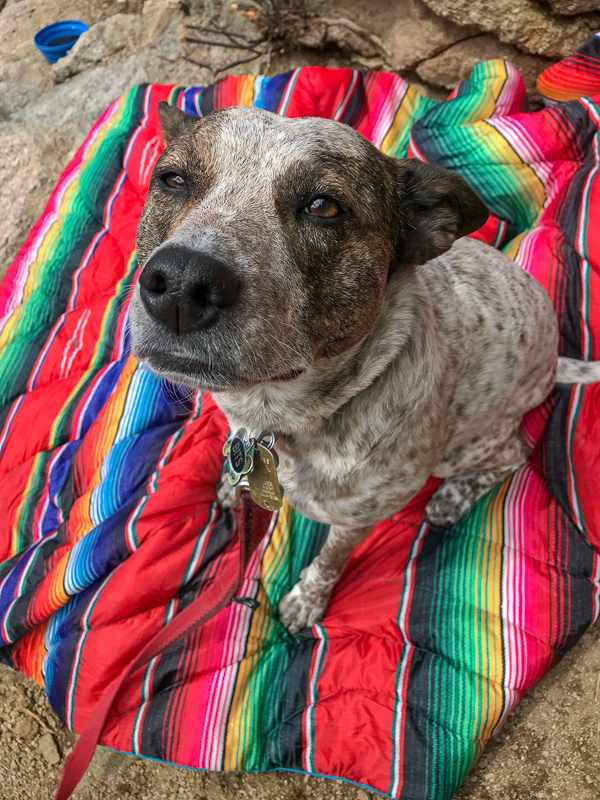 This blanket is a multitude contradictions. It's soft, but durable. Light, but warm. It's loud, cozy, and my new favorite piece of gear to bring with me everywhere. This thing will withstand a lot of things- Being thrown in a backpack and hauled up a 13er, thrown over rocks and snow to 'get the shot', shoved to the bottom of the gear pile only to discover it a week later in its original condition. It hasn't snagged, stained, ripped, smelled, or lost its shape. I'm sold. On a blanket. Who knew?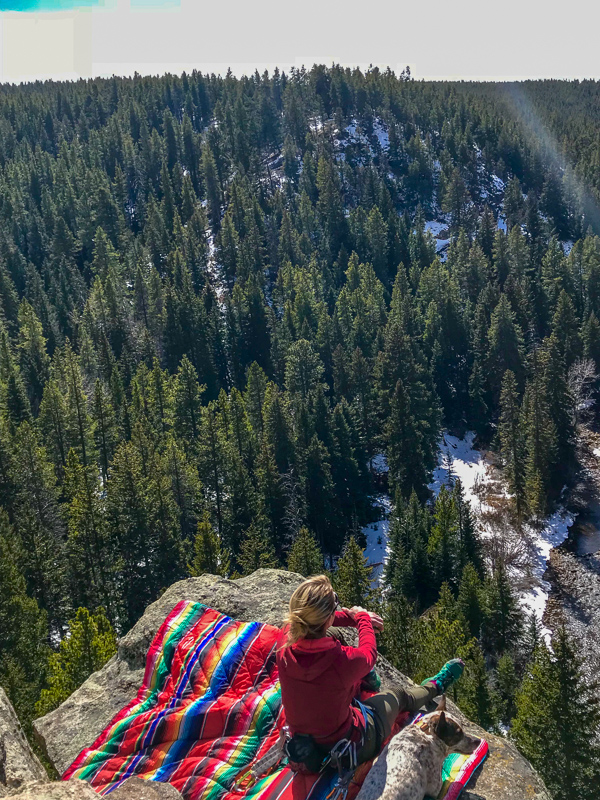 The stitching on this blanket holds the insulation perfectly in place, not allowing it to clump at one end or the other. I have the Synthetic Original Puffy throw, which is the perfect size for me, since I'm shorter (5 ft), but doesn't pack down nearly as small as the down version of the Rumpl blanket. I don't plan on taking it backpacking, so I'm not too concerned with packability and weight, but it is the perfect blanket to keep you warm on those car camping adventures, hanging at the crag, being outside on chilly days, or next to a nice fire (just don't get too close).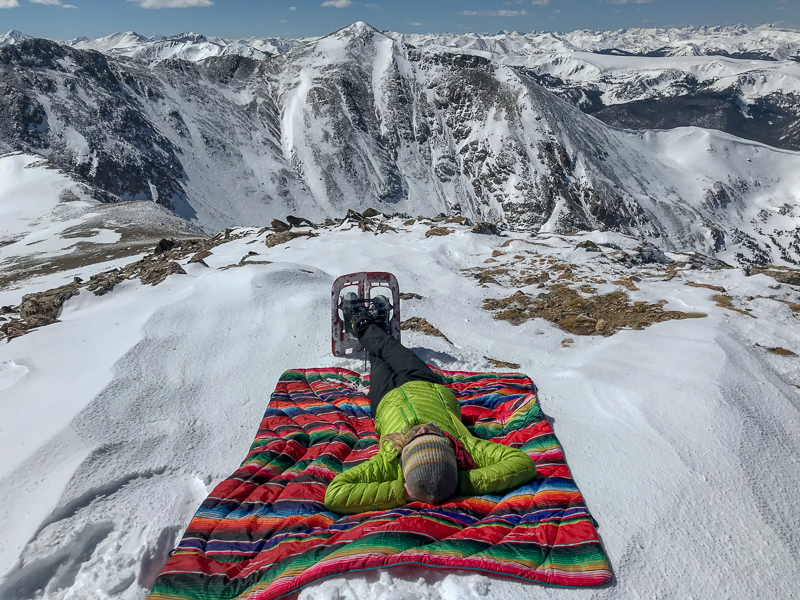 Rumpl offers their tenacious tape repair in case of tears, though you may not need it as this thing can seriously take a beating. Same goes for the cleaning line they have- It'll be helpful that once in a blue moon you'll need it. This blanket really holds up to the elements.
Rumpl also offers some seriously cool colors, styles and prints, as well as several sizes to fit your needs. The original puffy is water resistant, made of nylon ripstop (read – hard to rip!) and includes its very own stuff sack. Take this blanket anywhere you want to go, you won't be sorry.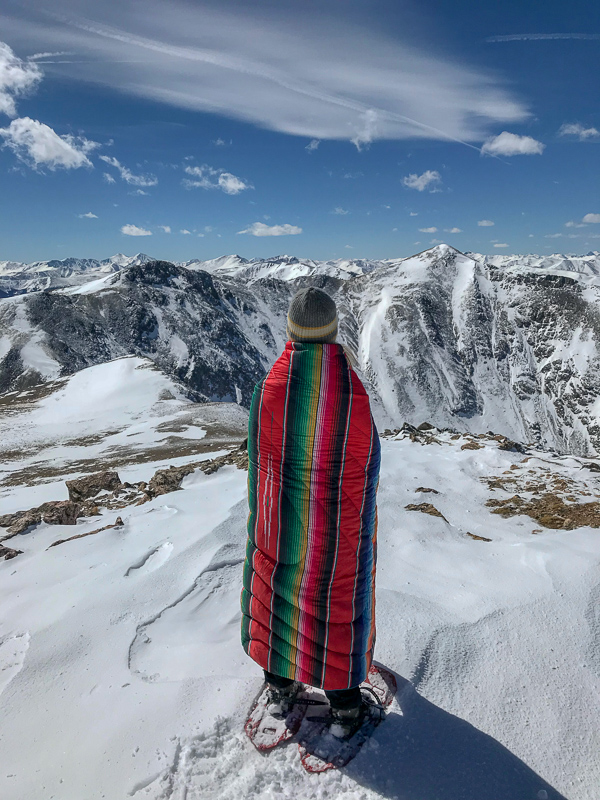 Pros
It's warm!
Lightweight, water and stain resistant
Durable enough for any camping or crag adventure
Cons
Doesn't pack very small (Don't they know I want to nap on the top of mountains?)
It's pricey for a blanket. It'll probably be the last blanket you ever need to buy, but it still hurts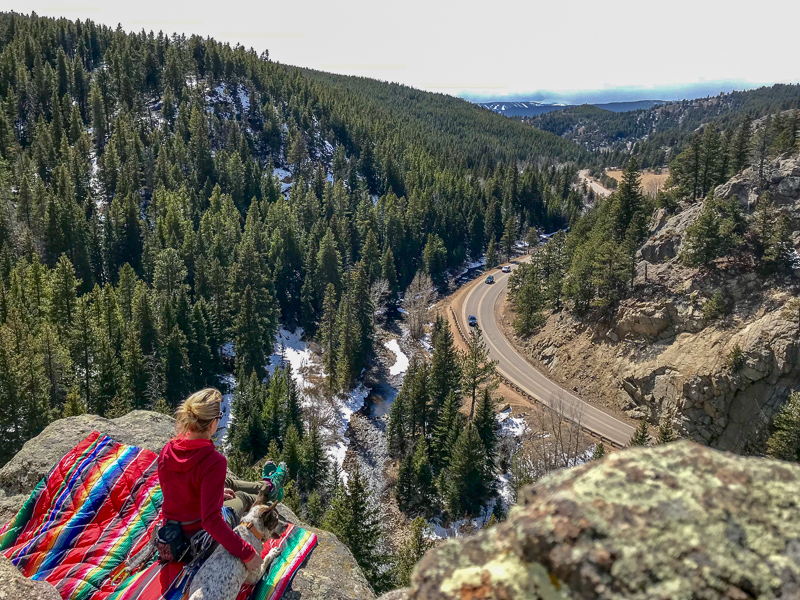 The Final Word
The Rumpl Original Puffy Blanket is the best blanket you never knew you needed. Until you get one. And then you seriously will bring it will you EVERYWHERE. And not to mention, a great gift for the adventure lovers in your life.
Shop Rumpl on Outdoor Prolink. Not a member? Apply today!
Ashley Hart is the Customer Service and Operations guru at Outdoor Prolink. Chances are if you've emailed Outdoor Prolink, you've talked with Ashley. In her spare time, she is an avid go-getter, often running marathons, backpacking, climbing, and traveling. Connect with her on Instagram @Ashrierx.