We Can't Be Friends Anymore – How the Ikon and Epic Passes are Destroying Front Range Friendships
I don't think we can be friends anymore. And for the first time, I kind of meant it. Only a little bit.
After my ski bud of 10 years told me she was getting the Epic Local ski pass, because her new boyfriend was too, my initial thought was: "you traitor".
This isn't the first time we've had strong divides in Colorado. Republican vs. Democrat, Boulderites vs. Longmontians (I think I made that word up), people who shop at Whole Foods vs. everyone else, but really…spending an entire ski season without your main crew, a girl might need therapy for that.
If you aren't aware of Colorado ski politics, there's a large divide among ski pass holders, between two competing ski pass conglomerates, with unlimited access to totally different ski resorts. The Epic Local pass includes skiing/ riding at the Colorado resorts of Breckenridge, Keystone, Arapahoe Basin, and Crested Butte, plus a lot of other cool resorts; and the Ikon pass which offers Winter Park, Copper, Eldora, Aspen, and Steamboat, plus of course, a lot of other sweet resorts as well. Similar price points as well ($709, $745 respectively), both have pretty rad resorts, and while most people I know would prefer to have both, most have bank accounts that don't support that notion. So what's a skier or rider to do?
The fierce battle that rages within has been largely amplified this year, mostly because of the supergiants behind both collective passes.  I can only imagine the battles they wage to 'win' a ski resort's loyalty. And yes, most are loyal to what they know — always ski Breck, why would you ever switch? But the lure of adding say a Jackson Hole, Squaw, or Park City to a pass' lineup, has loyal bums jumping ship, destroying friendships, relationships, and condo-sharing Coloradoans.
Confusing right? Don't worry, here's a map I made.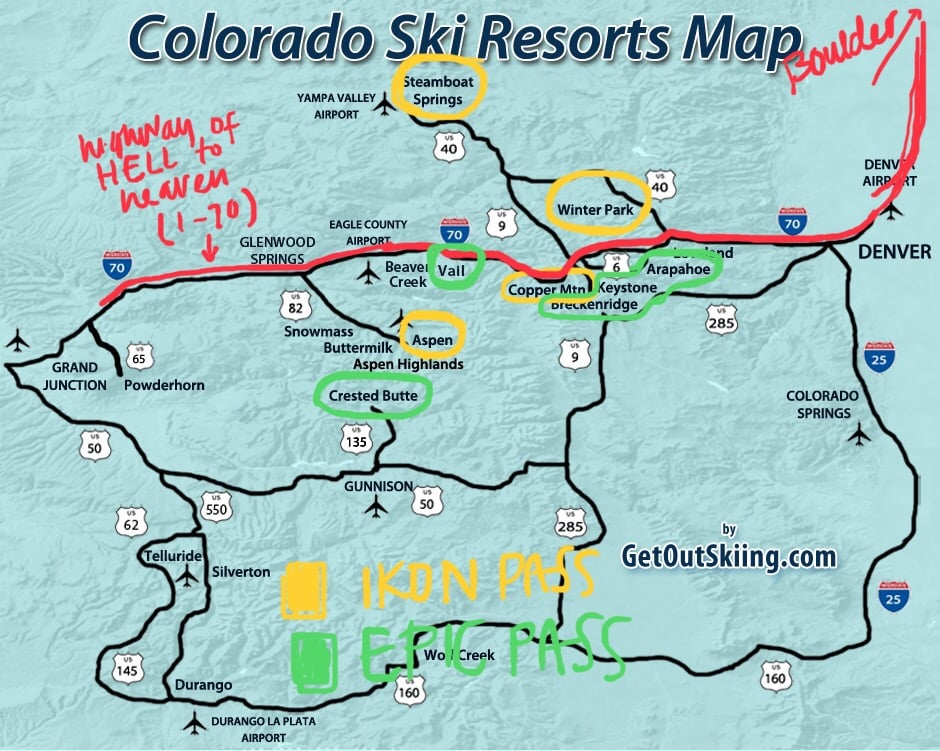 Not pictured for the Ikon, Eldora Resort. It's pretty tiny, so doesn't weigh in too much, but it does keep you off I-70, aka the "highway of straight hell to heaven". And for those of you who haven't sat in bumper to bumper 5-hour traffic on a Sunday afternoon, trust me, it's not fun at all.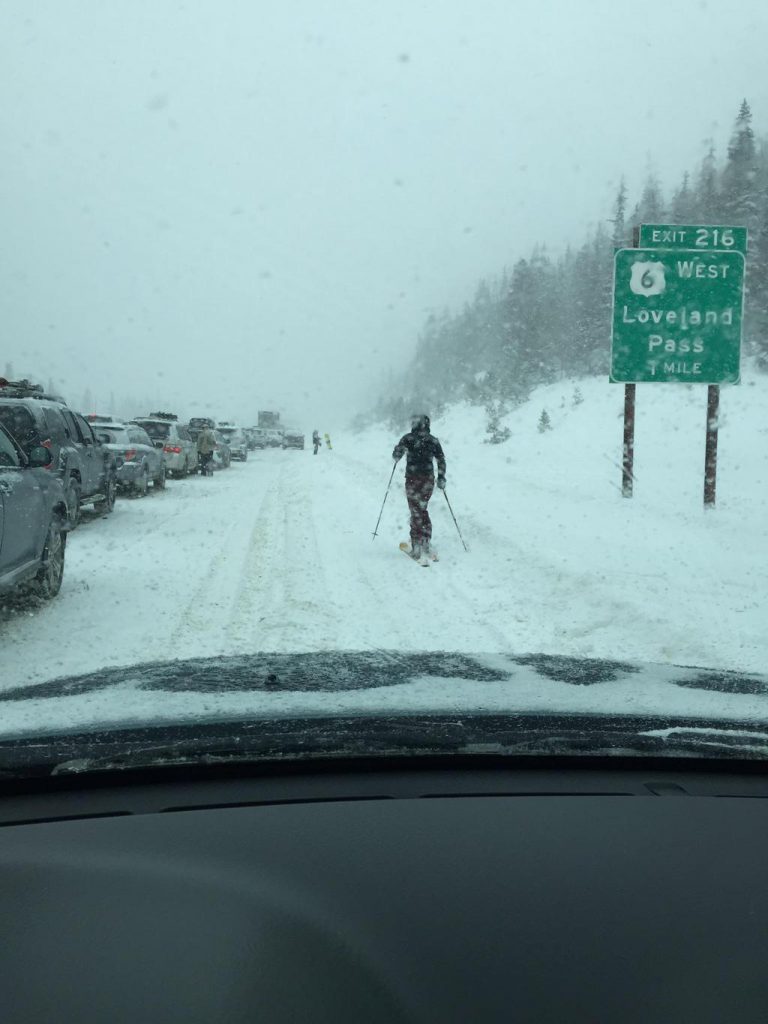 Better than sitting in the car. Photo cred.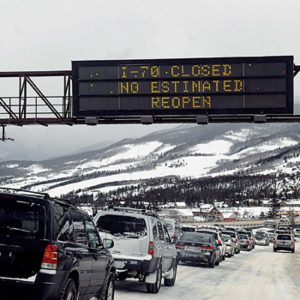 This happens. Photo cred.
So I asked around. Why'd you choose your respective pass?
I'm calling this section "Sh*t Ikonians say"
"The drive to Winter Park is soooo much shorter than the drive to Breck" *It's not*
"Can't afford to fit in at Vail. I don't own any fur"
"Because I never have to see the tall T's of Breckenridge again"
"Because ski train to Winter Park. Duh." *never actually taken ski train*
"Because Eldora. I never want to drive on the highway to hell ever again." *does it all the time*
"Breck-en-fridge" *most resorts are pretty cold, it is winter after all*
"Because lapping the Keystone park is not on my agenda" 
"The secret free parking lot at Copper. Can't tell you where it is though" *respect*
"Pepperonis at the base of Winter Park. $1.50 slices and $2 PBR. Might make your stomach hurt, but worth it."
"Two words. Steamboat trees"
"Have you seen how many yellow jackets they set up at Vail and Breck? Not trying to get my pass pulled" *yikes*
"I once fell off the lift at Vail, and while I was falling my pants got caught on the chair and stuck around my ankles, and I dangled there for 15 minutes butt naked while ski patrol tried to get me down. So yeah, obviously I can never go back there." *remember this guy?*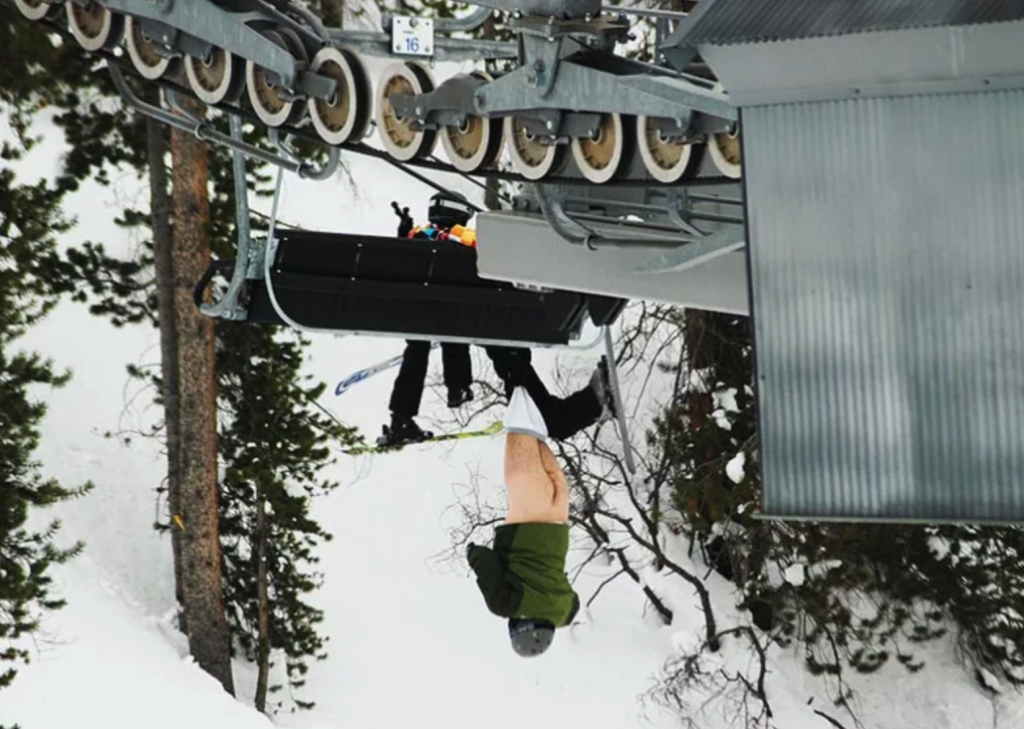 Sh*t "Epic Pass holders say" (honestly, could not think of a cooler name)
"Because Vail" *skied it twice last year*
"Because I need full access to the Beav" *has a deep love for Beaver Creek*
"Because I'll never have to see another tall T raging around Copper again"
"Because A-basin is so steep, it keeps all the Jerrys away" 
"Because the Ikon pass leads to the dark side" *someone should look into that*
"I go where the best bloody marys are…. A-bay" 
"Keystone has the best fries" *truth*
"Mary Jane [Winter Park] is literally just moguls" 
"Secret smoke shacks" *most have been taken down*
"Nothing better than drinking a beer in a lawn chair at Keystone and watching the Jerrys tomahawk down Starlite" *talk about entertainment*
"They give out free, fresh baked cookies at the base of Beaver Creek. FREE COOKIES." *yum*
"EPIC Mix. I always track my vert" *get after it bud*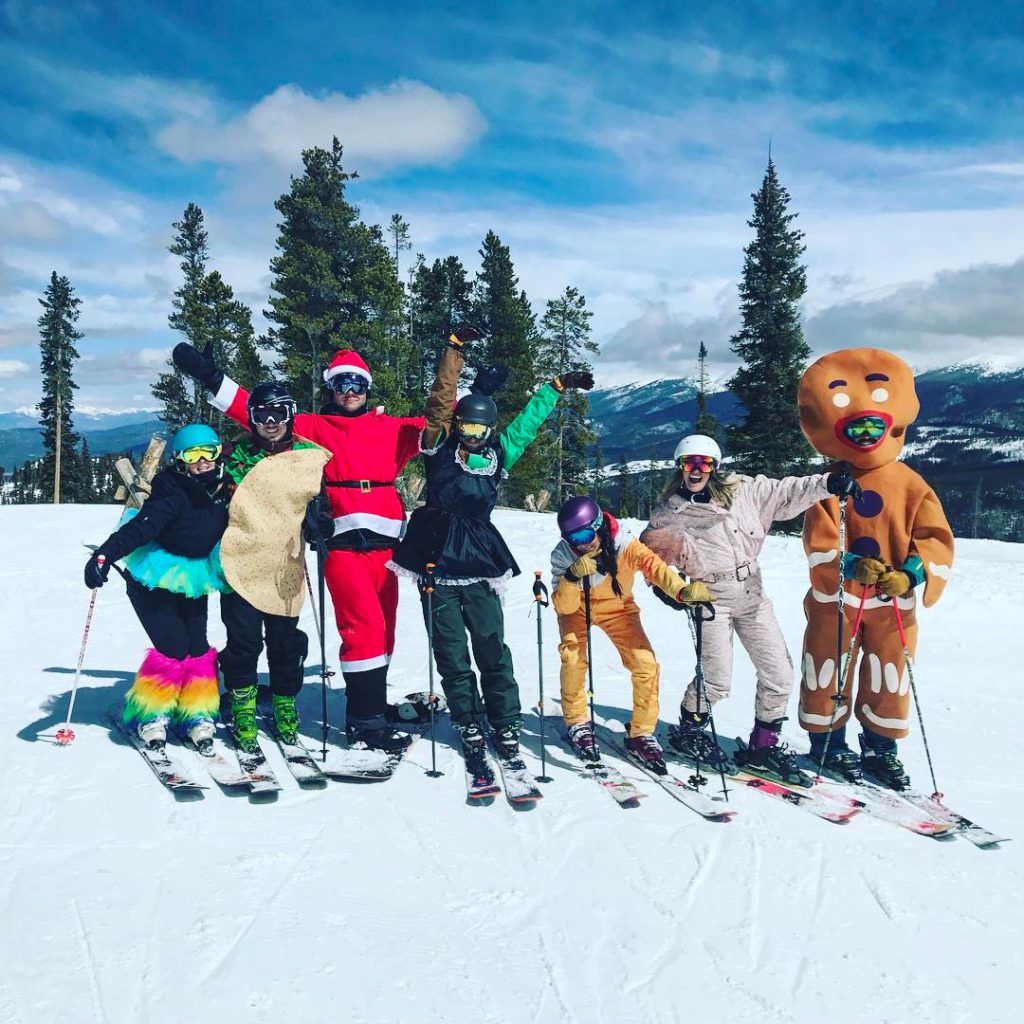 Well, there you have it, folks. We might never agree on which pass is better, but I think we can all agree that these two epic passes are destroying loyal Colorado friendships – including a 10-year ski bud who I'll have to make time to see for weekday lunch dates instead of spending each weekend laying some track – sad.
The only plausible solution for mending friendships between two different pass dwellers.. get a backcountry set up. But you know, take some AIARE courses first, and get educated!
Mostly, no matter what ski pass you choose this winter, get out, get after it, and stay safe!
Grab the gear you need this winter at Outdoor Prolink. Not a member? Apply today!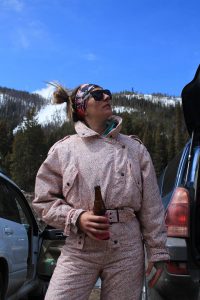 Jess Villaire is the Digital Marketing Strategist at Outdoor Prolink and dog mom to Jackson and Leelah. She lives in Lyons, CO with her husband and spends most of her time doing fun things outside, like skiing. Find her on instagram @Jessisupsidedown.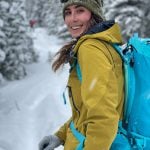 Jess Villaire is the Marketing Manager at Outdoor Prolink. You'll typically find her out with her doggos skiing, mountain biking, hiking, SUPing, drinking beer, or rearranging furniture. Follow her on Instagram @jessisupsidedown.