The Ultimate Conservationist & Angler: Gabaccia Moreno
Huntress. Fisher. Creative. Conservationist. Gabaccia Moreno is many things, but I wouldn't call her "easily defined." As a fellow slashie (person whose work comprises many disciplines), meeting Gabaccia was refreshing. She refuses to let herself be defined by any one trait, and constantly refines and redefines her work, oftentimes for the sake of helping others learn to #RecreateResponsibly.
I sat down with Moreno, the passionate outdoor advocate and first-generation Mexican-American, to learn a little bit more about what makes her tick, and how she got here. Whether she's wading through a stream to catch a fresh dinner or creating more space for emerging leaders in the outdoor industry, Moreno is one to watch.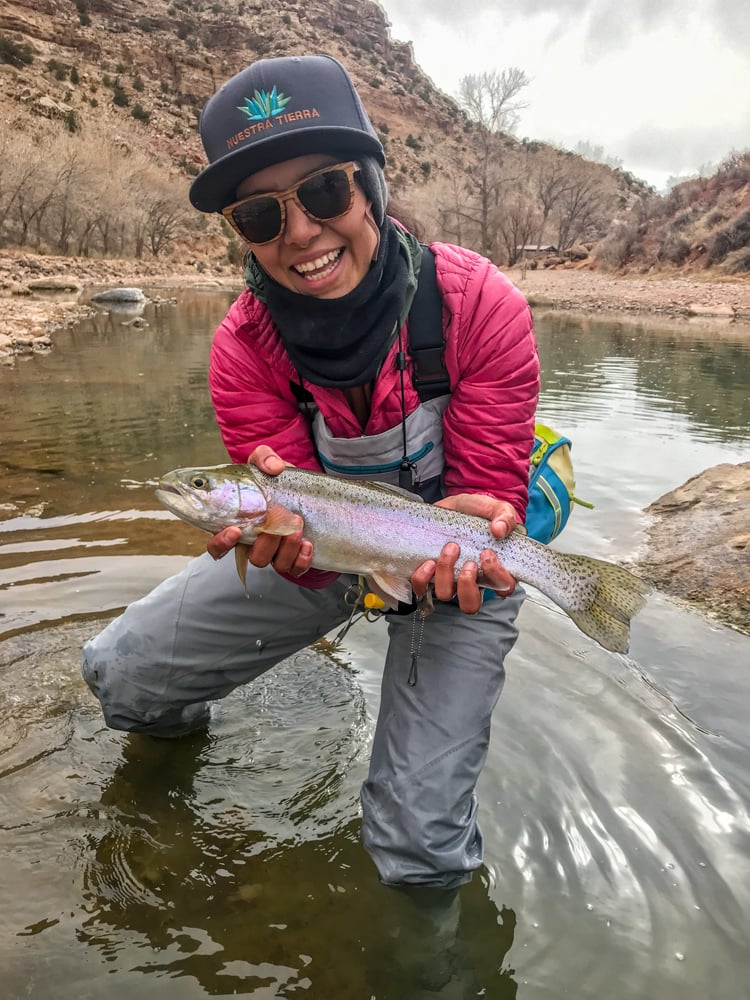 Reyes-Acosta:
Where did you grow up, and what do you love about the bridge between your childhood and current residence?
Moreno:
I currently reside in the land of the Pueblo and Jicarrilla Apache peoples also known as Santa Fe, New Mexico. But I originally grew up in Veracruz, Mexico, i.e. the older Mexico.
Actually a really cool part about New Mexico is that we have fishing all year round—and all kinds of fishing too, so it's not just fly fishing or going out with my hand reel, but we can also go ice fishing on the lakes if we want to in the winter. It's really diverse [as far as what you can do for adventure]. There's a lot of hiking and plenty of trails at different levels, which is really nice to have readily available. For fishing, it's the same: it's like a half hour drive, and I can fish, or I can go an hour-and-a-half and fish a different water. Everywhere you go, there's just so many things to do within, like, a day trip. It's lovely.
Reyes-Acosta:
Having grown up to a family of hunters and ranchers, you have an appreciation for land and wildlife that's quite unlike many people.
Moreno:
Yes, there's a lot of land [to hunt on] yet it is a little different from the experience that I have had hunting in Mexico – because in Mexico, my family manages a hunting preserve. So, you know, it's very different to feel like you are in a kind of a controlled space versus being on public land and having to figure out where the private lands begin and end to make sure that you're not intruding or trespassing. So that's a whole other ballgame that I'm still learning about. But definitely, there's plenty of space in New Mexico to do it, which is great.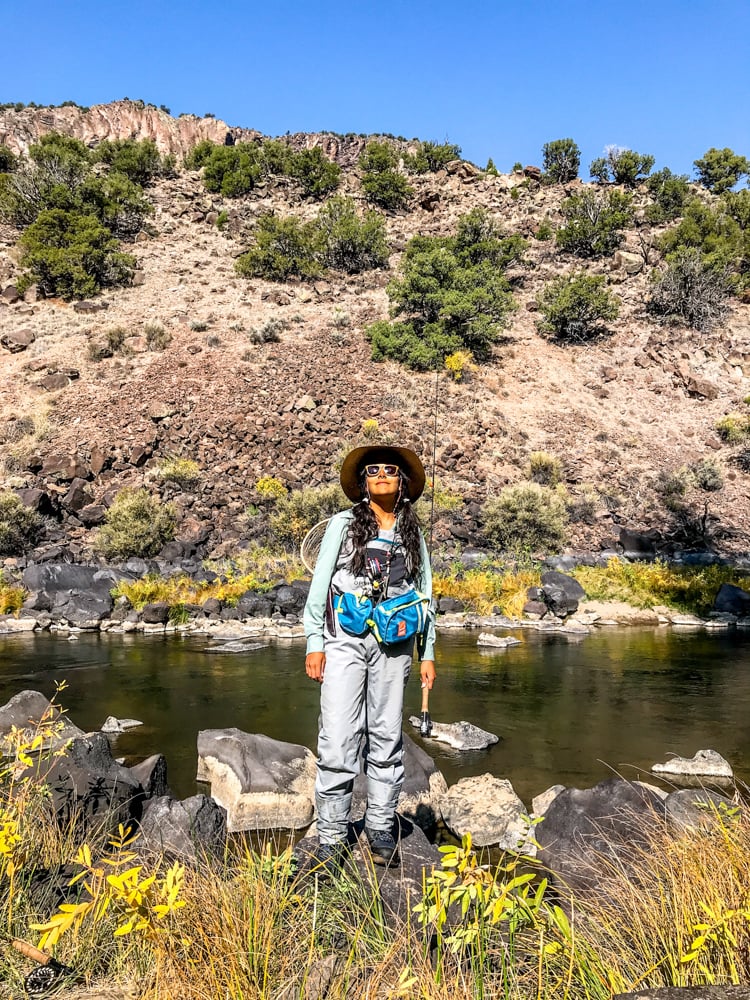 Reyes-Acosta:
As an outdoorswoman, you do a lot of aspirational activities. And I'm wondering if you can speak a little bit about some of the things that you might be able to pass along to others as they're learning about hunting, fishing, and getting out in their own backyards.
Moreno:
Thanks for asking that question. I definitely want to preface this by saying I was very privileged in my upbringing in that my dad was a hunter and a fisherman, and because of that, my mom was also those things. And so, it was really ingrained in my family. I've never thought of these things as aspirational, because they've been just part of my everyday life. So you know, my dad didn't teach me how to fix a car, but he did teach me how to untangle my net or my fishing rod. So yeah, I've had that privilege and I've had a lot of access to nature and experiences in nature since I was very young. And it wasn't until later in my life, that I honestly realized that that was not available for everyone.
So I would say for anyone that is interested in, or maybe just curious about, fishing, hunting, hiking, or whatever it really is…I think of the outdoors in ways that seem normal to us….and then there are other ways that it presents a kind of challenge—right?
For example, when I see you climbing cracks and things, I think, "Whoa, that's wild!" Or when I see people backcountry skiing, I also think, "Whoa, that's wild!" Well…that, to me, is aspirational, and it's because I didn't grow up with those kinds of things.
Reyes-Acosta: [I love how Moreno took a moment to acknowledge our individual journeys to "arrive" at our interpretation of the outdoors]
Moreno:
….[in any case] I feel like the best way to approach it is to ask around your friends and see if any of them are interested [in doing one of these activities], or if they already know of it…because they might be able to help you get started.
Remember, friends might be involved in activities that they just don't talk about or advertise.
If you can connect with the people that you already know and trust in these spaces, you can find a mentor or someone to help you learn along the right way.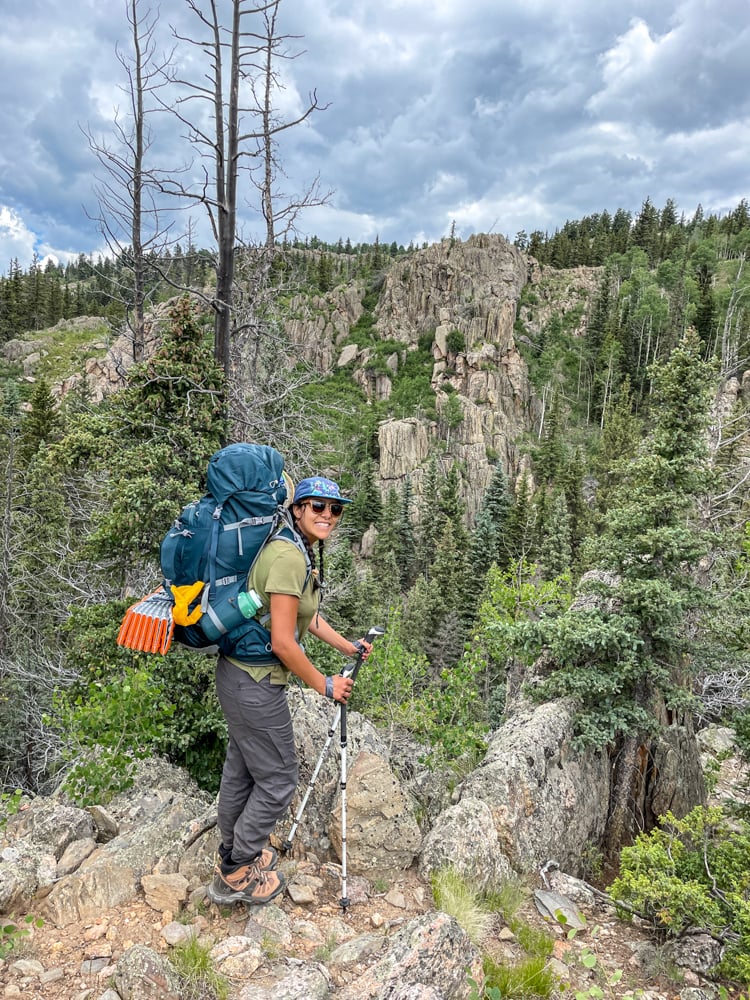 Reyes-Acosta:
Your point to find community and co-learning is an important part of the journey. And let's go back to gear and getting started….
Moreno:
Fishing can definitely be approachable when getting started. At a store like Big R, Big 5, or Walmart, you can get very affordable gear. When you're getting started, it's not going to make a big difference. That said, affordable is such a tricky word, right, like affordable for who?
For example, with fly fishing: $500 waders, $400 fishing rod, and a $200 reel just adds up and up and up. But when we started, we went to Walmart, bought a kit, like a reel and a rod for just $40, plus a couple of flies. And, you know, that's kind of how we got started. We didn't have waders.
Eventually, my partner and I started investing in more expensive gear. I think my outfit that I fish with was 130 bucks, which isn't the fanciest, but it's a really great outfit. So I think with fishing, you know, go and get the most affordable gear [for you]. And then just watch some YouTube videos.
There are also a lot of online communities with resources, like United Women on the Fly. While it's a women-focused community, anyone can learn, or use their content for free. Their blog, monthly meetings, and meetups are really great at sharing the knowledge, so I really appreciate them.
There's also an online/virtual fly fishing school, Where the River Runs. And, you can find Where the River Runs on YouTube.
Reyes-Acosta:
Do you have any other resources that you like two or three resources you want to direct people to other social media or online or online.
Moreno:
First, for people of color I would like to call out @BrownFolksFishing on Instagram as a vital resource. For Brown folks like myself, it can feel isolating to be "the only person like us" out on the water. But I've found that the virtual community aspect is super important to stay motivated, feel seen, and even feel accompanied.
I will refer everyone to their local fly shop. Sometimes your local fly shop is going to sell used gear, so you can get really good gear at a reasonable price. They also do rentals, which is great if you have some budget, or you want to test out some gear (like waders, an outfit, or your reel, etc).
It's so interesting, because I can't remember ever in my life before being involved in an activity wherein your local shop plays such a meaningful role. Your local fly shop knows the conditions, what the fish are eating, and more, because they have guides out there all the time.
So, if you go there and you tell them, "Hey, I'm getting started, what the heck am I doing?," they'll point you in the right direction. They also, for the most part, offer classes. You can get a small group class, like a beginner class. For example when we were traveling to Jackson Hole, Wyoming, I looked at the Orvis website and found classes like Flyfishing 101.
I learned a lot for maybe $50 for a one hour class. I learned how to make knots, how to put a fly on my tippet, how to attach my tippet to my leader, how to attach my leader to my line, how to thread that line through the rod, and how to cast the rod. For $50, I was amazed. Like, in Jackson Hole, Wyoming I thought I was going to have to pay a premium for that class.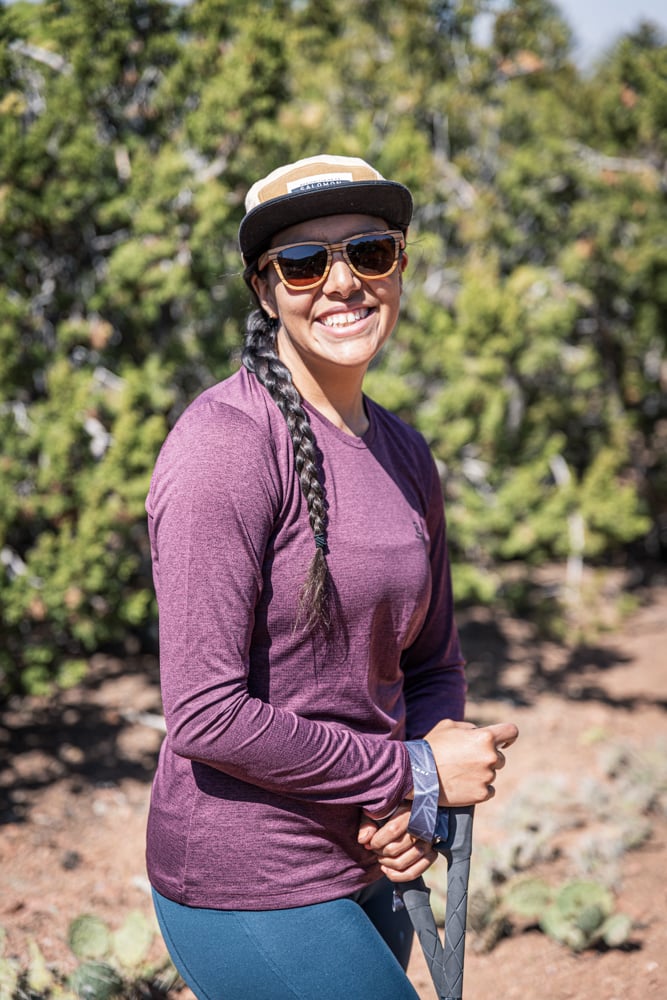 Reyes-Acosta:
Did gear rentals come with the class?
Moreno:
Yes, they don't assume that you have the gear that you need because it's a beginner class. So there's definitely gear to borrow to get started.
But, that was my experience: definitely always check with your instructor ahead of time.
Reyes-Acosta:
What is your favorite thing about fishing?
Moreno:
What I love about fishing is that every part of it is equally important. I didn't really recognize this until recently when I joined the River Development School from She Jumps thanks to a scholarship secured for Fellows of the Brown Folks Fishing Lab. At She Jumps, they put as much emphasis on how you prepare as much as how you do on the water. They frame success [in a holistic way]: it has to do [as much] with the moment you decide you're going to go fishing through to that point when you get back to your house from a day on the river—it's all equally important.
Reyes-Acosta:
I'm hearing that the thing you love about fishing is that you're tuning into yourself, that you're a part of the bigger river ecosystem, as well as the broader world. So, while you're tuning out distractions of daily life, you're also dialing into the infinite details of nature.
Moreno:
Yes – you cannot not see the impact you're having. For example, from the moment you step on a rock in a river, you're aware of the spawning season. You're observing what bugs and insects are hanging around, which informs which flies you tie onto your rod. You're cognizant of how long you hold a fish after you catch it if you want to release the fish and let it live. There's a very tangible, fragile, and ancestral relationship. I feel that connection to the past. And that, feeling present, is what's most important of all.
Reyes-Acosta:
Not sure if I can ask another question to up that last one, so tell us: how can people find you?
Moreno:
Find me on Instagram and the web as Gabaccia. You can also find me at outdoorfuture.org, an initiative I'm working with right now, or with nuestra-tierra.org, the nonprofit that I just started working for [in late June].
All summer long through the end of August, I am hosting the Desert Live series, which is hosted by the Joshua Tree National Park Association. It's a series of many different events, workshops, panels, talks, and just all about sharing education around the outdoors around the desert within Joshua Tree National Park.
Reyes-Acosta:
Gabaccia is an artist and conscious creative whose works, regardless of the medium, intersect beautifully with the social and environmental issues surrounding her. Thanks for joining us on this interview, and give her a follow at the links above.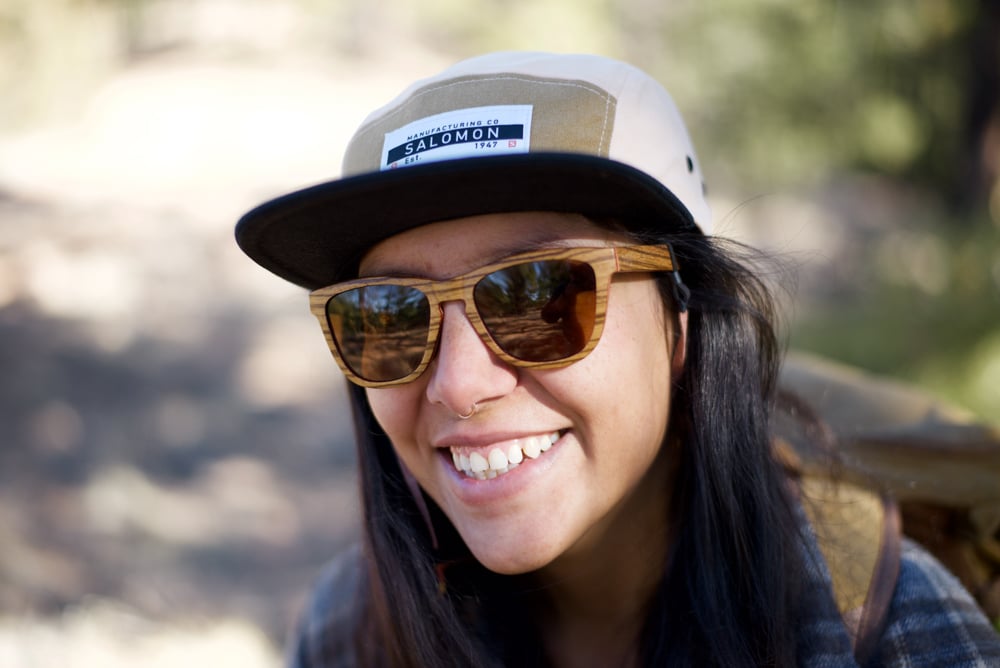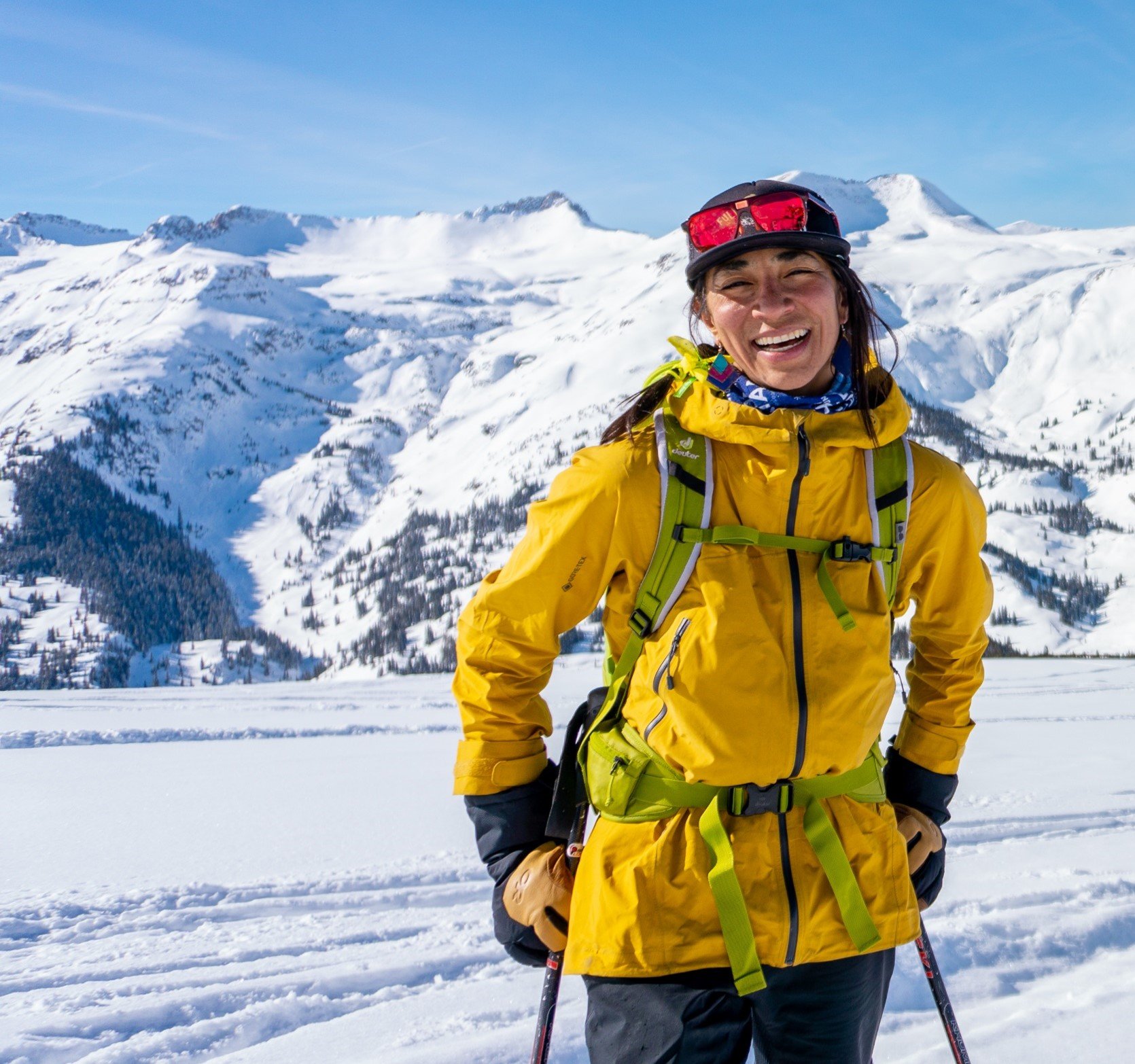 Athlete and storyteller Dani Reyes-Acosta aims to inspire individual action and collective communion through self-care and self-determination found in the outdoors. After leaving cushy corporate life to find her way back to her roots, she ticked rock climbs and ski lines across Argentina, Chile, Canada, and the USA on a circuitous path to self-actualization. Find her online as @NotLostJustDiscovering or via DaniReyesAcosta.com