ProView – Goal Zero Yeti 400 110V Solar Generator
We have woven technology into our outdoor pursuits so tightly that sometimes it feels that the only way to recreate is while we are connected. The only downside to trying to stay connected when we spend time outdoors is that while our devices are portable, our power is not. Thanks to Goal Zero, we have many options for portable power that makes staying powered and connected while we travel, play, work, or hunker down during a storm easy and simple.
Goal Zero Yeti 400 110V Solar Generator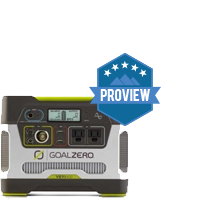 Product Description: Quiet, portable power for base camps, cabins and unexpected outages. The Goal Zero Yeti 400 Solar Generator allows you to live life off the grid, camp in luxury, or power through an outage without the noise and fumes of traditional back-up generators.
Offer price: MSRP: $449.95
Quality

Ease of Use

Functionality

Durability
Summary
The Yeti 400 is a fantastic addition to guides, van-lifers or weekend campers who need a simple power solution to keep the cameras rolling and the lights on.
Pros
Replaceable battery
Small
Light (relative to other power station options)
Compact
Cons
No USB-C port
AC outlets are too close together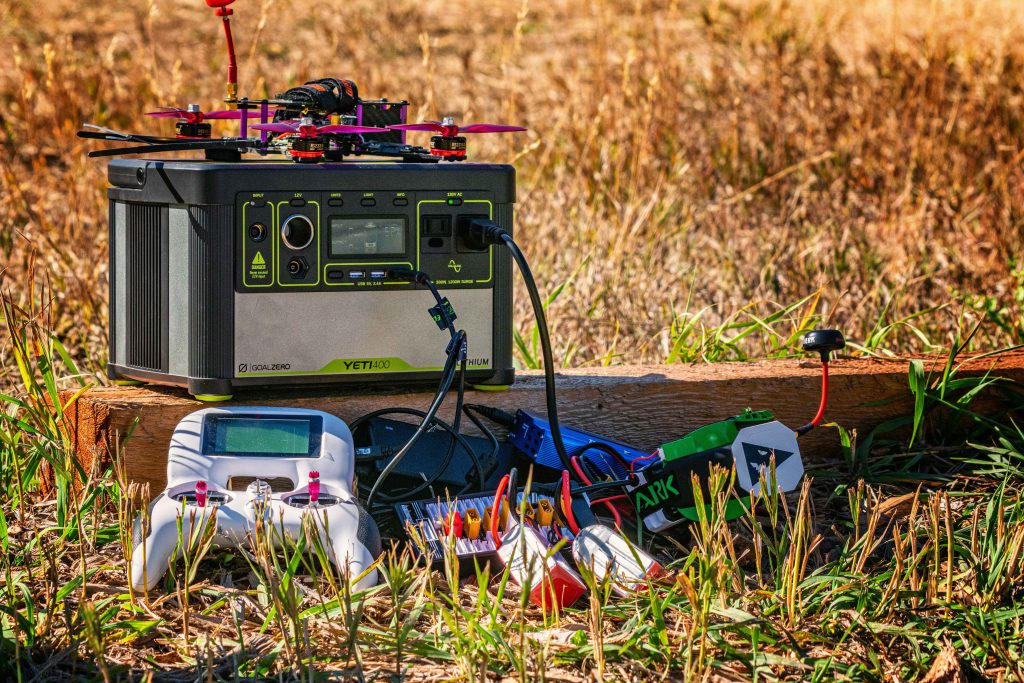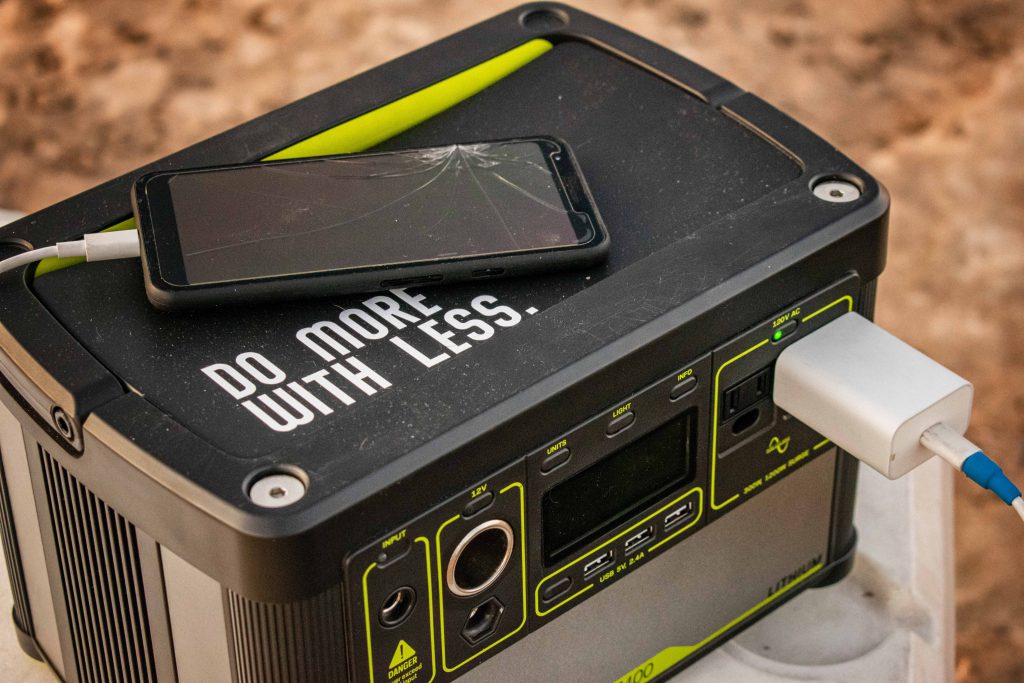 It is the end of day one of your multi-day adventure in Moab while you guide a dozen clients. Many of them have never been to the desert, camped, or climbed. As you can imagine the excitement is off the charts and they have spent the whole day taking photos, snap chatting, and draining their batteries. They get back to camp and realize that there are no outlets and their phone has hit that critical level and has become useless. Many times they ask to charge their phone in the van but there are only so many USB plugs and more importantly, it sucks to have your clients leave things charging all night and your van does not want to start in the cold crisp desert mornings (just ask me how I know that). If you want to see people struggle to work together in a high stakes environment then cram them into a van and give them two charging cables and a 30-minute drive to figure out how to triage their battery percentages and make everyone happy in the meantime. It does not always work out.
The lithium Yeti 400 was key to keeping all things electronic charged with the side benefit of keeping the van fresh and perky in the morning. With four USB-A ports and two AC outlets, there are plenty of places to plug things and charge multiple devices at once. The only time I had issues is when I had two laptops plugged in at once – the Yeti would give me an audible alarm and tell me "overload". The only other time I had this happen was when I was testing to see what all the Yeti 400 would power and, more importantly, what it could not power.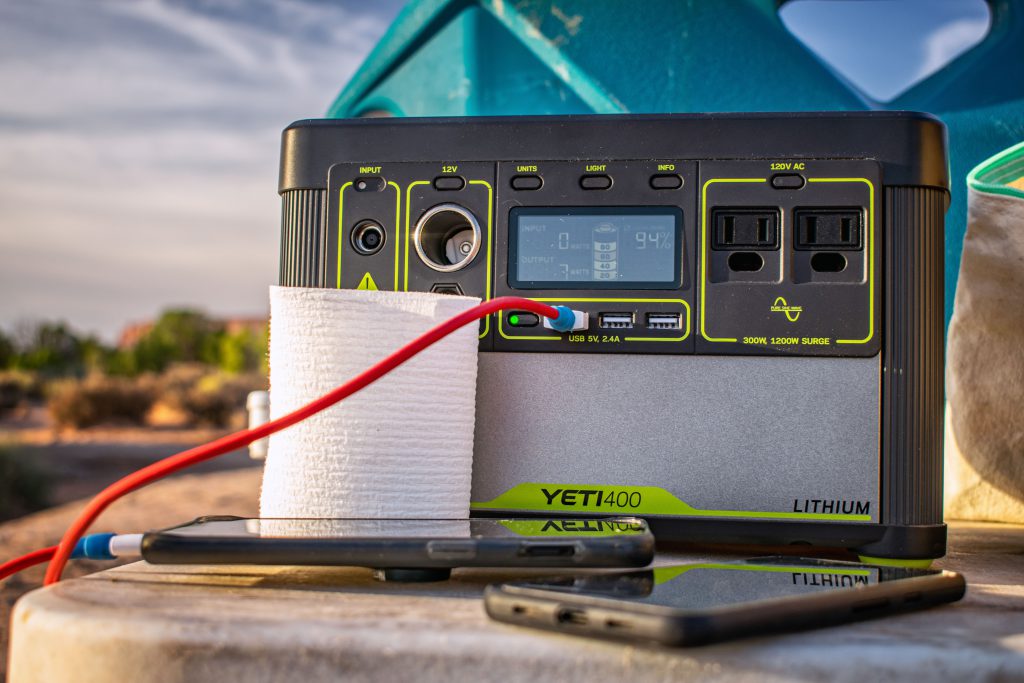 Functionality
You do have to plan on 'what-charges-when,' since the two AC outlets are side by side and are incredibly close together. For example, when a USB power adapter for a Google phone is plugged into the AC outlet it covers half of the neighboring outlet rendering it useless. For all you photographers out there, you will only be able to utilize one AC outlet with your wall plug style battery charger. I suppose you could buy a small power strip but that adds more stuff and bulk to a compact and streamlined device.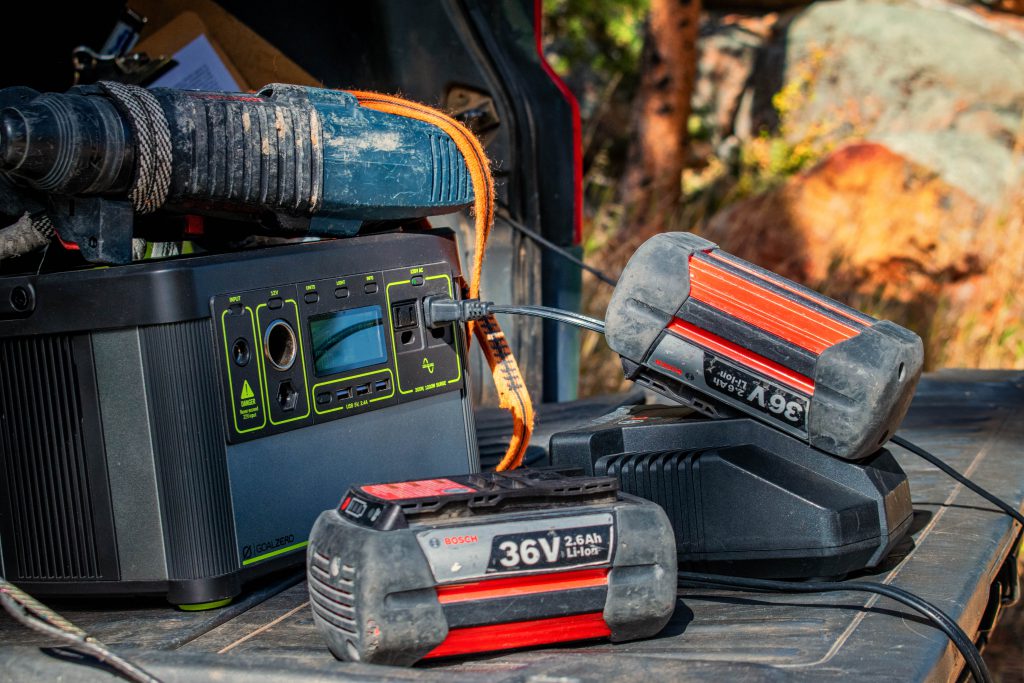 Another great use of the Yeti 400 was during new route development and hardware replacement endeavors at local climbing areas on the Front Range of Colorado. I was able to charge the 4.0 Ah battery for the Bosch hammer drill up to five times with the Yeti 400. While I was at Shelf Road working an anchor replacement effort, everyone had to hike back to camp and plug their chargers into a large generator. The Yeti 400 is small enough to carry with you (16-pound weight) and allows you to charge your batteries at your climbing site giving you more time for first ascents and replacing old bolts.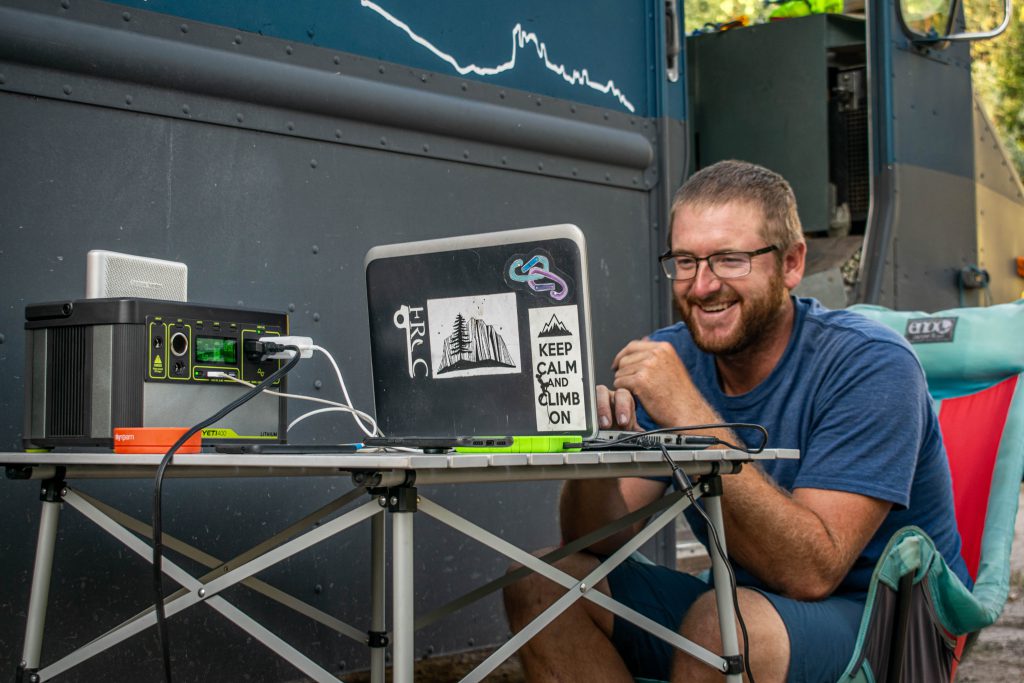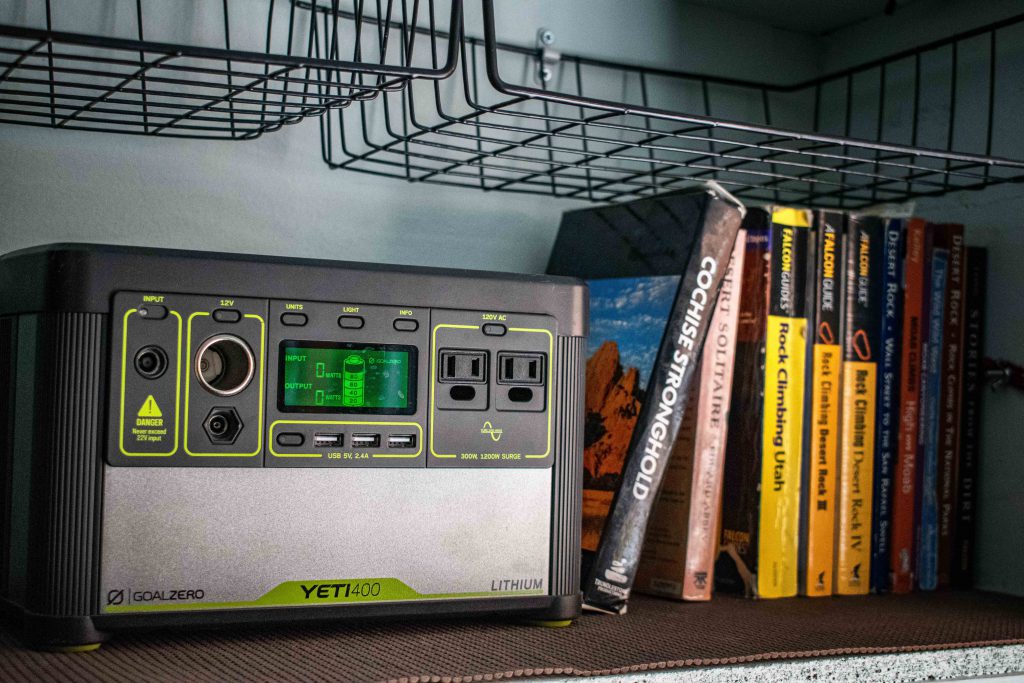 Charging
Once the Yeti is empty you can recharge it from a wall outlet (approx. seven-hour charge time), solar panels (4-32 hours depending on your panel wattage), or even from a 12V source (like your car) as long as you use their lithium-approved 12V charging cable. This 12V cable is key for all you van-lifers and vehicle dwellers.
The Yeti 400 is an excellent charging station that will help you keep all your batteries topped off and ready for use whether you want to charge one thing or utilize all 6 power points. Use the Yeti to power your lights and lanterns for 100+ hours in order to keep the party going.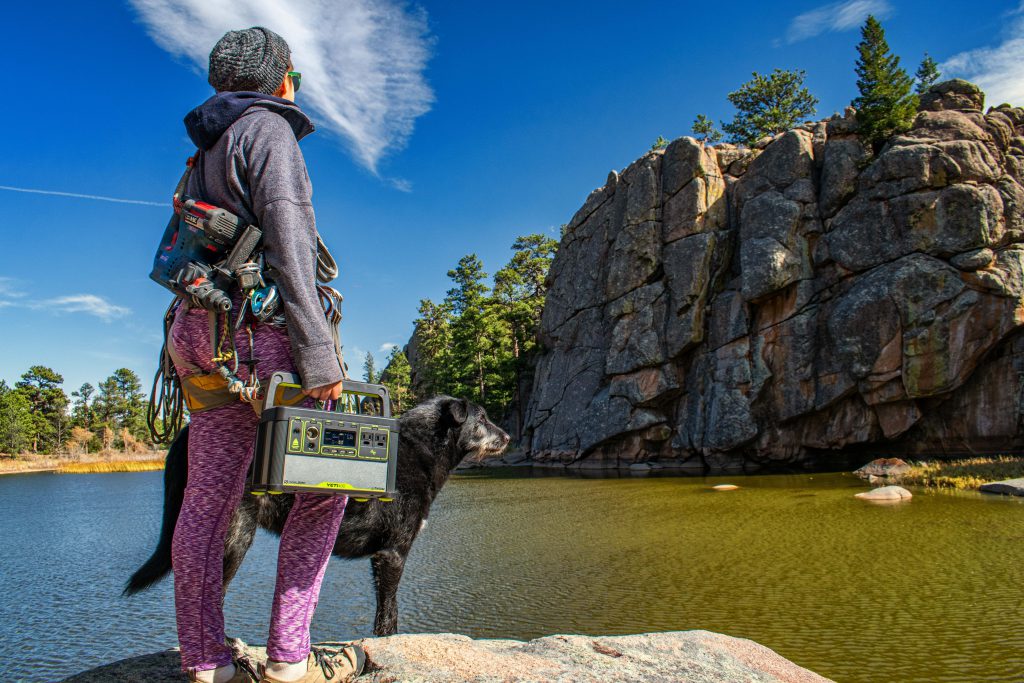 Friendliness to the Earth
Goal Zero has long been a champion of providing solar power to communities and places that do not have access to any. Their mission is "to put reliable power in the hands of every human on earth" and they do that by continual efforts to provide and install solar power and lights in rural communities domestically and internationally. There are not many companies out there that provide products that "lift the poorest of poor, and are still extremely relevant to the richest of rich." (goalzero.com) As a Goal Zero consumer, you can rest assured that while you use your Yeti 400 power station to recreate on your vacation there are others who are using it to increase their quality of life in their everyday actions.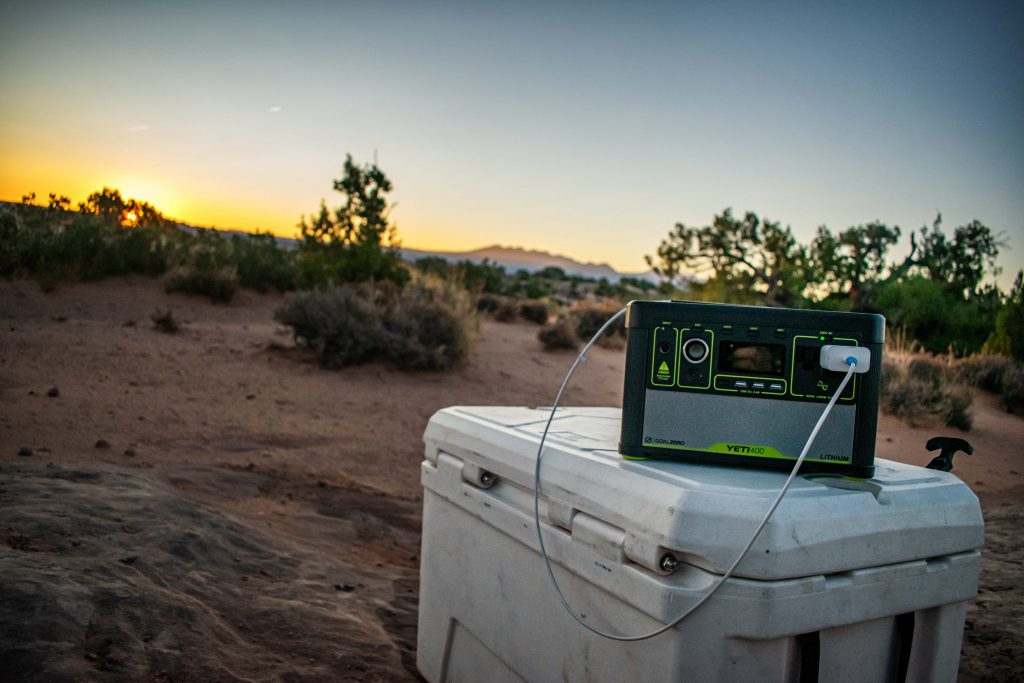 Room for Improvement
If you expect the Yeti 400 to power your small coffee grinder in the mornings so you can enjoy some fresh pour-over then you might be disappointed because as soon as you hit grind the Yeti unit will give you the "overload" warning. Goal Zero does state that it can power a mini-fridge or a 32" TV but the small appliances I wanted it to power did not make the Yeti happy (electric kettle, Sous Vide, coffee grinder and a reciprocating saw).
Shop Goal Zero Yeti 400 110V Solar Generator on Outdoor Prolink. Not a member? Apply today!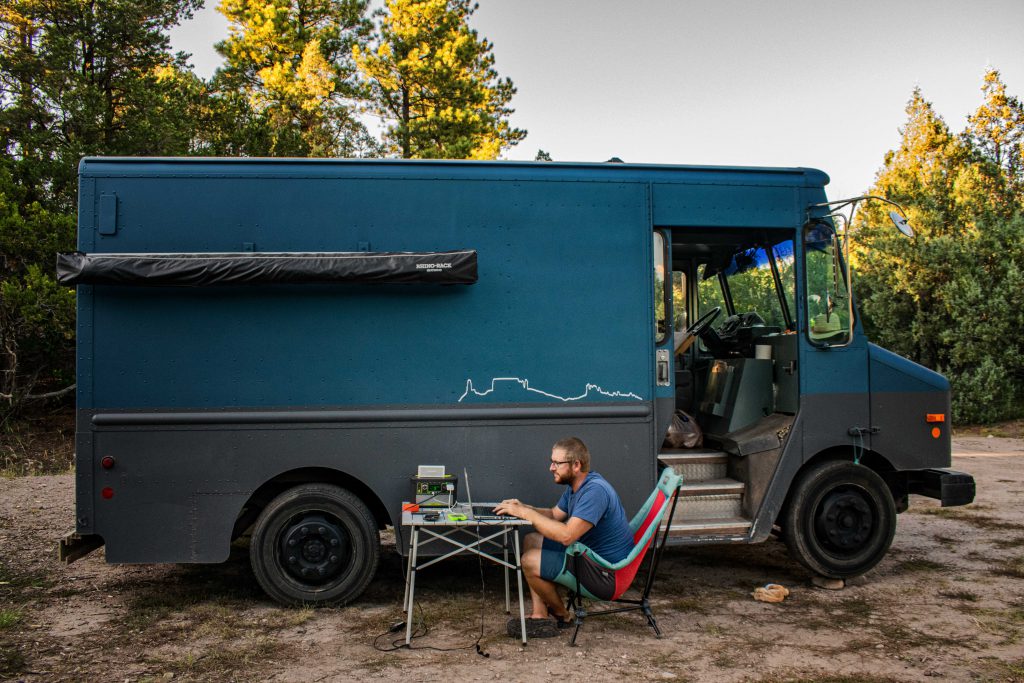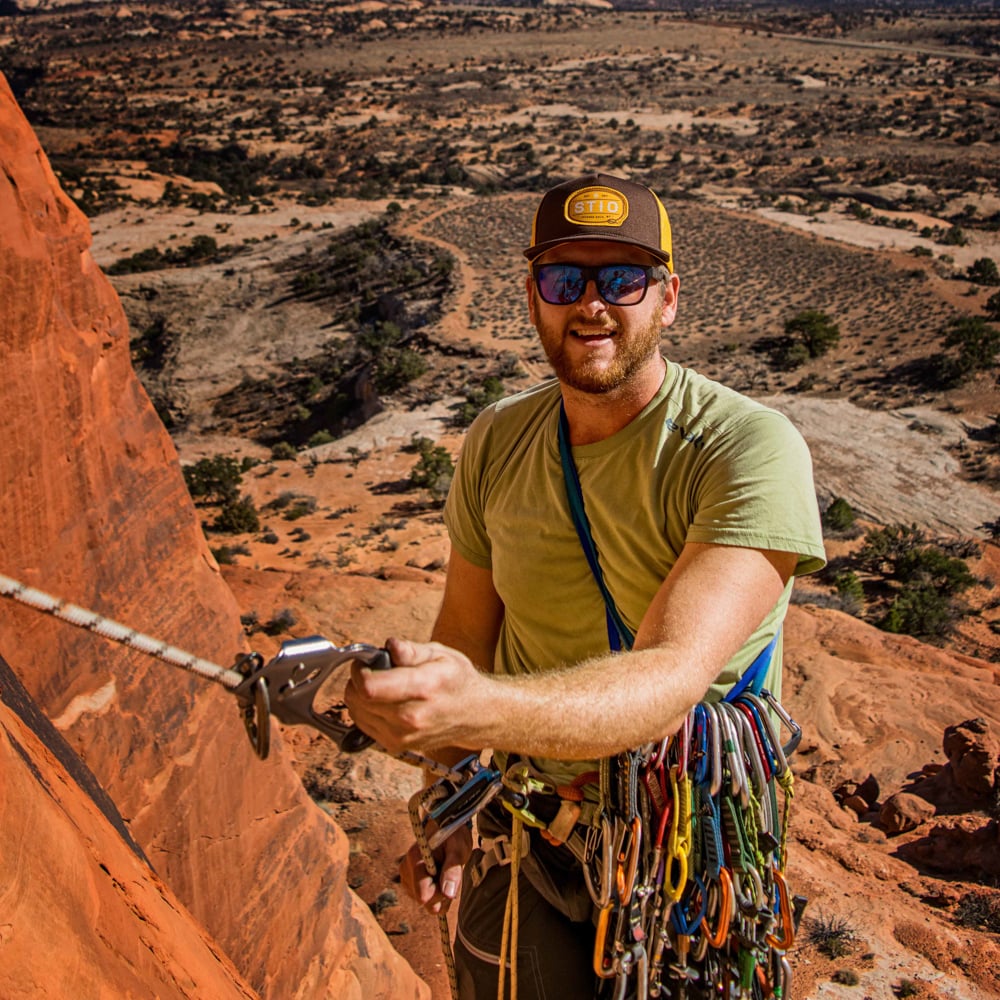 Patrick Betts is the Technical Director at Front Range Climbing Company and is based in Moab, Utah. He has been in the Outdoor Industry since 2009 and guides year-round in Colorado, Utah, and beyond. When he is not guiding, you will find him traveling to climbing destinations around the world. Patrick is an experienced adventure photographer who enjoys taking photos of people pushing their own limits and capturing the landscapes of the areas that rock climbing takes you. Follow along @adventurethrulens