ProView – Rumpl The Original Puffy
The Rumpl Blanket: The blanket ready for the everyday adventure. The cozy end to your endeavors.
Rumpl Puffy Blanket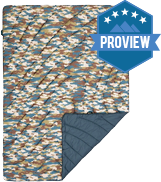 Product Description: The Rumpl Puffy Blanket uses the same technical materials found in premium sleeping bags and insulated puffy jackets. Whether indoors or outside, the Puffy blanket is designed to provide optimal warmth in any environment. Utilizing a weather-resistant 20D ripstop nylon shell with DWR treatment, the blanket resists water, dirt, odor, pet hair, and other debris. The Puffy fits easily in an included stuff sack for quick storage or taking on the go.
Offer price: $130 MSRP
Durability

Features

Quality
Summary
In a lightweight package, the Rumpl blanket is easy to take along on the everyday adventure. Pack it down into your backpack, and whip it out to make those inevitable chilly moments in the outdoors comfortable.
Cons
A little small to be act as a sleeping bag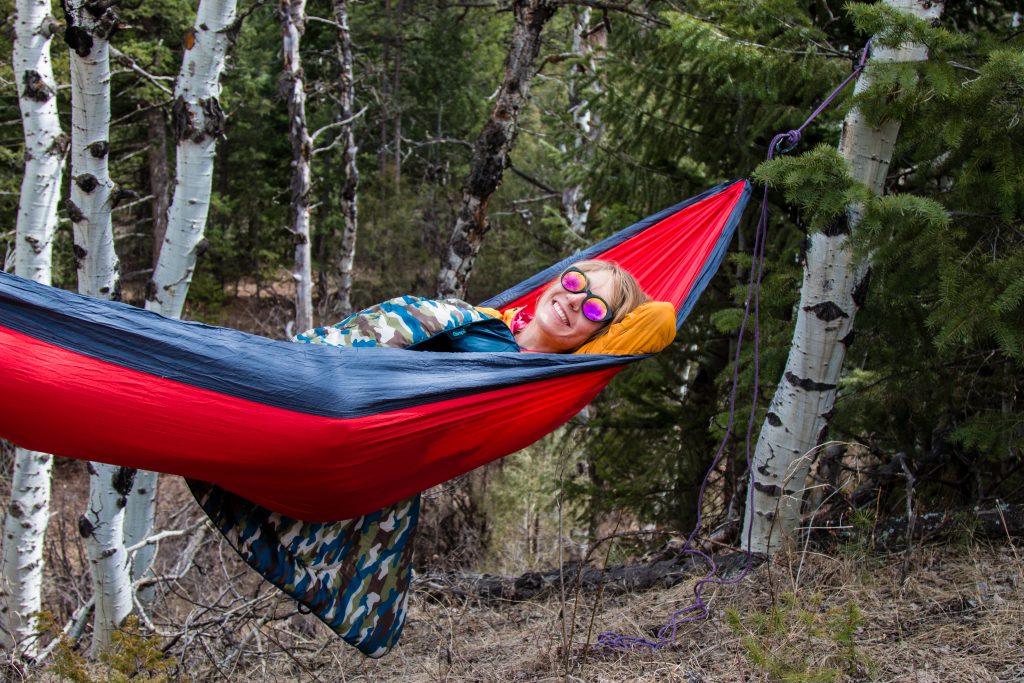 To test the Rumpl Blanket, I kept it in the back of my car and used it for everyday adventures. I was pleasantly surprised just how often this blanket came in handy, and the versatility of such a simple product. From stuffing it in your pack for an impromptu hike with your friends to a cold morning at a trailhead after sleeping in your car to some extra warmth when enjoying a drink after a long bike ride, this blanket makes those moments in the outdoor a little more comfortable.
I also took the Rumpl blanket on an extended hut trip into the Sawtooth Wilderness of Idaho. This is truly where the Rumpl Blanket shined. This blanket is perfect for travel. It was used by everyone in my car during the 14-hour road trip and then packed away for the 5-mile skin to the Bench Hut within the Sawtooth Wilderness.
The applications during a hut trip are endless. The blanket provides that little bit of extra warmth in a cold winter environment. After a long day of skinning and skiing, the Rumpl blanket was a comfortable addition to a tired skier sitting around the hut table eating my dinner. Paired with down booties, a warm hat, and base layers, the blanket was warm enough to use to sleep in a cozy hut at night. And the blanket came in handy keeping my back warm as I crowded around a campfire with 12 of my best ski friends.
Packed in with 12 stinky skiers into a small hut for six nights, our accompanying dog chose the Rumpl blanket as his bed of choice over 12 other down sleeping bags. If that doesn't speak to the comfort of the blanket, then I don't know what does.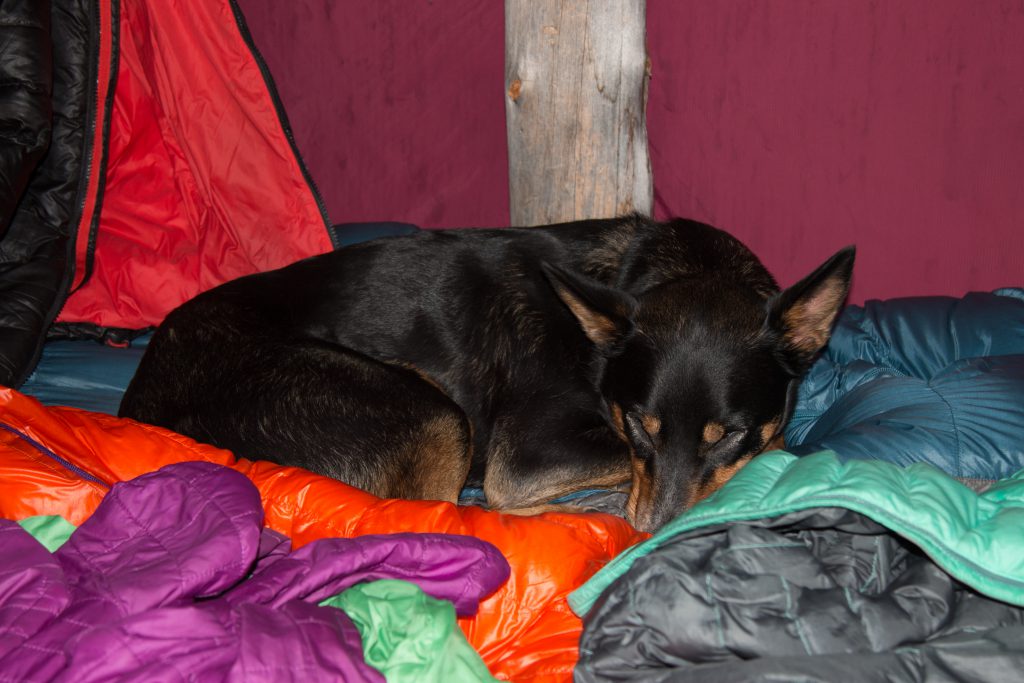 Fit/Comfort
The blanket is throw sized. It is just large enough to cover this 5'11 reviewer when lying down. It's also big enough to cover me and my partner while we shared a cup of coffee. The material is ripstop nylon filled with synthetic insulation. It gives you the sleeping-bag-comfort feel in any location.
Look/Style
At first look, the Rumpl blanket gives you a sense of nostalgia, reminiscent of sleepovers in a dingy basement as your friend hands you an old sleeping bag from their closet. That's really where the similarities end. The blanket is made from superior materials, but the camo pattern still evokes those memories of sleeping in Walmart sleeping bags.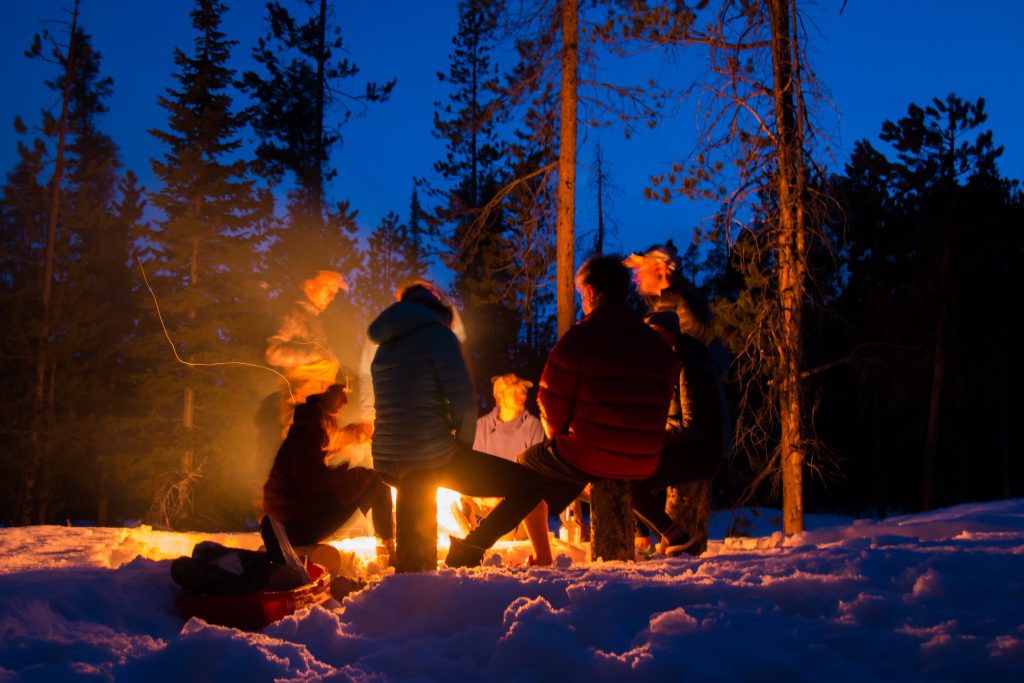 Features
The ripstop nylon exterior and synthetic interior made this blanket a formidable opponent against your backcountry messes. From my experience, dirt, pet hair, and wine come off the blanket easily and it's ready for the next adventure.
Weight/Packability
The Rumpl blanket packs down into a small stuff sack and is equivalent in size to a lightweight sleeping bag.
Function/Performance
This blanket functions as just that, a blanket. It's not a substitute for a sleeping bag but it is a lightweight layer of warm insulation.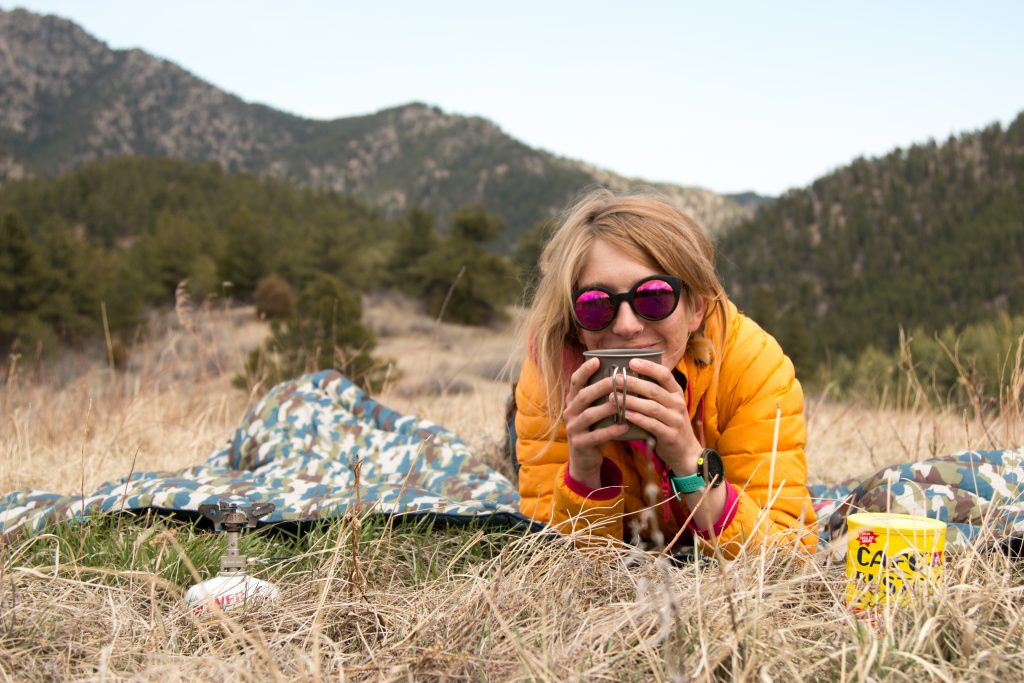 Durability/Construction
The bag is built well, takes abuse from packing and unpacking, and can handle sleeping animals with sharp claws.
Room for Improvement
This lightweight package also boasts a small throw sized surface area. This limits the usability of this blanket as an alternative for a sleeping bag as advertised. Or at least it is limiting for my 5'11 frame. 
The Final Word
In a lightweight package, the Rumpl blanket is easy to take along on the everyday adventure. Pack it down into your backpack, and whip it out to make those inevitable chilly moments in the outdoors comfortable.
Shop the Rumpl Blanket on Outdoor Prolink. Not a member? Apply today!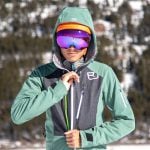 Aidan Goldie is a ski mountaineer based out of Colorado. When he is not climbing and descending peaks in the American West, he is an outdoor educator, working with schools and nonprofits guiding groups through the Colorado wilderness. Connect with him on instagram @agoldie94.