ProView – Ultimate Direction Ultra Vesta 5.0
The Ultra Vesta 5.0 is one of the four tiers of hydration vests available from Ultimate Direction, sitting at two out of four on the minimalist scale (the most minimal at one). Despite its rank, I found it more than capable of carrying everything I needed for efforts <10 hours. Testing throughout the summer months did not give me the opportunity to load it up with cold-weather gear, however, hauling multiple liters of water through the heat was frequently required. Also having experience with Patagonia and Raidlight vests, I am particularly fond of the UD fit and feature set. 
Ultimate Direction Ultra Vesta 5.0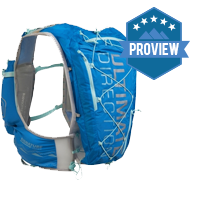 Product Description: The Vesta That Started It All and still gets all the details exactly right.
Offer price: $139.95
Quality

Fit

Functionality

Features
Summary
The UD Ultra Vesta is the perfect option for remote races, long single days, and shorter self-supported efforts. With enough features and space for a few extra layers and up to 3 liters of water, the Ultra Vesta bridges the gap between a minimalist race vest and a full-on FKT pack mule. The Ultra Vesta accompanied me on several self-supported trail efforts up to 8.5 hours in duration, held various combinations of hydration gear, nutrition, trekking poles, and additional layers. This is my second experience with an Ultimate Direction hydration vest; a much-needed upgrade from the 4.0 which hydrated and nourished me through several 50ks, 50-miler, R2R2R, and a handful of random mountain runs.
Pros
Spacious enough for anything supported and most unsupported efforts

Absolutely no chafing or comfort concerns

Potentially the best trekking pole carry available
Cons
Much larger fit than previous models

No great solution for a longer hydration hose

You can be sunburned through the mesh
Features
The Ultra Vesta 5.0 design is generic in concept – two 500ml bottles in the front, two front pockets, a big back pocket, etc. Thus, the devil is in the details, and UD has the details covered. One big upgrade from the 4.0 is the shape and contour of the bottom front pockets. While the 4.0 generation of UD vests had square corners and smaller zippers, the 5.0 Ultra has larger wrap-under-the-arm pockets – one with a zipper and one without (both capable of fitting even the largest of phones). Two slim nutrition pockets have been added on the right water bottle sleeve, housing gels or block/chews, and optional elastic cord clips on top of each water bottle sleeve to stash extra gear upfront. A small velcro pocket sits on the left shoulder strap (great for a car key), and the whistle has also been moved from inside the water bottle pocket. 
The back of the vest is very similar to previous renditions, but now offers specific hydration bladder access without having to unzip; a huge bonus for those quickly refilling bladders at aid stations, or filling bladders without taking the vest off. The Ultra Vesta easily accommodated a 2.0 liter bladder, plus a windbreaker, light hat and gloves, TP, seat saver, sunscreen, and long sleeve inside the back compartments with room to spare. The only thing I thought was missing was the small elastic loops that used to secure the hydration hose in the front on the 4.0 are gone, so I ended up tucking the extra hose in the front closure system when utilizing a bladder. The trekking pole carry on all UD vests is easy to access, secure, and convenient.
Materials + Fit
With 16.5L of storage capacity and only 280g of weight, the Ultra Vesta 5.0 features exceptionally light yet durable materials. The main body of the vest is constructed from a super fine plastic mesh that feels smooth next-to-skin and breathes well, and edges are lined with felt piping that prevents any irritation of blistering when worn next to the skin. The water bottle pockets and the bottom front pockets are stretch mesh, so they can conform well to the shape of their contents, and are placed far enough down on your torso so as to not catch your arms as they swing – even when packed full of rice balls. The 5.0 covers much more surface area than the 4.0, and the back panel is noticeably longer and wider. The sizing has definitely been adjusted, as the 5.0 felt much larger on my torso than the 4.0 (for reference, I am 5'10" with a 34" chest and a 28" waist and wear a S/M in both).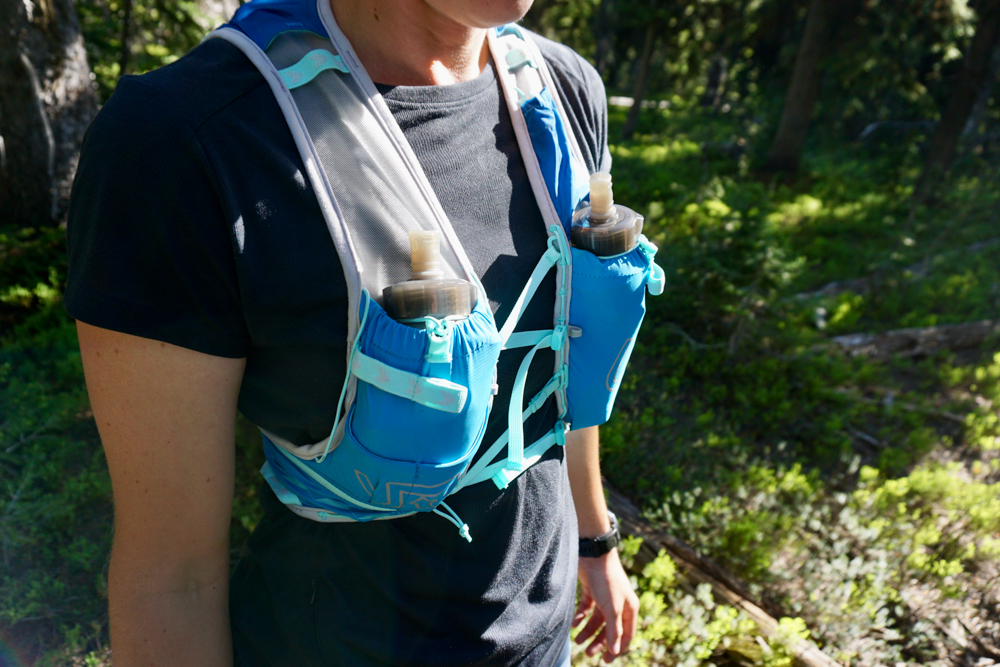 The newly designed front closure system consists of two hook and loop straps; each attaching to one of the many cord loops lining each side of the front opening. As mentioned above, I found the fit of this vest much larger than its predecessor, however, so even with the back adjustment cords pulled tight the vest almost cinched shut in the front. To get around this I doubled each strap back, creating a zig-zag rather than two horizontal straps. The downside to this method is it requires you to completely detach the hooks in order to open the vest, which is only a minor inconvenience unless you are tired, you have gloves on, or you don't have the time to spare at aid stations. This modified closure method seemed much more secure despite its intricacy. When speaking to durability over time, I cannot attest to the Ultra Vesta 5.0 beyond my initial testing period, however, I have been using its predecessor for over three years now and have not had any durability/quality issues. 
The Final Word
The Ultra Vesta 5.0 is a perfect choice for almost every trail run – the only exceptions being extremely unsupported efforts and/or generously aided races. The amount of accessible storage and hydration capacity combined with well-placed design features and comfortable, lightweight materials make UD vests my top choice for trail runs.  
Shop Ultimate Direction Ultra Vesta 5.0 on Outdoor Prolink. Not a member? Apply today!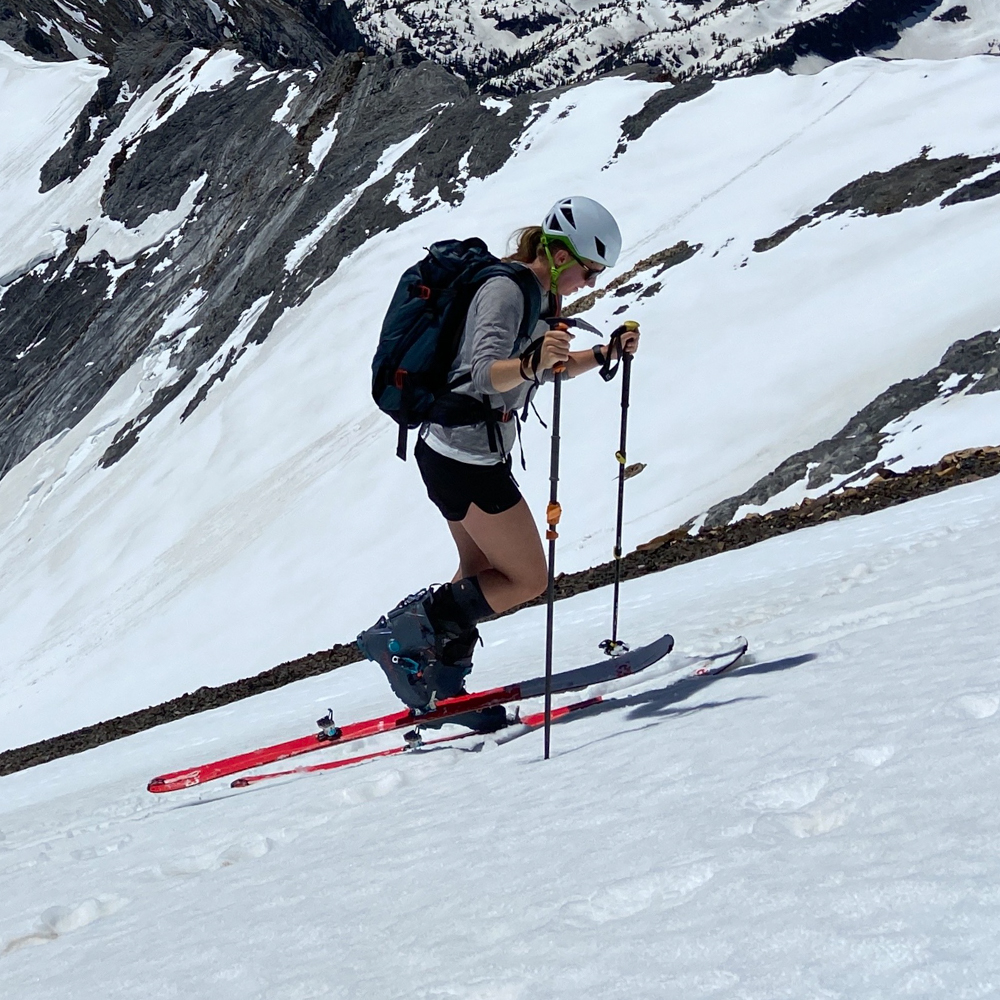 Sarah is a firefighter for the USDA Forest Service, an avid backcountry skier, trail runner, climber, and a grad student. She is also a contributor to backcountryskiingcanada.com and an RMU brand ambassador.